Monday, May 19 – Wednesday, May 21
The Isle of Skye was not a place that has always been on my 'places to go list,' in fact I didn't even know about it until J and I made the move to Scotland, and I was constantly told by friends, customers at work and sometimes strangers about this wonderful place. That's why it ended up going on the 'list'.And we finally decided to go during our May holidays.After doing a bit of research, we were shocked at how expensive a trip up to Skye could be, especially traveling there by bus or train and because we were doing a bit of a scatter-brain style trip. We originally were planning to travel from Loch Lommond (to go wild camping), then to Skye and then on to Aviemore (to meet up with our flatmates). Which would definitely have been quite pricey and instead we opted to do a three-day tour with Macbackpackers, a small Scottish tourism company who own hostels all over the country and tours around the highlands and Skye. And it was the latter that came highly recommended by our flat mates who used to live with a couple who worked for them.So that's how we saw Skye.
Day One
Our day started by walking from our flat in Marchmont to the Old Town of Edinburgh, to

Castle Rock Hostel

, bypassing some cute bunnies on a patch of grass*. We waited in the reception area and till it was time to board the bus.
After hopping on, the bus driver and our tour guide for the next three days, Niall introduced himself, making it noticeable that he was in fact Scottish as he was wearing a kilt. He went through the safety features of the bus and then we were on our way.We drove past beautiful scenery while Niall told us stories; he even did a run through of who had come on the tour, tempting everyone out of their shells with the question, "do you have a fantasy about Scotland that you want to come true?"Someone said they wanted to swim in Loch Ness, but I told him I wanted to see the Fairy Pools on Skye.Our pit stop was at Dunkeld, a picturesque town in Perthshire with the River Tay passing right through. Niall told us about the fascinating battles this township once saw with Vikings and pointed us towards the Dunkeld Church. A place that had been partially destroyed during the Reformation, once upon a time, but is now a beautiful ruin. The church grounds are probably one of the finest I've scene with the Tay flowing right next to it.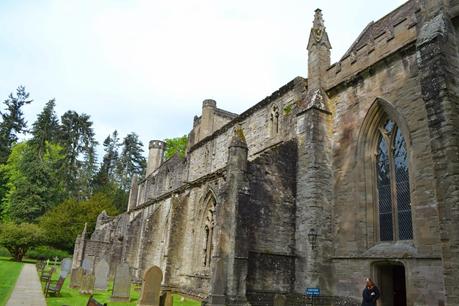 Dunkeld Church
Back on the bus again, we were entertained by even more of Niall's quips and facts. One of the best things I heard all weekend, was using the example of 'getting back with your ex-sex' as a metaphor to explain continental drift.
After a bit more driving, our next stop was at the Culloden Battlefield outside Inverness. A place J and I wanted to visit when we stayed in Inverness. We were very happy we got to see it and to make it better, we received 50 per cent off the entry into the museum with our Macbackpackers wristbands that we were given.By far one of the best museums I've been to, where it is easy to have a self-guided tour by following the signs and the multimedia-lead story boards, they split the Jacobite descriptions to the right-hand side and the Government descriptions to the left, making it very easy to gather enough information and not to overload on it.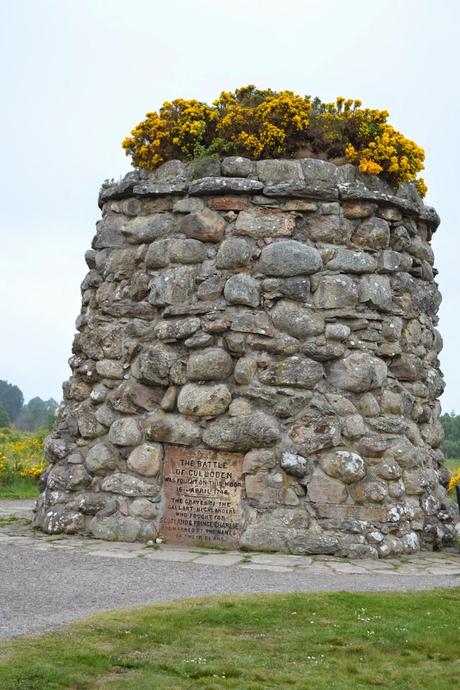 The memorial on the Culloden Battlefield
Shamefully we only got an hour there, but we managed to walk through most of the museum and have a look at a fair bit of the displays, allowing us enough time to watch the re-enactment on big screens and to walk around the actual battleground.We then took a few photos of some hairy highland coos that were next to the carpark, there was even a very cute calf with the shaggy ginger-coloured coat.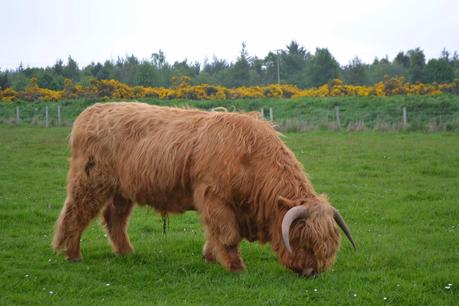 A Highland Coo
Once we were back on the bus it was a quick drive around some old country roads to the Balnuaran of Clava where we could walk around three quite large mounds of stones, and not just any old piles of stones, but structurally and architecturally sound, they were prehistoric burial cairns that were built about 4000 years ago.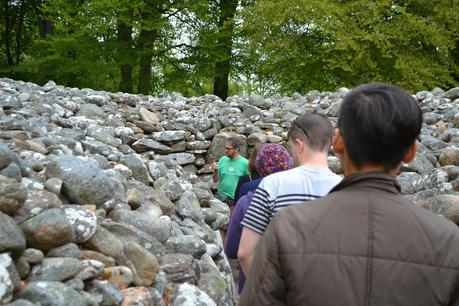 Walking into the center of one of the burial cairns
Back on the bus and it was onwards to Loch Ness, where we stopped by the side of the road and where Niall asked, "does anyone want to go for a swim?"Well, J and I didn't pack our togs so we were not prepared to go swimming at all, we didn't even bring a towel. It wasn't anywhere near warm enough for us either. But one brave Queenslander did, a guy who we learnt from all the earlier 'getting to know each other introduction stuff' was from Ipswich, decided he was going to brave the frosty temperatures and go for a dip.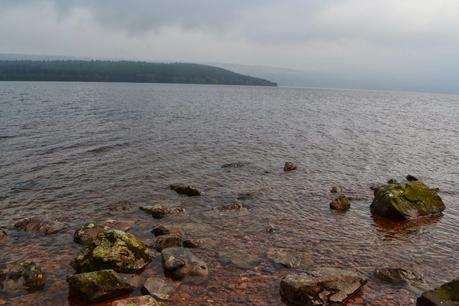 Mysterious Loch Ness
The last stop on the drive was at Eilean Donan Castle – a castle that was used in the movie Entrapment with Sean Connery and that sits in between three lochs. We didn't go right up to the castle, but instead at a little parking spot so we could get some photos. After the photo opportunity, it was back on the bus and onwards to Skye.Once we arrived at the hostel in Kyleakin, that we had all too ourselves (Macbakpackers own two on the island but keep one just for the bus tours) we dropped our stuff on our bunks and freshened up before we headed to one of three local pubs, we decided to head to where everyone else from the tour was heading...to King Haakon Bar.J and I both had fish and chips for dinner and a pint of the local brew, Skye Ale, which was all very tasty and hearty.After chatting to our fellow tour goers for a little while, we headed down to the beach for a night stroll to see if we could spot any sea otters under Skye Bridge. Instead we saw a seal casually swimming just a short distance off shore by itself. We thought the tide of the mighty Atlantic was coming in quite quickly and decided not to chance getting stranded in the rocky cove that the otters apparently usually hang about in and went back to the hostel for some much needed sleep.
The town of Kyleakin on the Isle of Skye
Day Two
We left the hostel at about 8:30am so we could make a break before the weather turned bad. The first place we went to was called Sligachan Glen, made up of two mountains, the Red Cuillin and the Black Cuillin and Niall had been telling us about the local folklore, how one  (Black Cuillin) was a giant from Ireland and one was a warrior princess (Red Cuillin) – they fought until they decided to call a truce and fall in love* - I thought it was a great story, however it actually went.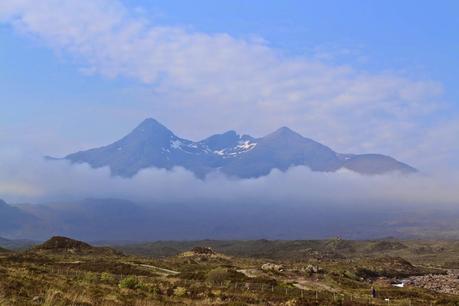 The Black Cuillin
We were then told about the 'fairy' magic that hangs around in the area, even flowing into the streams of water running down from the Sligachan Glen and how if you dunked your head in for seven seconds or alternatively in and out three times – you would be eternally youthful, or something like that.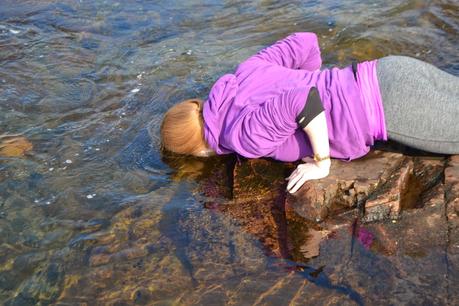 Me ruining my make-up to become eternally youthful
J and I both decided to take the plunge (pun intended), though I really regretted putting on mascara that morning, as it ran down my face, in front of complete strangers (oh the horror).
We were then back on the bus to drive towards the fairy pools for a wee hike. My fantasy* came true, after a mere 20-minute walk I got to see the pools and they were magnificent, especially since the sun decided to come out. We all relaxed midway and some of us even dangled our feet in the (freezing) turquoise rock pools. We did spot some brave guys who were giving swimming in them a go.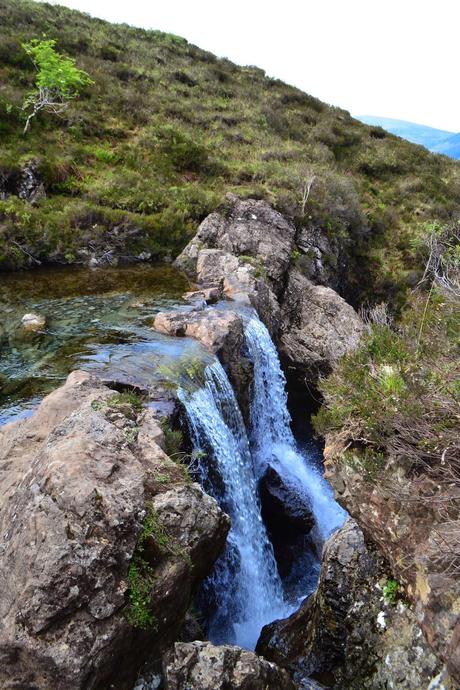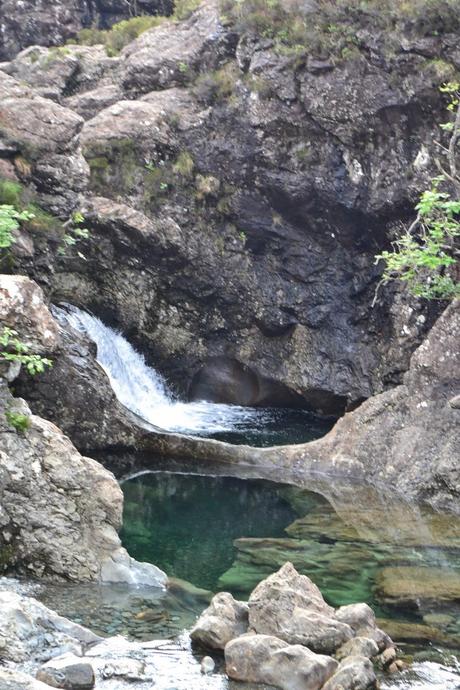 The fairy pools
We eventually wandered back towards the parking spot where Niall was picking us all up from, where we relaxed a little more and I even had time to change into a pair of shorts.
Once we were picked up and a 30-point-turnsix-point-turn was achieved to turn the bus around we headed to Portree, the main town on the island for a bit of lunch. Niall pointed out the local bakery to everyone and low and behold that is where J and I headed (we love our pastries). But we were ultra excited for this bakery, because we discovered beef sausage rolls for the first time since arriving in the UK. Though one of our fellow travel buddies (a fellow Queenslander) was upset that there were no sachets of tomato sauce to go with the sausage roll.
J and I then headed to another bakery (where our Macbackpacker wristband also gave us discount) and bought homemade banana bread and a Cream Egg brownie.
Then it was back on to the bus, for what was quite a drive to the Quiraing where we were starting a three-hour hike. The weather had fogged up a great deal, but it didn't matter there as it only added to the prehistoric-like atmosphere and once we were up to the top, the fog started blowing in between the pinnacles, creating even better photography opportunities.
Sticking together in our big group, no one seemed to struggle until we all came to this downwards slope, with a lot of loose rocks and basically all of us slid down.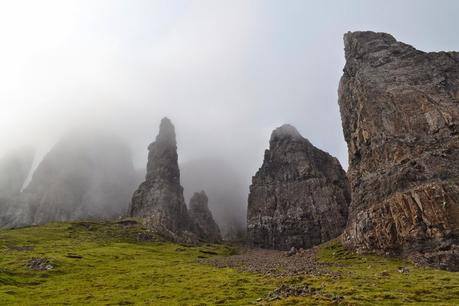 The misty Quiraing
I was definitely knackered by the end of our second night on the Isle of Skye, on a quick stop back through Portree we picked up pasta to cook for dinner that night in the hostel kitchen and then we went back to the King Haakon Bar for a pint.
After one beer with the three travellers from Ipswich we decided to give the other pub, the Kings Arms a try and head there. I have always agreed with the notion of six-degrees of separation. Though I had earlier asked these fellow Queenslanders if they knew one of my best friends who I went to university with that is from there, which I was met with a shake of the head. In the end it turned out that they knew of a girl I went to primary school with, whose brother was engaged to their sister.
After a few beers it was definitely time for some sleep.

Day Three

The day before Niall gave us the option of catching the ferry back to the mainland, so that it would give us some time to see other things and so that we could go on a ferry ride, but only if we were able to sort it out amongst ourselves and put in a share each for the ticket. I don't remember the exact amount, but it was over the £100 line for the whole bus, but it would come to about £6 per person. Of course you are on a bus with complete strangers, it is a strange situation to decide whether everyone could afford it, I mean most of them were like J and I and were on pretty tight budgets.




But thanks to the generosity of one Bulgarian/American and some other Macbackpackers* folk we hit the jackpot and were able to get the ferry. 

Once on mainland we went passed the train tracks at the most northerly point the train tracks go to in the UK, which lead us to the Glenfinnan Viaduct, the famous rail bridge that the Hogwarts train passes over during some of the Harry Potter movie series. We climbed up a hill to get a good glimpse of it.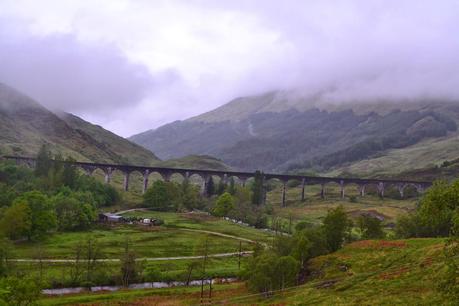 The Glenfinnan Viaduct from the Harry Potter movies
Then it was a bit more driving down through the Highlands, passing through Fort William and the tallest mountain in the UK; Ben Nevis and a lot of the trails that make up the West Highland Way before we stopped again, this time at Glencoe. One of the most picturesque sceneries in all of the UK, and one that J and I had seen on a tour that we had done in our first year in Scotland.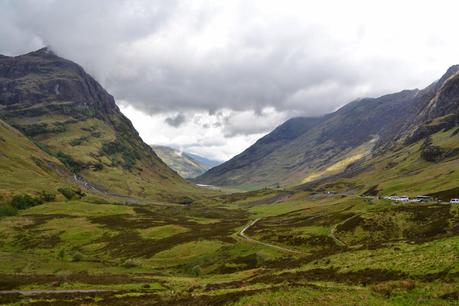 Glencoe
Then next stop was a truck stop within the Trossachs National Park for some lunch and a toilet break, then there was some more driving before we arrived at our final stop on the tour;

Doune Castle

. This was also one of Niall's 'pick your own adventure' type things and majority voted for Doune over the Wallace Monument in Stirling. And J and I were definitely excited by this, as it was the site of where Monty Python and the Holy Grail was filmed.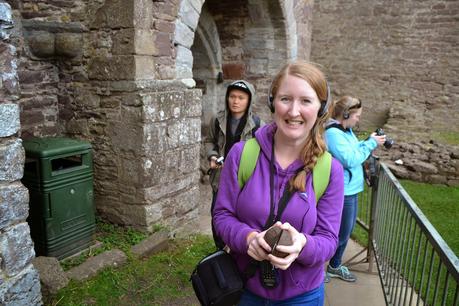 Niall even told us that if you asked the person at the ticket office, you could borrow coconut shells to re-enact that infamous scene. And that is exactly what J and I did and an American girl that was on the tour with us.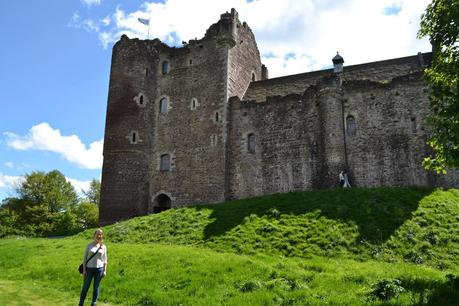 Back on the bus and onwards towards Edinburgh, passing by the incredible Falkirk Kelpies before we arrived back at Castle Rock and parted ways with the rest of the tour goers.
*Who were mating! It was the end of Spring…C'mon bunnies get a room!
*Obviously missing out on a huge chunk of that story, but you get the gist of it.
*Not my "fantasy" but the one Niall (the bus driver) asked of what we wanted to see/do on the Isle of Skye.
*I won't name names, but thanks to those generous people for chipping in.
Have you been to the Isle of Skye? Did you enjoy it? Let us know by commenting below. Still catching up on some writing, but my pieces on Aviemore and Orkney will be up soon, so watch this space! Until next time! x