Friday, May 23 to Wednesday, May 28
Don't you just love when spur of the moment ideas work; ideas that have essentially come from thin air and work out to be a fantastic idea, like our trip up to the Highlands with our lovely flatmates Trav and Dweebs. We basically hijacked their trip they had been planning to celebrate Dweebs' 30th birthday. After tossing up whether we were going to attempt the West Highland Way or not, it didn't take much twisting of the arm to take up the off-the-cuff suggestion that we join them on their road trip instead. 
And we got tick another thing off the 'things-to-do-before-we-leave-Scotland-list.'"Rothiemurchus is one of the glories of wild Scotland" - Sir David AttenboroughDay OneAfter going halves in the cost of petrol, picking up Dweebs on the way and with Carhouse* packed to the brim with food and camping essentials we were off. As Carhouse doesn't have car seats we had to set-up camper chairs in the back behind the front seats so we were facing the sliding door, as to not look too suspicious to the authorities. After a lovely three-hour drive through the Scottish countryside we arrived at the Rothiemurchus Camp and Caravan Parkjust before 8pm and just in time to check-in. J and I were quite lucky because Trav had called the campsite to try and book on our behalf and had a left a message, but didn't quite chase it up, so when we actually talked to the site manager, we were almost told we were not going to be able to stay. We were quite surprised that we were almost told there was no room, because it seemed to us that there were plenty of empty tent spaces on the grounds. J and I set our tent up beneath the trees, and then went over to Dweebs and Trav's site to have two-minute noodles for dinner and to drink some of the home brew. We then stayed up till the wee' hours playing Carcassonneand games of Bulls*** that our flatmates lovingly nicknamed 's*** bomb*.'We even managed to stay awake till midnight to ring in Dweeb's 30th Birthday.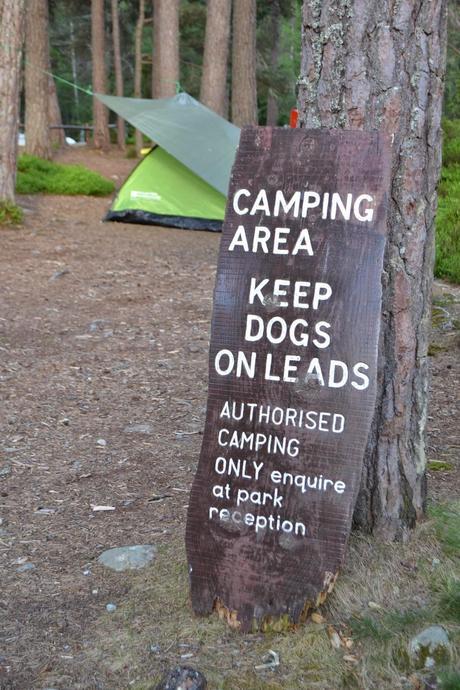 Our wee tent in the background at Rothiemurchus Camp and Caravan Park.
Day Two
Today was Dweebs' 30thbirthday and we celebrated by all of us having a bit of sleep in and then having a bacon and egg fry-up for breakfast.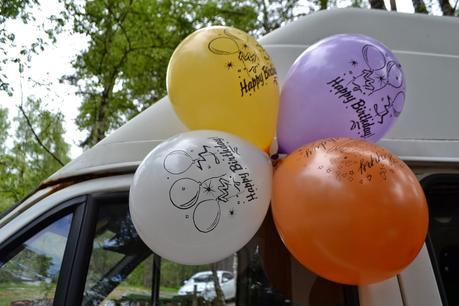 Carhouse with birthday balloons to celebrate Dweebs' birthday.
While we were eating our delicious breakky we noticed that Carhousewas parked next to a birds nest – a dug out cavern in the ground – where a bird quickly darted to and from carrying food into.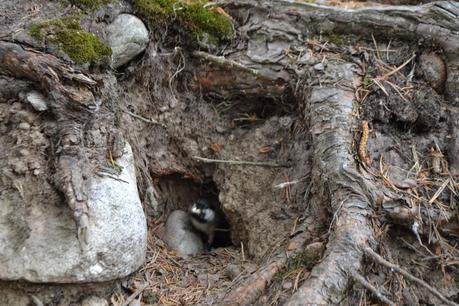 Attempt number 20 of trying to take a photo of the bird.
After breakfast, on our way to the toilet block Dweebs spotted a Red Squirrel* running quickly across the path and up the tree. She hurriedly told us all, and we were standing underneath the trees, craning our necks, trying to catch a glimpse for a while. 
Just after midday we finally left the campsite to walk to the town of Rothiemurchus and into Aviemore.
Dweebs decided that for her birthday she wanted to do an activity at the

Rothiemurchus Centre

and we all chose to play a couple of rounds of tennis; which was £10 per a court for an hour, including racquet and ball hire. Which we felt was a bargain!
During our game of doubles, which I believe Trav and Dweebs won, we walked on towards Aviemore, the most well know town in the Cairngorms National Park.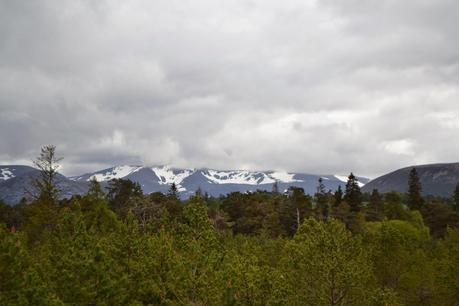 The snow capped Cairngorms.
It was such a scenic walk too from Rothiemurchus, with the sun coming out and highlighting the magnificent mountains in the backdrop and crossing over River Druie on an old bridge and heaps and heaps of golden yellow bushes (known as Whin).
Our tour of Aviemore included seeing heaps of bunnies hopping about in the park in the middle of town and going to Tesco for BBQ supplies for Dweebs' birthday dinner.
After getting back to camp, enjoying a late lunch and rest in the tent, the boys got some information from the site manager on where to spot some wildlife and suggested we follow around the Glen Einich walking trail that ran off the campsite through the Wildlife Reserve.
It was great for wildlife spotting – we saw herds of Roe Deer, black slugs* and some type of toadfrog. Though we didn't see any Pine Marten*, apparently quite the sleuth, but our inside informant* said one had been sighted lurking around the campsite, like quite the Pink Panther.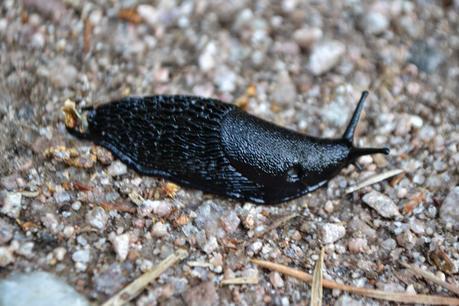 The 'common' Black Slug with it's feather-like back.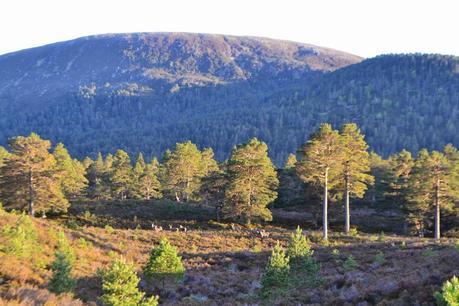 Spot the heard of Roe Deer.
We finished the night with a BBQ next to Carhouse and drinking beer and wine whilst playing more hands of s*** bomb and even getting in trouble by the campsite manager for causing 'too much' disturbance. It was a great ending to the first part of our Carhouse adventure, the next day we were off to Orkney.

Too be continued…


*They had bought Carhouse three years ago, when they first left London for their road trip around Europe. He is an old ambulance that had been kitted out by his previous owner as a campervan and they nicknamed it Carhouse, because it's a car and its house and that particular name was only meant to be temporary until they could think of a better name, but it stuck.*Whoever loses gets lovingly sung to, "S*** bomb, s*** bomb, you're the s*** bomb" by the rest of the group, who have kindly borrowed the tune of Sex Bomb by Tom Jones.

*Red Squirrels have received endangered status in the UK and we so happened to have one running around the campsite we were camped at.

*Apparently quite common after telling a friend how weird and wonderful us four found these critters.

*After finding out that these animals actually hunt and eat Red Squirrels we had changed our minds about how much we actually wanted to spot one.

*Also known as the campsite manager.