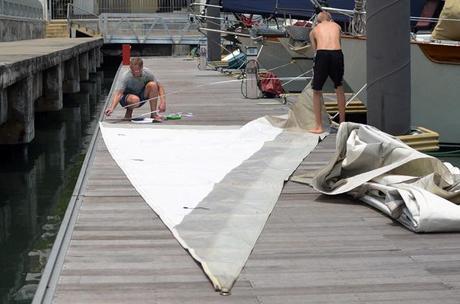 We've been in Penang for a couple of days now, catching up on projects. This afternoon, after the sun disappeared behind the condos backing the marina and the air cooled, Jamie and I took a walk around and looked at the other boats. Primary takeaway: the sun, she is strong!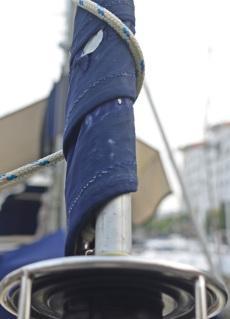 Many boats had some degree of the damage shown here: a protective cover worn thin from UV (see the tear?), with stitching so rotted it's literally breaking apart in place. Is the UV strip material a low quality knockoff? Not sure. Was UV resistant PTFE thread used? Highly unlikely. Sailmakers don't like this thread because it's expensive and difficult to work with. Sailors resist it because it's so costly that it adds meaningfully to the overall cost of a new sail. Still, it's a lot cheaper than replacing the stitching after several years in the tropics- or procrastinating on the re-stitching, and finding yourself in need of a new sail some years sooner than expected.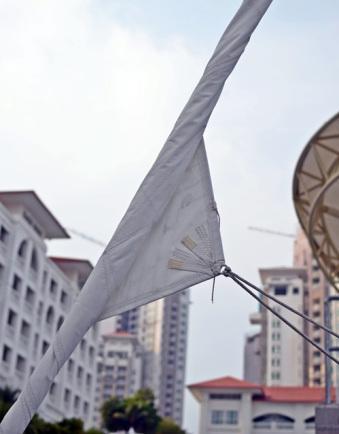 This sail has a UV cover, although it's harder to tell because it's white. But see how the webbing is exposed in the clew? It's now the weak link: webbing should be sewn beneath cover, too. It would also be better to get that sail furled in all the way instead of leaving the triangle of windage.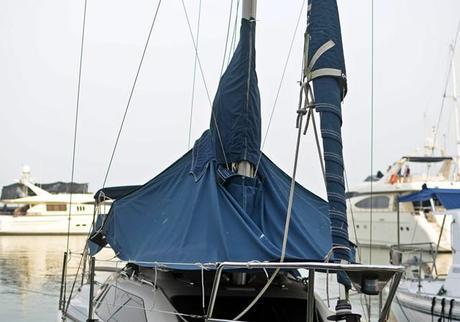 Here's another boat that couldn't be bothered to furl properly, and has webbing outside the UV cover. Classic shortcut in a lower end loft, according to Mr Salty.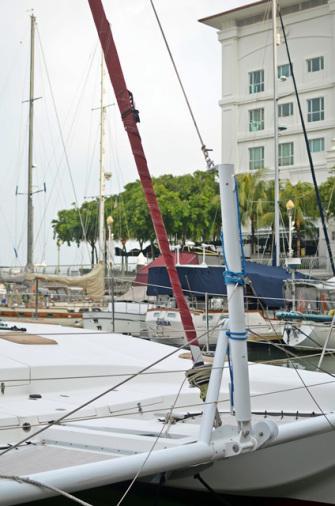 Better than keeping sails covered with UV cloth is not to have them on deck at all. That's not practical for actively cruising boats, but we see boats that are clearly not moving for long periods and still have all the sails bent on. Down the dock is a catamaran we remember from Mexico. For about three years, the owner(s) have been working locally. They're probably not sailing at all, since the running rigging is down, so why are the sails still on? A 38′ cat with just two people on board should have room to stow them. Sunbrella has a finite useful life when subjected to UV.
We're not above reproach. Totem's genoa is in a pathetic state. The UV strip began failing more than a year ago, and now waves in tattered flaps even when furled. We have spare Sunbrella, but not a sewing machine on board, so it's gone wanting. I jokingly refer to the fluttering as our string of prayer flags, but it's nothing to be proud of. On the other hand, it is a kind of twisted advertising as it has literally brought customers to Jamie. People have stopped to introduce themselves and talk about local sailmaking options- because clearly, we need help! They subsequently learn Jamie represents a loft, and he's now sold sails to cruisers we met in this unusual fashion.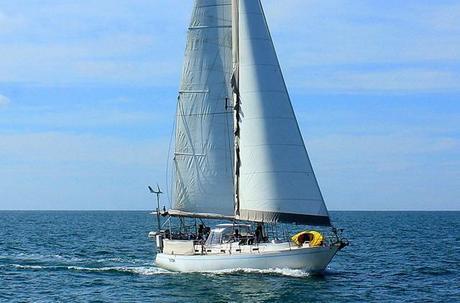 thanks to Bill on Solstice for this picture of Totem, heading north in the Malacca Strait
Still, it's nothing to be proud of and the truth is that we can't wait to replace this sail. Jamie's worked out the specs and it will soon be on order. It will be a little bigger at 110%, and made from much better sailcloth: a compromise between being small enough to deal with higher windspeeeds, while big enough to offer better performance.
Earlier in the day, Niall helped Jamie measure up our storm stays'l- photo at top. The prior owner used to keep it on the inner headstay, and you can see the color difference in the UV strip where the sun faded it. It's in okay shape, but there's a point at which fading becomes irreparable damage. Happily the sail passed muster. It's not ideal as a storm sail but managed fined the one time we used it. Still, the sailmaker is tinkering in preparation for our Indian Ocean crossing.
Enlightened sailors know you love it when you read this on the Sailfeed website.