Taller guys, bigger guys, and the occasional professional athlete shopping for watches still make a beeline for the Big Bangs. And great design details like matte brushed rose gold, chronographs, skeleton cases and intricately patterned dials elevate the larger watches. A great example of the enormous-meets-elegant aesthetic is the Rolex Sky-Dweller.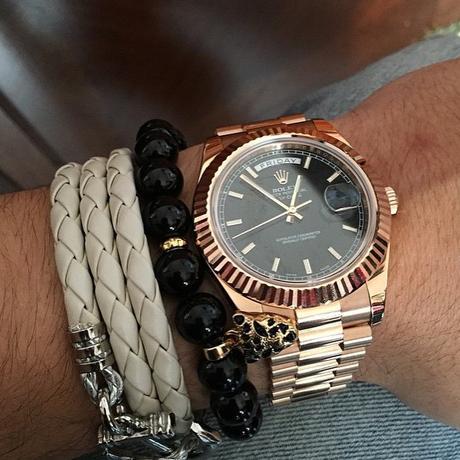 via @watchesnstyles
The Sky-Dweller definitely has presence on the wrist with a 42mm case, but it also marks Rolex's first complication since the Yacht-Master's debut. The dual time-zone and annual calendar features mark the demand for a high performance complication watch that's heftier than the typical complication. And while the Sky-Dweller won't make it to the pre-owned market for several years (if not decades), its unveiling proves that customers want more from their large watches. Hence the still strong demand for larger luxury watches ranging from Breitling for Bentley to Audemars – customers insist that size does matter, but quality matters just as much.
The large watch trend has also expanded beyond the Y-chromosome. More women are wearing men's watches – the oversized trend sparked by celebrities like Jennifer Aniston certainly isn't fading. When women are ready to trade up from their fashion chronographs, the first place they start looking is in the Cartier case. The price point of a pre-owned Pasha, Chronoscape or men's Tank is perfect for women looking to expand their collection without necessarily purchasing a Rolex Daytona.
The larger men's chronographs do however still come second to a ladies' dress watch, and that's where we consistently here the request for vintage. Female customers want something unique, classic and well made. Signed vintage timepieces from Van Cleef & Arpels, Cartier and Tiffany fit this bill perfectly, though we do still see our niche customers on the hunt for something that looks more like a platinum bracelet (and it doesn't need to be designer).
For ladies looking to expand their collection, they typically go in two distinct directions: color or diamonds. Diamond bezels and diamond markers on Baume & Mercier, Tiffany and Pateks sell quickly, and demand for diamond encrusted Chanel J12's never wanes. For color, Chopard's bright gemstones and straps remain popular, as do their Casmir and Happy diamonds/sport/fish – you name it.
After a bright bunch of newcomers, like the Versace Mystique Hibiscus, Ulysse Nardin's Lady Diver and Hublot's Boa Bang, there's an uptick in female customers looking for statement watches. Texture is also trending for ladies' watches. Where the guys have enjoyed quilted, carved, enameled, and otherwise elaborate dials for years, ladies watches rarely venture far from platinum, gold, diamonds and MOP. However, Hermes' Acrea Marqueterie de Palle showed off a subtle chevron patterned dial and Omega's Seamaster Aqua Terra GMT has classic pinstripes. The trend will spread to estate watches, so we're expecting to see an increased interest in subtle texture. Also, with TAG Heuer booking high-profile ambassadors like Cameron Diaz for its link Lady line, we wouldn't be surprised at a jump in TAG sales for the ladies.
As always, the estate watch customer is above all else looking for a watch to treasure. Whether it's a sound economic choice, a prized collector's antique, or a stunning statement watch, they're looking for a timepiece they'll treasure and pass to the next generation.