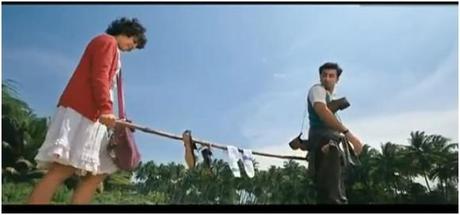 UTV Motion Pictures has unveiled the official trailer for the romantic comedy Barfi!. The film is directed and written by Anurag Basu (Kites). The project is produced by Ronnie Screwvala and Siddharth Roy Kapoor and the music is composed by Pritam.
Film Barfi! Stars Ranbir Kapoor, Priyanka Chopra, Ileana D'Cruz, Saurabh Shukla and Rupa Ganguly.
In Barfi!, Ranbir Kapoor portrays the character of a mute-deaf young man named Murphy, but everyone calls him Barfi! Always ready with a prank up his sleeve, he is quite the charmer, especially with the ladies! Though he can neither speak nor listen, his bitter – sweet relationship with two beautiful young ladies Aisha (Played by Ileana D'Cruz) and Jhilmil, a mentally challenged girl (Played by Priyanka Chopra) sets in motion a chain of events that will turn his life upside down.
The trailer has no dialogues. It is supported by the beautiful classical music composed by Pritam. Speaking at the official launch of the trailer, Kapoor said: "The characters in the film have disabilities, but that is not what the film is about. You will see different shades of life, happiness, sadness, comedy…. Seeing happiness and giving happiness…. That is what the film is about."
Barfi! Is scheduled to hit theatres on September 14th, 2012.
Watch the first trailer of Barfi!