I mean really, the most useless area of space in my house.  It is my understanding that this hole of dusty cobwebs is to house plants.  Seems like a lot of work to clime on a latter and water plants every day...  
Living in the desert makes it hard to keep up on the dusting so that is another dilemma on what should fill the space.  So, here are my first 2 attempts at filling the gap.
Attempt # 1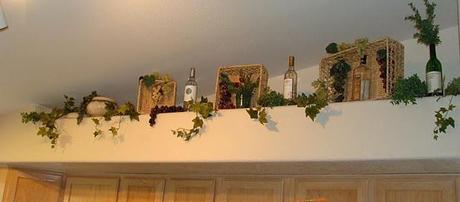 Lots of artificial ivy and flowers from Hobby Lobby (dust collectors)....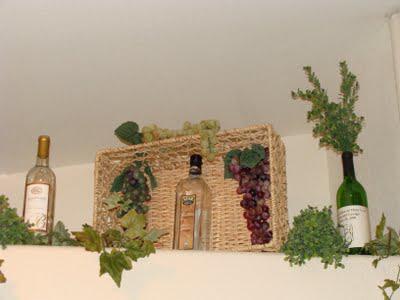 ....fake grapes, olive oil, wine bottles and wicker boxes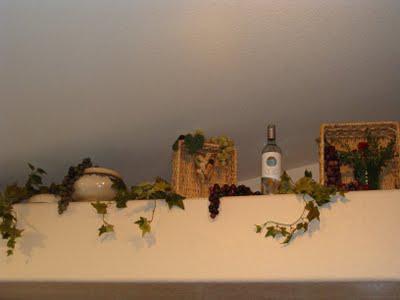 Not an entirely terrible look but it is very taste specific.  I quickly learned it wasn't much my taste.

Attempt # 2 This time around I wanted to be more practical.  With that being said I cleaned out the lot of cook books I was hoarding inside my tiny pantry.  Most of them were put in the thrift store pile - I had cookbooks from the 70s about how to cook meat in the microwave (I wasn't even born in the 70s, not sure how I acquired them).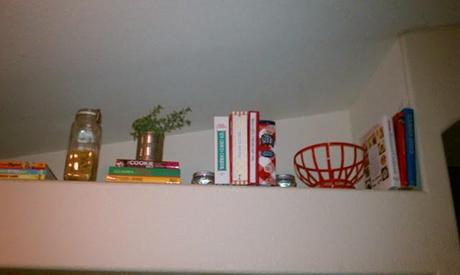 The cookbooks that made the cut found a new stomping ground (still dust covered but not losing the theme of practicality).  

I continue to clime chairs to access them but their colors are more my style then the traditional Tuscan feel of the grapes and wine bottles (more my sister's taste).  

I stacked the books in groups of threes - some laying flat while others stood on end (gave it more visual interest I thought)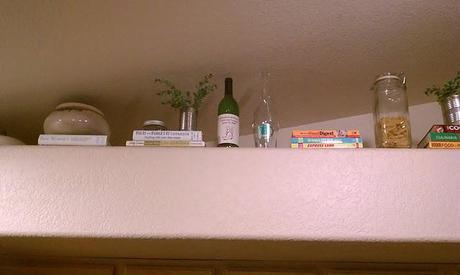 I'm not in love with attempt two and will be trying an attempt three in the near future (any suggestions??)