***ON SALE NOW! JUST 99 CENTS!!!***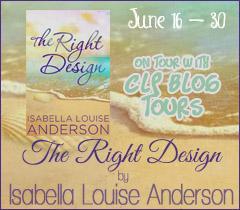 The following sentence sums up this excerpt from
The Right Design
: "Has time healed her wounds, making her forget about Roger and his tart, or will her heart take a new path—one with Brad, who makes her happy."
This excerpt shows a lot of tension and conflict. After all that has happened to Carrie on her journey, from catching Roger with another woman and having her heart broken to possibly falling in love with Brad, I want people to wonder who she'll choose, and what will happen in the end. While Roger's cheating was bad, they have history and he's familiar to her, which might be relatable for my readers. As for Brad, he's new, exciting, and can do things to Carrie that no man can, which I'm sure could be relatable to my readers, too.
As one who enjoys a good love triangle, I wanted not only conflict between Carrie and Brad to be work-related, I wanted to add another character, too. Instead of making Brad have another woman, I decided to bring Roger back. I wasn't finished with him yet, and I wanted to redeem him, showing that he's not really a bad guy, but that he made a mistake. I also wanted to show how he's worked on himself and that he's ready to be tied down to one woman forever. However, in the end, Carrie knows what she does and doesn't want, and I was proud of her for standing up to Roger the way she did.
~~~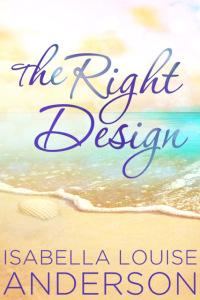 EXCERPT – The Right Design
Carrie woke up on Monday morning feeling overjoyed. Though she missed waking up beside Brad, she was eager to start her day. Dressed in a white sleeveless sundress and taupe three-inch heels, she grabbed a protein bar and walked out the door. As she drove past the ocean, she replayed all the events of her magical weekend in her head.
"Well, you sure do look happy today," commented Elaine when Carrie walked through the door.
"Thank you. I had an incredible weekend."
"I assume that you spent your time with a very special someone?" Elaine asked, wiggling her brows.
Carrie was beaming. Her eyes lit up thinking about her time with Brad. "Yes, a very special someone."
Elaine laughed as she handed her a few messages that she had received over the weekend. "Oh, and there's a man waiting for you in your office."
Carrie smiled, thinking how sweet it was of Brad to come to greet her in the morning after spending the night apart. "Thank you, Elaine. Oh, and hold all my calls." She gave her a wink.
"But…Carrie," Elaine said, trying to stop her, but it was too late. Carrie was halfway down the hall and walking to her office. When she opened the door, there was nothing that could have shocked her more than the sight that greeted her.
Roger was leaning against her desk, holding a bouquet of red roses. With a hard gulp, she stood tall, walked past him and sat down, folding her arms tightly to her chest. She looked him up and down. He wore black dress pants and a black and a white striped collared shirt. His hair was cut shorter than it had been in years—the way Carrie always preferred—and his beard appeared scruffy. Though he still looked handsome to her, she had no interest in him anymore whatsoever. She only had eyes for Brad.
"Hi, Carrie," Roger said.
Carrie didn't know what to say to the man she had once loved. The old, angry Carrie would've begun to interrogate him, asking him a thousand questions about why he had done what he had to them. She would've thrown things at him, she would've yelled and screamed, and she probably would've taken him back if he begged enough. However, she wasn't mad at Roger anymore, and she planned on living the life she wanted—with Brad.
Roger held the flowers out for her. When she didn't take them, he placed them down on her desk. He sat down at the seat in front of Carrie and his face grew serious.
"I'm sorry, Carrie. I'm sorry for everything." He brought his gaze to his feet. Moments later, he looked up at Carrie with shame in his eyes. "Aren't you going to say something? Anything? Please."
I love watching you beg. "How did you find me?" she finally asked.
"Sean told me you were here. He told me that you didn't want me to know, but I had to come see you."
As much as she loved Sean, she had to get him to stop running his mouth! She chewed on her bottom lip, finally asking, "What do you want?"
"You." His one word sounded direct and honest, and there was determination in his eyes as he sat forward, leaned his elbows on his knees, and drummed his fingertips together.
"What makes you think that I would want you back? You hurt me so damn bad. Seeing you with that tart on our kitchen counter ripped my heart out. I love, I mean, loved you and there was nothing I wanted more than to spend the rest of my life with you. You were it for me—forever."
Carrie's emotions began to take hold and her pent-up anger started pouring out. She tried to stay strong as she fidgeted in her chair. "It doesn't matter now, Roger," she said with great animosity. Carrie didn't care about anything he had to say.
"Carrie, losing you is the worst thing that has ever happened to me. My heart's been in agony since you left. I need you to come back to me. I love you so very much and I always will. We've been through a lot together. Please, can't we get through this, too? Please?"
"Roger." Carrie shook her head as she searched for the right words. "Things have changed. I don't love you anymore." It was then that she fully admitted to herself that she was in love with Brad.
"I'll do anything," he begged. "Anything at all. I promise, Carrie, I'm a changed man."
"There's nothing you can do that will change my mind."
After a moment he tilted his head and asked, "Is there someone else?" His eyes narrowed and his lips were closed tight as he waited for Carrie's response.
She thought about telling him the truth. She wanted to brag to Roger that Brad could satisfy her in ways he never did, and feel the satisfaction in doing so, but she didn't. Instead, she decided to say nothing about her current relationship status. "That's none of your business, Roger." Carrie repositioned herself in her chair, sitting herself upright, looking professional.
"I'm right, aren't I?" His gentle and calm voice floated through the air.
After a long pause, Carrie finally spoke. "Fine. Yes, I'm seeing someone." And when she said those words, she smiled because sticking it to him felt good. Damn good!
Roger stood up, walked toward her and kneeled down in front of her.
Carrie held her hand up to stop him, closed her eyes and took a breath.
"Does he know you like I do? Does he know how you like your eggs in the morning? Does he know how you have to sleep with socks on every night? Does he know you read magazines from the back to the front?"
She turned her head so she wouldn't have to face him. "Roger, please leave." Carrie couldn't take it anymore.
Roger reached for her, grasping her arms and bringing her attention back to him.
"Get the hell out of here. Now!" Anger shot through Carrie as she raised her voice.
"Does he know how you like to be kissed?" Roger stared at Carrie as he caressed her cheek with the back of his hand.
While his hand had once been a source of soothing touch for her, it now stung. "Leave! We're over! Get the hell out of here," she yelled, pointing to the exit.
Suddenly, Roger grabbed her shoulders and pulled her tightly to him, catching her by surprise.
"I can't do this," she said trying to wriggle out of his arms, but his grip didn't loosen. When they made eye contact again, she began to speak, but before she knew it, Carrie felt Roger's lips on hers. For a moment, Roger had her paralyzed, as their lips reacquainted with one another. Kissing him felt familiar and for a half a second, it was as if nothing had changed between them. Seconds later, when she heard her door open, she immediately pushed Roger away, this time with more force, and saw Brad staring wide-eyed at the two of them. "Brad!" She ran toward him, but he held his hands up to stop her.
"Don't bother," he snapped and stormed out of her office.
Carrie quickly brushed past Roger and followed Brad down the hall calling his name, but he didn't respond, and his pace quickened. "Brad, will you please just listen to me?" Carrie begged again as they quickly walked past Elaine's desk and out the door. "Please let me explain." When they made it outside to Brad's car, he finally stopped and faced her. She tried to reach out to him, but he pulled away.
"What do you want, Carrie?"
Her eyes burned as tears ran down her face. She didn't know where to start or what to say while memories of the last two days ran through her mind. "I'm so very sorry," she said, wiping her tears away. "I didn't know he was coming here."
"He who? Who is he?" His voice was filled with dismay and spite.
"He's my ex," Carrie quietly confessed.
He gave a sarcastic laugh. "Of course he is."
"We were together for six years, he cheated on me, and then I moved here to get away from him and start over. That's when I met you." She hoped that giving him the short version would satisfy him for now. Carrie just wanted things to get back to the way they were before Roger came to Florida.
"Why didn't you tell me?"
Of all the many conversations, exes weren't discussed on either of their parts. "He never came up in conversation. We never talked about our exes."
"Fine, but how can you not mention someone you were with for that long? That's kind of a big deal, don't you think?"
"You and I have only known each other for a few weeks. Besides, at least I don't zip in and out of women like you do," she said. "Nor do I have flings with my assistant."
"Danielle and I were together for only a short time, and that was years ago."
"Well, geez, I'm sorry I didn't follow proper Palm Beach etiquette and give you a history of my previous romances," she fought back, but then realized that she was practically yelling. After taking a breath, she said, "I didn't mean that, Brad. I'm sorry. I just want us back together."
"You have a really funny way of showing that. Do you want to be with him?"
She shook her head. "No. I want you."
He pointed toward the entrance to Ocean Designs. "That's not the way it looked in your office."
"I…" she began, but Carrie was at a loss for words. She buried her head in her hands. She'd been caught kissing her cheating ex and now was fighting to be with the man who she'd started to love. She looked up at Brad and began to cry harder.
"I guess I have my answer," Brad said as he unlocked his door. "Oh, and don't worry about finishing the project. I'll have England take over."
~~~~~
About The Right Design
Interior designer Carrie Newman could not have envisioned a more perfect life for herself. She had a great job doing what she loved, wonderful friends, and a close relationship with her sister and brother-in-law. Add in an amazing man who she'd hoped would soon become her husband, and her life was perfect. Until one devastating decision ruins her relationship and changes the course of her life.
Determined to make a new start, Carrie leaves Texas and heads to Palm Beach to pick up the pieces of her shattered and broken life. The last thing she expects is to find herself attracted to her first client at her new job—Brad Larson, who has proven himself time and time again to be caddish.
But there's something beneath the surface of Brad's arrogant exterior that keeps her craving more of him—something almost sweet that Carrie can't seem to resist.
Is Carrie ready to take another chance on romance? And will this new design of her life prove to be the right one…?
~~~~~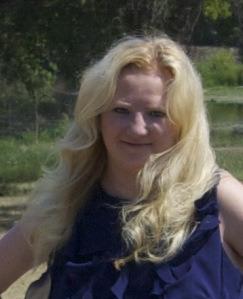 About Isabella Louise Anderson
Isabella grew up with a book in her hand, and to this day nothing has changed. She is a member of the Romance Writers of America and has been featured on several blogs. While Isabella doesn't blog a lot, she focuses her time on featuring other writers, along with writing and editing. Isabella Louise Anderson created Chick Lit Goddess to share the love of the following genres: Chick Lit, Contemporary Romance, Romance, and Romantic Comedies! She loves featuring authors and their books. She lives in Dallas with her husband and cat. She enjoys spicy Mexican food and drinking margaritas, and can be found spending time with family and friends, cheering on the Texas Rangers, and reading. Isabella's short story, Meet Me Under the Mistletoe, was featured in Simon & Fig's Christmas anthology, Merry & Bright, in November 2013. The Right Design is her first novel.
~~~~~~
Author Links:
Author Website: http://www.isabellalouiseanderson.com
Author Facebook "Like" page: https://www.facebook.com/pages/Isabella-Louise-Anderson-Author/253277964716883
GoodReads: https://www.goodreads.com/author/show/7382151.Isabella_Louise_Anderson
Pinterest: http://www.pinterest.com/chicklitgoddess/
Twitter: https://twitter.com/ILA121209
Chick Lit Goddess Links:
Website: http://chicklitgoddess.com
Chick Lit Goddess "Like" page: https://www.facebook.com/chicklitgoddess
Twitter: https://twitter.com/ChickLitGoddess
Purchase links:
Amazon (Kindle and paperback): http://www.amazon.com/Right-Design-Isabella-Louise-Anderson-ebook/dp/B00IW8UFTS/ref=tmm_kin_swatch_0?_encoding=UTF8&sr=8-1&qid=1401508824
Amazon – Canada: http://www.amazon.ca/Right-Design-Isabella-Louise-Anderson-ebook/dp/B00IW8UFTS/ref=sr_1_2?ie=UTF8&qid=1401508868&sr=8-2&keywords=the+right+design
Amazon – UK: http://www.amazon.co.uk/Right-Design-Isabella-Louise-Anderson-ebook/dp/B00IW8UFTS/ref=sr_1_sc_1?ie=UTF8&qid=1401508937&sr=8-1-spell&keywords=the+right+design+isabella 
Barnes & Noble: http://www.barnesandnoble.com/w/the-right-design-isabella-louise-anderson/1118887877?ean=2940149305407
Kobo: http://store.kobobooks.com/en-US/ebook/the-right-design
~~~~~~~
June 16 – Keep Calm and Blog On – Review
June 17 – Relatively Yours – Guest Post & Excerpt
June 18 – eBook Addict – Guest Post
June 19 – Storm Goddess Book Reviews – Review & Q&A
June 20 – Karen's Korner – Review & Excerpt
June 23 – Jiha's File – Review
June 24 – Samantha March – Q&A & Excerpt
June 25 – Clippings in the Shed – Guest Post
June 27 – Elke Feuer – Guest Post & Excerpt
June 30- Chick Lit Plus – Review
**Everyone who leaves a comment on the tour page will be entered to win a The Right Design prize pack! Prizes include an eBook of The Right Design, plus a mug and pen! Please note this is open to US/CA residents only!**