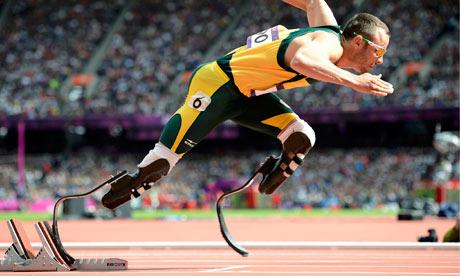 The furore surrounding the men's T44 200m final at the London Paralympics, which Oscar Pistorius lost last night, was extraordinary. But while I can understand how guilty Pistorius felt about the timing of his complaint, I don't see why he shouldn't speak out at all.
Pistorius' claim that fellow competitor Alan Oliveira's carbon-fibre blades gave him an unfair advantage was particularly ironic in light of the fact his own blades was himself the subject of controversy five years ago, when the International Association of Athletics Federations (IAAF) ruled against him competing in the Olympics – a decision that was eventually overturned.
In his post-race interview the South African accused Oliveira – who beat him to win gold with 21.45secs – of switching blades overnight.  "Not taking away from Alan's performance, he's a great athlete," said he, "but these guys are a lot taller and you can't compete [with the] stride length. You saw how far he came back. We aren't racing a fair race. I gave it my best."
According to Pistorius, the length of his Brazilian rival's blades and that of another competitor – American Blake Leeper, who won bronze in the same race – were up to four inches too long. It was a concern he'd brought up with regulatory body the International Paralympics Committee (IPC) a few weeks ago, he said, but it "had fallen on deaf ears." (Yes, I know: an insult to deaf people. Let it go. The man was upset.)
Four things appear to count against Oscar Pistorius in that complaint. Let's analyze them.
1. Pistorius didn't run as fast as he did in the heats. Oliveira's gold-winning time was 21.45secs – 0.15secs more than the new world record the global trail-blazer set last Saturday. It could be argued, though, that Pistorius' starting position – which was near the inside of the track – could have made it more difficult for him to apply those long, medal-winning running strides in that race.
2. Oliveira's blade length was within the rules. It is standard IPC practice to measure all the athletes' blades at the beginning of the competition. Pistorius' complaint was that this regulation was too lenient, for two reasons: a. the athletes could change blades easily unchecked in mid-competition; and b. the maximum length the IPC were prepared to allow meant that some athletes appeared taller than they would if they had legs. Unfortunately, as The Guardian points out today, Pistorius' blades had to be cleared by the IAAF before he could compete in the Olympics. So Oliveira got away with more.
3. Pistorius seems to be the only person saying that Oliveira changed blades overnight. It's this that makes him appear the most like a bad loser. But should we be dismissing his claim so easily without comparing the footage of the semi-final with that of the final?
4. But they're all disabled anyway; shouldn't we allow for that? Some non-disabled people are going to find it difficult to look past the disability. But the point of the Paralympics is that all the sports have been adapted to accommodate the athletes' disabilities, enabling them to train and compete at an international elite level. So they should already be participating as equals, without further consideration for their access requirements.
Indeed the T44 category for the 200m pitted below-the-knee amputees against each other, in recognition of their very different running techniques to that of above-the-knee amputees like Richard Whitehead, for instance.
Having said that, the Paralympics has come much further than the Olympics in 64 years. From basically an archery competition for paraplegics in 1948, it has become the second-largest sporting event in the world. So their regulations are bound to be slightly more lax in parts than their non-disabled equivalent – especially when you factor in all those disabilities they have to cater for.
In addition, we need to be looking more closely at the replay of the T44 200m men's final.
In it, it's clear that Pistorius is taking as long strides as possible, which equates to any non-disabled professional athlete making the most of the length of his natural legs. But while he's busy overtaking his South African rival, Oliveira isn't. He's coming suddenly out of nowhere, which would indicate that he was a long way back to begin with.
Sure, Usain Bolt was the tallest athlete in the Olympic men's 100m final, and he started badly too. The difference between Bolt and Oliveira is that the former's legs were the only ones he had – and they were permanently attached to him.
Then there's the post-race interview. You can't fail to notice that Oliveira is towering above his translator and his interviewer while he's asserting that he's been wearing the same blades for a month. So tall does he look, in fact, that the cameraman can barely get the heads of the other two in shot.
Oscar Pistorius has been winning the T44 200m in the Paralympics for nearly a decade, and his blades have never been particularly long. He also successfully argued for the right to compete as an equal in the Olympics. Don't you think that places him in a strong enough position to judge what's wrong with the rules?