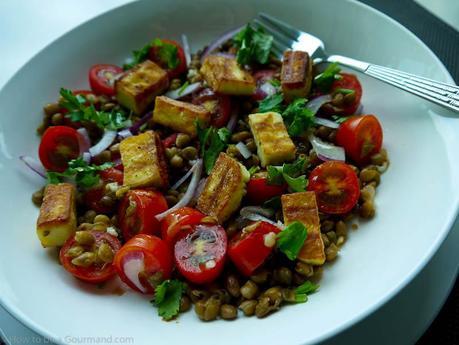 Warm Halloumi, Lentil & Tomato Salad
As much as possible, I challenge myself to use different ingredients with my recipes. A cheese I have often heard much about but never actually tasted or cooked with before has it's origins in Cyprus. It's called Halloumi (or is it Haloumi ? Apologies to my Cypriot readers!) and quite like any other cheese, it has a high melting point which means you can either grill it or fry it and it will maintain it's shape. So given I wanted to participate in Jac's NCR Challenge over on the Tinned Tomatoes Blog, I thought I would whip this recipe up before tomorrow's deadline. The challenge involves making a "Leafless Salad" and I had toyed with putting in my Morrocan Salad but I had a few hours to kill and thought this would be equally suitable! If you are not familiar with Jac's recipes from Tinned Tomatoes, you should pop on over and take a look. As well as some lip smackin' recipes, she also has some nifty Blogging Tips.
I followed this recipe from BBC Olive Magazine and because I couldn't find the correct ingredients at the time, I used a type of Green Lentil instead of Puy and Plum instead of Cherry Tomatoes.
I think if I were to try the recipe again I would replace the raw red onion with caramelised red onion and add a balsamic reduction to replace the lemon juice in the salad dressing.
So what did I think of the Halloumi cheese? For me it wasn't as salty as Feta and the texture is completely different. I loved the crispy coating on the outside which gave way to a firm morsel of unripened cheese. I think to really benefit from it's taste, it has to be served warm.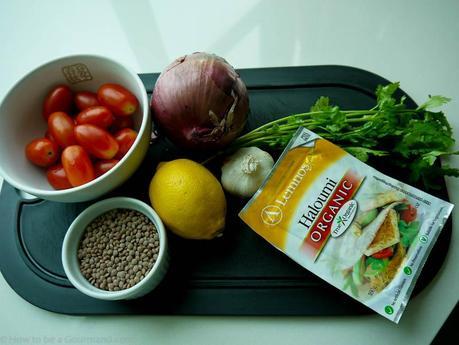 Ingredients for Warm Lentil, Halloumi & Tomato Salad
Have a try for yourself and see what you think. The lentils provide a hearty sustenance to the dish but try to use Puy Lentils as they are renowned for keeping their shape.
Print Warm Halloumi, Lentil & Tomato Salad
Prep Time: 10 minutes
Cook Time: 25 minutes
Total Time: 35 minutes
Serving Size: Serves 2 for Lunch or Dinner
A hearty salad that can satisfy a healthy appetite and can be assembled very quickly. Times may vary according to cooking times for lentils.
Ingredients
150g of Green Lentils
250g of Plum Tomatoes, halved
180g pack of Halloumi Cheese, cut into chunks and dusted with a sprinkle of plain flour
1/4 of red onion, finely sliced
A small bunch of Coriander/Cilantro, leaves and stem roughly chopped
Dressing
2 tbsp of olive oil
The juice of 1/2 lemon
1/2 clove of garlic, crushed
Salt for extra seasoning (optional)
Instructions
Cook the lentils according to the packet instructions and drain. Cover them to retain the heat.
In a bowl, place the lemon juice, crushed garlic, olive oil and salt and mix well together.
Add the tomatoes, red onion and chopped coriander stem to the bowl and toss together.
Add the warm lentils and toss again ensuring that the dressing is coating all the lentils.
Sprinkle the coriander leaves on the mixture.
Place your chunks of Halloumi cheese on a hot, well oiled pan. The cheese cooks really quickly so pay close attention to flipping over the cheese when an even brown color is achieved on one side.
Place the cheese on top of the salad and serve immediately with crusty bread
Schema/Recipe SEO Data Markup by ZipList Recipe Plugin2.0http://howtobeagourmand.com/warm-halloumi-lentil-tomato-salad/Unless otherwise stated, text and photographs © 2011 How to be Gourmand. All Rights Reserved. Kindly request permission from the author to copy or reproduce elements of this blog.
What dishes would you use with Halloumi? I'm keen to try others, so do let me know in the comments below!