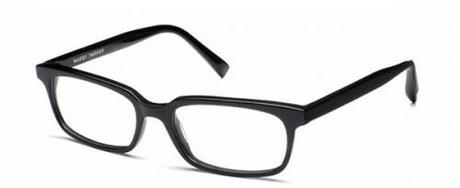 I finally got new glasses! Yah! This is a big deal because my last pair is now almost 4 yrs old, and they are pretty scratched up and bent from overuse. Contacts are cool and all, but my eyes need a rest sometimes. I've been thinking about getting new ones for some time now, but as any of you eyeglasses wearer out there would know – these things are ridiculously expensive! Especially when insurance doesn't cover it. Costco used to be my solution to this problem, but they've changed their policy since my last purchase and now only allows members to order glasses from them. Seeing as how I do not have a membership (and do not see the point in getting one), I was out of luck. That is, until a few weeks ago when my coworker introduced me to Warby Parker.
This start up company is pretty awesome. First of all, they design their own eyewear and sell directly on their site, avoiding branding expenses and all those other costs. So each of the 27 styles available only cost $95…prescription lenses included! That's insane if you think about how other brands run about $300+.
For something that cheap, you'd expect the drugstore style design and rude/nonresponsive customer service. Nope, and nope. The boxy thick frames are hip modern vintage style, made popular by the hipster crowd. They have 27 styles plus one monocle – "the perfect accessory for budding robber barons, post-colonial tyrants and super villains,". These guys are quirky. I like it.
One of the biggest deterrent to buying glasses online is not being able to see exactly how each pair will fit on individual faces. Warby Parker solves this problem with their Home Try-On program. you get to pick five pairs to try on for 5 days in order to be sure of exactly which pair you want. And they arrive at your doorstep within 10 days of signing up – with no shipping charges! And if you have any questions regarding the order, you can just chat to a customer service rep and get your answers instantly. And once you place your actual order, it takes only a couple of days to fulfill, and then the glasses are shipped with next-day delivery – for free! Seriously, all this costs $95 (unless you have a super strong prescription, in which case there is an additional $30 for high index lenses).
As if that wasn't good enough, for every pair of glasses sold, WP donates a pair to someone in need via their nonprofit partners. The infographic below beautifully sums up the program.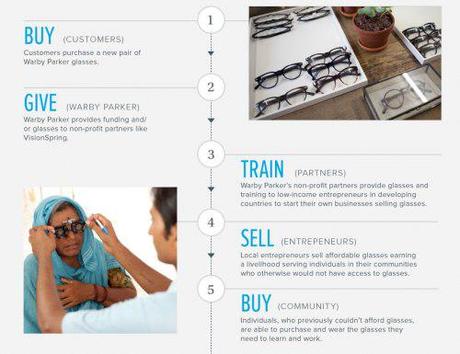 Anyway, I'm super excited I found this company! I forgot to take pictures of my home try-ons, but I ended up picking Linwood (it was really hard to choose!). They arrived in this hip, modern packaging. These fellas know what they're doing.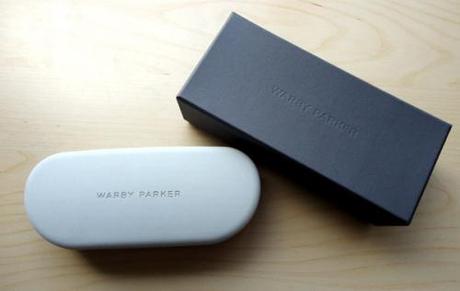 Ta-da!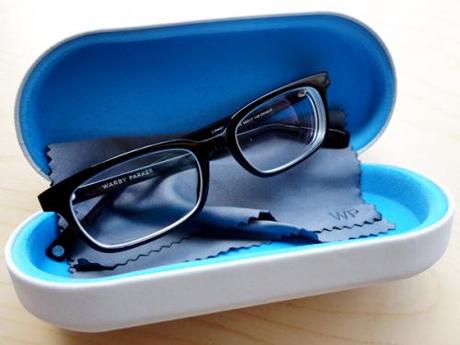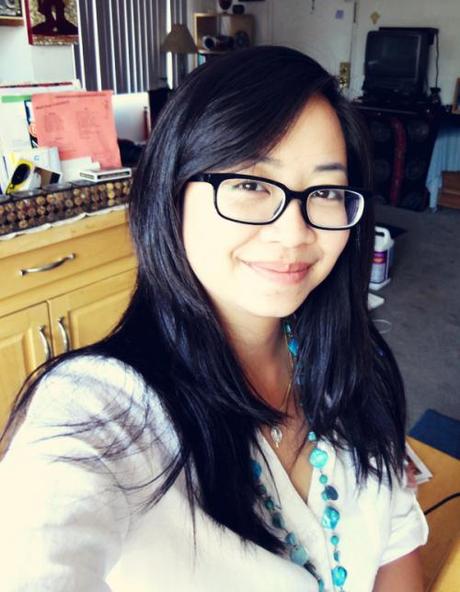 I am quite the happy camper. And did you notice (maybe not from this angle) that I got a haircut??? YEP! But I got another outfit post pre-cut, so you won't see it for awhile.