According to Metro, a Victoria, British Columbia, burlesque dancer was told that due to local liquor licensing rules she could not do her "PG-13″ show on stage, but she could strip fully naked. Apparently B.C.'s Liquor Control Board had problems with her sharing food and drinks with the audience on stage, which she says is "crucial" to her show. We at NotTheWorstNews remind the potentially disappointed audience including a few British Columbian stoners, that despite how hungry some of them may be after all that strong B.C. marijuana, it may not be such a bad thing that they can't consume anything at a strip club. Still, if anyone participated in this show before the ruling, or similar shows, they can feel better reading these:
3 Worse Places To Consume Food Than On Stage With A Stripper
1. On stage with a stripper dressed as a health inspector. Her boring costume includes a clipboard and check list reminding you of all the health violations in the hot dog you just ate! If you took time to read the ingredients of hot dogs, you might not be eating them anywhere, especially in a dingy strip club while a stripper removes and throws her health inspector uniform and clipboard at you. And then she picks up the clipboard to mark off another health violation, because she thought you started bleeding on your hot dog when you got a paper cut from the checklist on the clipboard. Ironically, it was too dark for her to see you weren't bleeding from a paper cut: it was just ketchup.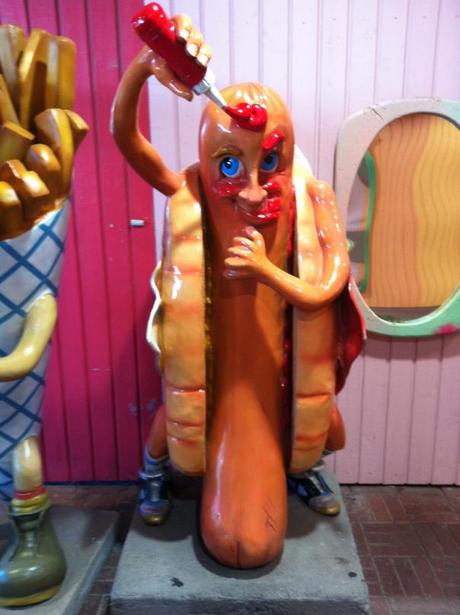 This is how everything looks to a British Columbian health inspector if they've been using British Columbian marijuana! No wonder it's sometimes hard to pass a health inspection there!
2. On stage with a health inspector dressed as a stripper. "What in the hell kind of health inspection is this?" you wonder as the health inspector explains there was a mix-up at the uniform factory, caused by factory workers high on B.C. marijuana giving the wrong outfits and more B.C. marijuana to their courier friends.
3. On stage with a stripper while a private investigator, in disguise as a health inspector, broadcasts the entire incident to your girlfriend via Skype on his iPhone. When you see this happening, you try to grab the iPhone to explain via Skype that this is an innocent misunderstanding. Unfortunately, the private investigator borrowed the health inspector outfit from his wife, and health inspector outfits don't make great "disguises". Which becomes a problem when his wife shows up at a strip club to conduct a routine health inspection and sees her husband there, resulting in an altercation that destroys his iPhone, and your chances of reconciling with your girlfriend any time soon.