Corvallis has several fall celebrations.  Along with the kick-off of Beaver football season in September, there are also Septembeerfest and then Fall Festival.  Considering much of the homes around the university are built on what was once a walnut orchard, there really should be some kind of Walnut Festival!
According to Oregon lore, much of the Willamette Valley had walnut orchards, but the Columbus Day storm of 1962 (yes, just noted the 50 year anniversary!) took it's toll on the trees.  Portland Monthly reported that the uprooting of these trees made way for some of the wineries and the famed Pinot Noir of this region.
Paul, however, still has one of these ancient trees in his yard – I'm not sure which is older, his house (built circa 1900) or the tree.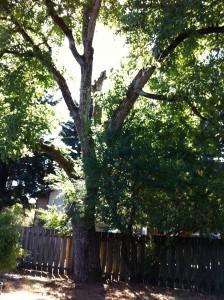 Each fall, the walnuts fall.  While many fall in the yard, quite a few thunk thunk on his roof.  Any time of day, there's one falling. I'm getting used to it, but maybe that isn't a good thing.  A neighbor stopped by to return something, and I ignored the knocking on the door, presuming there were walnuts falling.
When I first saw these gifts, I had no idea they were walnuts — they are green and almost look like small granny smith apples.  But they eventually dry and split open revealing… another hard shell, the brown I have always associated with the walnut shell.  These then need to be dried before you can crack them again.  PHEW!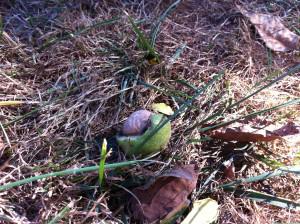 As one can tell, it's a lot of work to harvest walnuts, but one Saturday afternoon, Paul suggested we do a little work "foraging."  He handed me some work gloves (because the green outer shell will turn your hands black!), and we set out on the backyard.  It was really a task of sorting.  Sorting the walnuts that were ready to be dried from the ones that need to split for the first time.  Then there was separating the shells from the other matter.  Apparently you don't want the shells in your compost!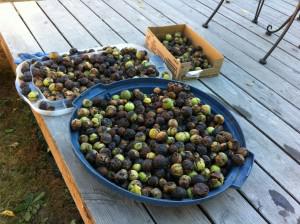 I'm not sure how long the walnuts need to dry before they can be fully enjoyed.  Paul pulled out the box from last year, and with a wrench in hand I had a project.  His neighbor uses a hammer to bust them open, but honestly I don't really trust my accuracy.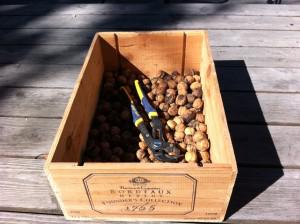 I add walnuts to lots of things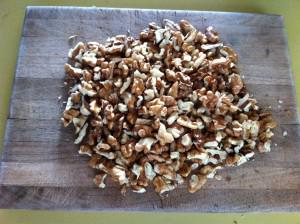 . . . banana walnut oatmeal, salad, but I wanted to showcase these and share them:  Game-day brownies.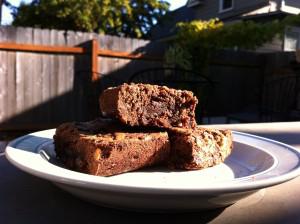 Walnut Season in Benton County!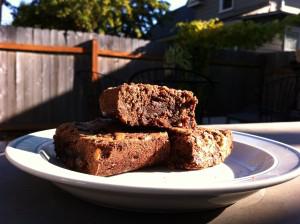 Print
Prep time 10 mins Cook time 40 mins Total time 50 mins   Dense, chocolately brownies Author:
Kclever
Recipe type:
dessert
Cuisine:
dessert
Serves:
16
Ingredients
1 cup unsalted butter, melted
2 cups sugar
2 teaspoon vanilla extract
4 eggs
1 cup all-purpose flour
⅔ cup unsweetened cocoa powder
½ teaspoon baking powder
½ teaspoon salt
1 cup chopped walnuts
2 cups of chocolate chips
1 cup of Heath toffee pieces
Instructions
Heat oven to 350°F. Grease 9×13 baking pan
Stir together butter, sugar and vanilla in bowl. Add eggs and stir well with spoon.
Stir together flour, cocoa, baking powder and salt separately and gradually add to egg mixture, beating until well blended. Stir in nuts, chocolate chips and toffee pieces. Spread batter evenly in prepared pan.
Bake 35-40 minutes or until brownies begin to pull away from sides of pan. Cool completely in pan on wire rack. If the tailgate is sooner than you thought, after the brownies cooled for about an hour you can put them in the refrigerator for an hour or so too.
3.1.08