Yes, it's been a while (more than a year). Nor am I going to pretend this is some revival of once-upon-a-time frequent postings. But I have lots of scraps of recipes floating around the house, and I don't want to lose them, so, to my online recipe box it goes. A poorly lit iPhone photo or two, a recipe, and that's that!
Whole Foods was sampling this recipe and while (like most granola) it's basically a cookie, it does have a lot of good proteins and no refined sugar, so that's something.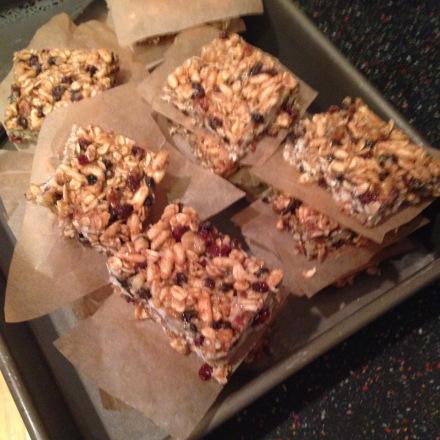 High Protein Chewy Granola Bars
2 cups rolled oats
1 1/2 cups puffed rice cereal
1/2 cup dried cherries (I used barberries because I had them)
1/2 cup dried apricots (I used currants because they were very close to the use-by date)
1/2 cup hemp seeds
1/2 cup of pecans, chopped
1/2 cup of walnuts chopped
1 cup honey
1 cup cashew butter (I used almond)
1 t vanilla
1/2 t cardamom
1/2 t salt
1. Mix dry ingredients together in a large bowl. Line a 9×13 baking pan with parchment.
2. Combine nut butter, honey, and vanilla in a small saucepan and bring to a boil.
3. Stir honey-nut butter mixture into dry ingredients, pour into baking pan and flatten into shape.
4. Chill for 30 minutes in the fridge. Can be stored at room temperature for up to a week and long-term in the freezer. (Cut up your parchment paper to make squares to separate the individual squares of granola bars).