It's been a while since I did a 'Walking the Toy Aisle' post.  This post is a collection of the pictures I've taken throughout the past few months.  Some of these dolls have been out for a while, but maybe they'll be new to you!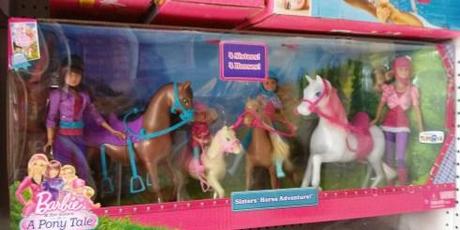 Sister 4 Set for A Pony Tale
Mattel has released multiple four sets that include Stacie, Chelsea (Kelly), Barbie and of course, Skipper.  I actually don't own a single set.  Why?  They're pricey and really, I don't want all four sisters.  However, this set is tempting.  Not only is the Skipper dressed differently from her normal shirt dress/leggings get up, she also has a horse!  This Sisters 'Horse Adventure!' 4 set is a Toys R Us exclusive.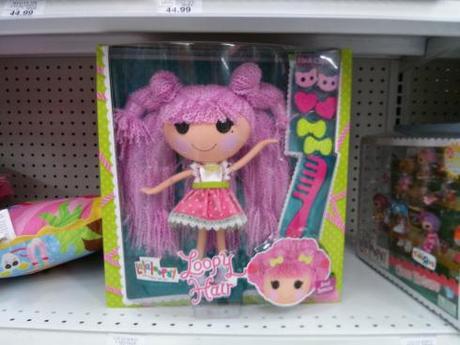 New from Lalaloopsy land…
This Loopy Hair Lalaloopsy reminds me a bit of a Cabbage Patch with her yarn hair.  It looks easy to style and adorable!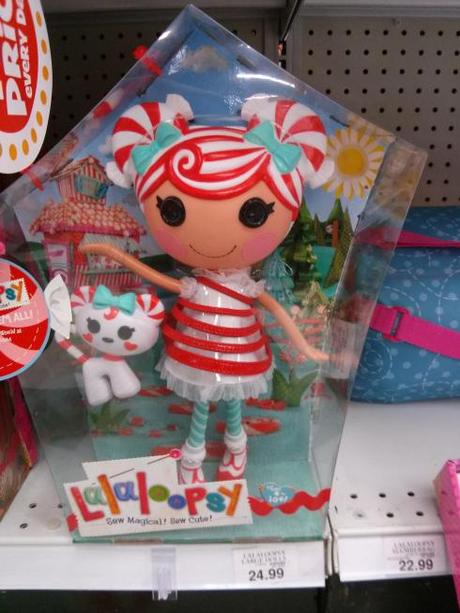 Christmas in July
I don't know about you, but this Lalaloopsy reminds me a lot of Christmas with her candy cane colors.  I love her swirly hair, too!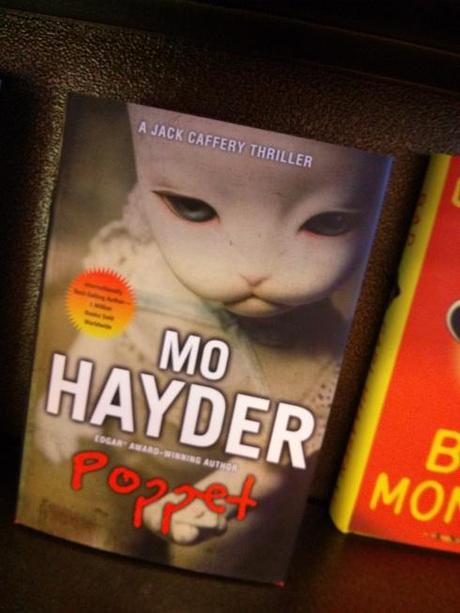 Is that a Pipos?
I know what you're thinking.  You're thinking, what's a book doing on a doll blog.  This book has been out for a while, yet every time I walk into Barnes and Noble, I stop and look at it.  Why?  Because the cover looks very much like an anthro ball jointed doll.  To me, this cover model looks very much like an older Pipo's.  What do you think?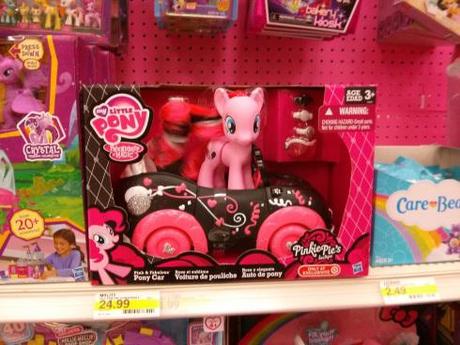 Pinkie Pie and her Wheels
Let it be known that I'm not a huge fan of the Friendship is Magic Ponies.  They're too small and repetitive for my taste.  However, I really like the larger interpretations of them.  This car is a great example.  I think ponies should have some weight to them and it never hurts to add a cool car as an accessory!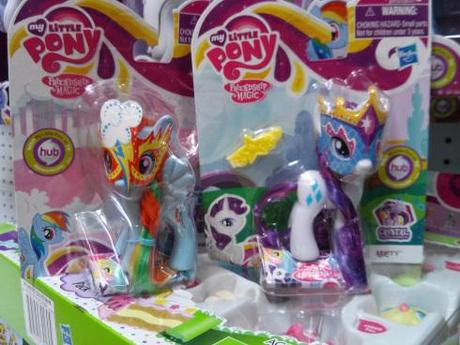 G5 Ponies
Arg.  I just mentioned that I'm not a crazy fan of G5 Friendship is Magic ponies, right? And this is a great example why.  The masks look an awful lot like cardboard to me.  Once that cardboard is ripped or lost, you just have another Rainbow Dash or Rarity.  I expect cardboard accessories with happy meals, not My Little Ponies…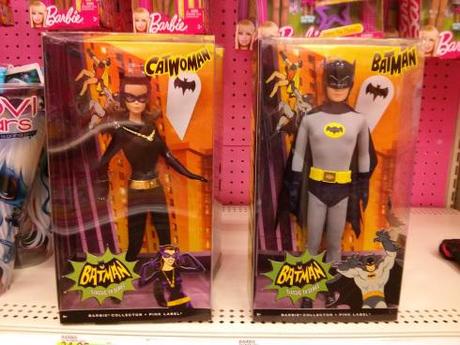 Holy Coolness Batman!
How cool are these Batman inspired nostalgia figures of Catwoman and Batman?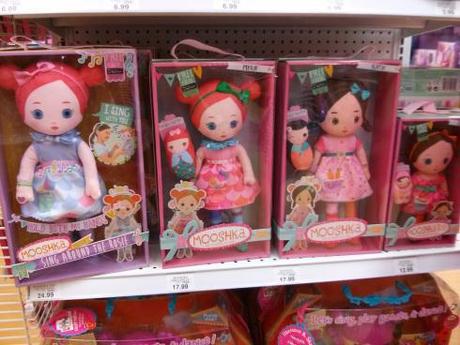 Mooshka
Plush dolls aren't as popular as they have been in past years, but for Mooshka's sake, I hope these catch on.  I find them adorable.  They come in three different size, too, so at least one of them should fit perfectly into your collection!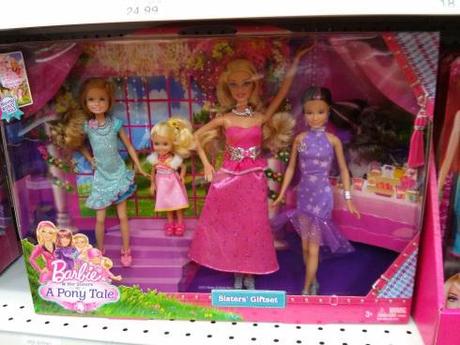 Sisters 'A Pony's Tale' 4 pack
What's the first thing you notice when you see this?  If you're me, the first thing to jump out is Skipper's bang-less forehead!  Is Mattel finally listening to us collectors about 'switching up' her look?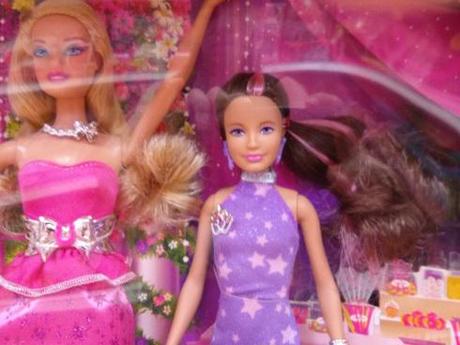 CU on Skipper
Does her face mold look different to you or do you think it's losing the bangs that makes her look a bit strange? Or is it the purple looking eyes?  Next time I'm at Toys R Us, I'll have to re-examine her.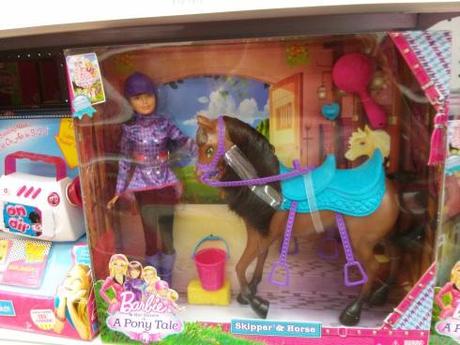 Skipper and Her Horse in A Pony's Tale
Same horse, different outfit in this Skipper and Horse set.  Mattel really wants me to go broke.  Actually in terms of Skipper outfits, I do like this.  I prefer the outfit in the 4 pack, though.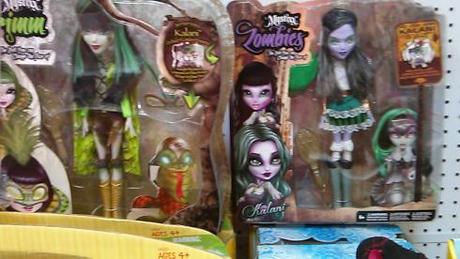 New Mystix Zombie's and Grimm
Whether you love them or hate them, Mystixx are back in two new forms- Zombie's and Grimm's (like the fairytales).  I think these fantasy lines fit the facemold better than the whole high school storyline.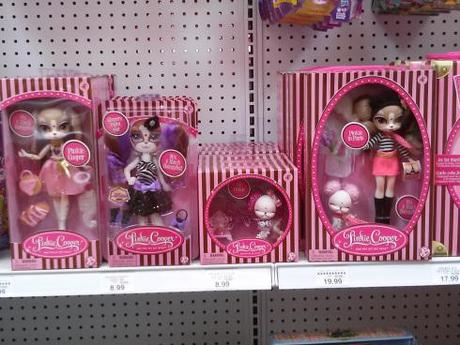 Pinkie Cooper
I've reviewed my Pinkie Cooper a few weeks ago.  Here's a picture of the different releases that are on the shelf right now!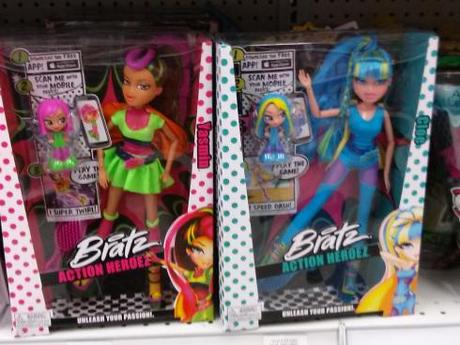 Action Heroez Bratz
I'm not a huge Bratz collector, but I like the bright colors on these and the longer legs really do suit the outfits.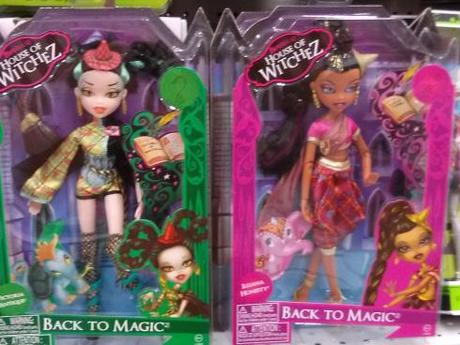 More Bratzillaz
Bratzillaz seem to be going strong.  I actually really like the outfits on these 'Back to Magic' dolls.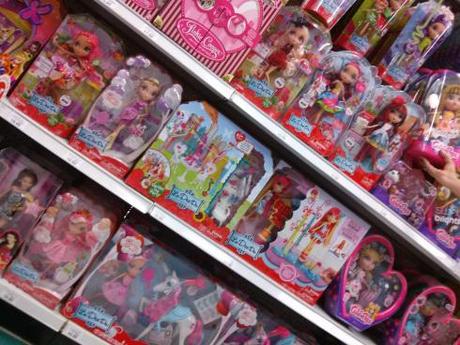 La Dee Da Aisle
I was super surprised to see how massive the La Dee Da display was during this shopping trip.  Not only are the basics still there, but there are tons of playsets and two packs.  Love it!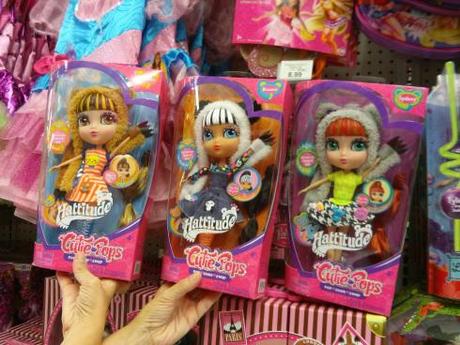 Cutie Pop's
I want these.  I mean, how cute are these Hattitude Cutie Pops?  Not only are the hats awesome, but the outfits are chalk full of color!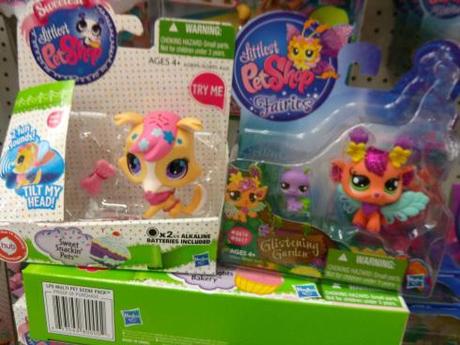 New LPS vs Old LPS
Confession.  I don't like the recent re-design of the Littlest Pet Shop Line.  To me, they're strange looking.  What do you think?  (The new LPS is on the left and the old LPS is on the right.)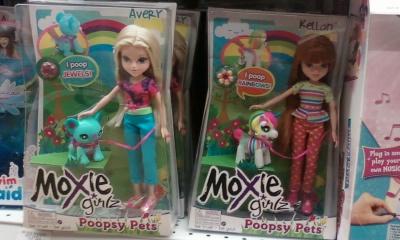 Really?!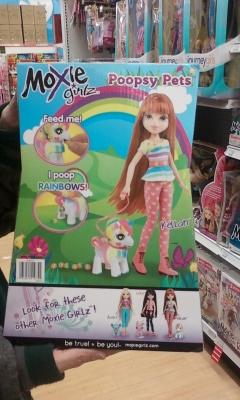 Did I really just read that?
E gad.  Can you believe this Moxie Girlz concept for their Poopsy Pets? The whole concept is designed around animal droppings?  Sorry, but that's stretching it!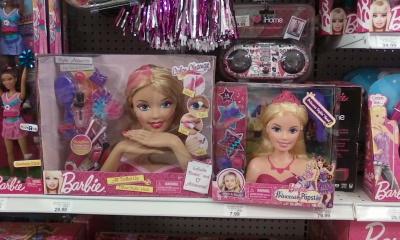 Styling Heads
Mattel had (and my still have) two styling heads out.  One that was for the Princess and the Popstar line and one that your basic Barbie Styling head.  I have to call them out on the quality difference between these two different heads.  The Princess and the Popstar may be a one off, but let's try to keep the quality up, okay?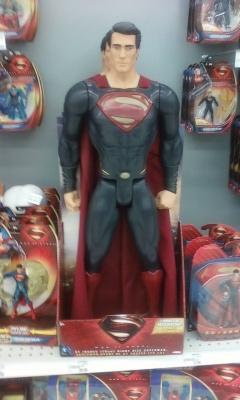 Man of Steel
He's not a doll, but he's super cool, don't you think?  I think this Man of Steel figure looks awesome!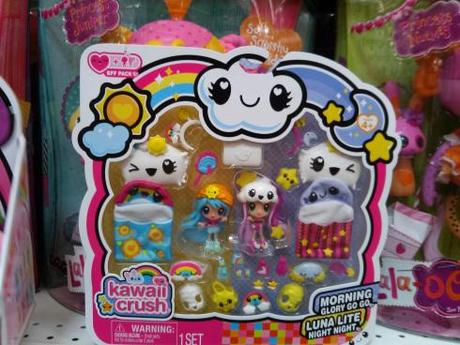 Kawaii Crush
To finish off this Walking the Toy Aisle, I though I'd share Kawaii Crush.  The anime fan in me is also a fan of Pinky ST figures.  While these are different, they still remind me a bit of the tiny Pinky characters that were so popular back in the early 2000′s.  Kawaii Crush has many different variations out at the moment  and seems to play on the whole opposites attract concept.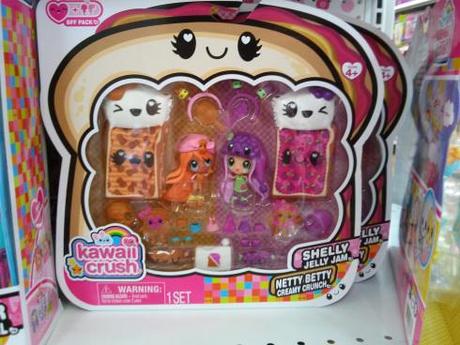 PB and J Kawaii Crush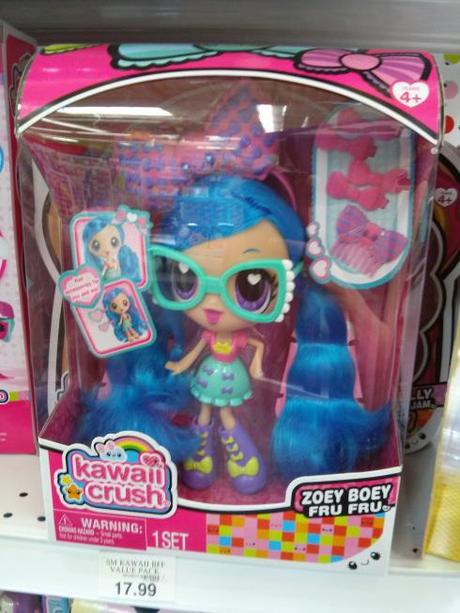 Large Kawaii Crush
I find them, well, kawaii (cute in japanese).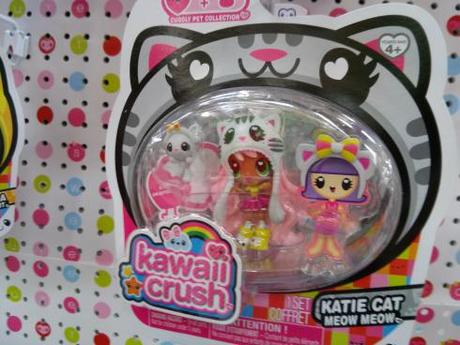 Single Set Kawaii Crush
So that's what I've seen recently while walking the toy aisles.  What have you seen?  Share your thoughts below!