A Week of Fresh Air and Ancient History (September 1998)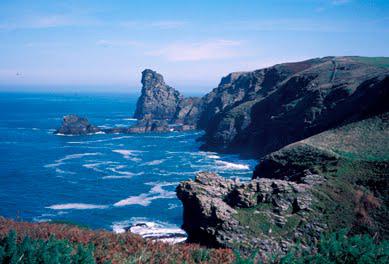 View of Tintagel from End of Rocky Valley
The slate cliffs of the Cornwall coast stretched for miles to the north and south, while the sparkling waves of the Atlantic Ocean disappeared beyond the western horizon. As I peered over the cliff edge into the rocky cove below it was easy to imagine pirates or smugglers stowing their booty in a secluded sea cave. Long ago I had fallen in love with this rugged southwest corner of England as I watched the adventures of
Poldark
on television and read Daphne du Maurier's
Rebecca
. Now I was here and ready to embark with a friend on my first walking holiday.
I had often thought that a walking trip sounded like the perfect combination of exercise and scenery, and Cornwall seemed like the ideal place to start. Not only is its jagged coast spectacularly beautiful, but it has a proud and ancient heritage dating from Neolithic times. From mysterious stone circles in south Cornwall to the reputed birthplace of King Arthur at Tintagel, the walk promised intriguing peeks into history as well as abundant opportunities to enjoy nature.
The Southwest Coast Path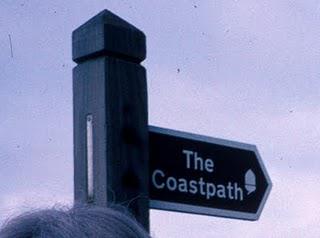 The
Southwest Coast Path
is a public hiking trail that runs continuously along the coasts of Cornwall and Devon for more than 500 miles. It is well marked and we quickly learned to look for the acorn signposts to point us in the right direction. The portions of the Coast Path that we hiked, between Newquay and Tintagel and near Penzance, were selected both because they promised good views and because there were villages at suitable intervals where we could stay each night. (We booked rooms ahead of time.) We planned our trip for September with the idea that we would miss the summer tourist crowds and still have a chance for good weather. As it turned out, we never had a drop of rain, and although I had packed warm clothes, I didn't need them. Cornwall does have the mildest climate in all of Britain and likes to think of itself as the English Riviera.
Setting Off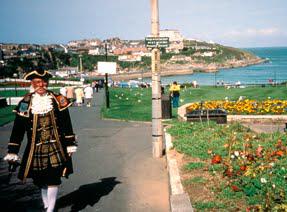 Promenade in Newquay
We spent our first night in Penzance, and then took a bus to Newquay, where gracious old hotels look over a wide beach popular with surfers. As we stepped off the bus we nearly collided with a whiskered gentleman carrying a bell and wearing a tricornered hat, embroidered coat, and knee breeches. At first we thought we had somehow landed in the wrong century, but discovered that he was the official Town Crier. He struck up a conversation and when we told him that we planned to walk nine miles that day, he seemed dubious that we would make it at all. I suppose that we did look like an unlikely pair—two middle-aged women weighed down with heavy packs. He didn't know that we both had been taking long walks to get in shape. When we told him our plans to walk north, he insisted that we were making a big mistake because, in his view, all the best scenery was to the south!
To Porthcothan
Just outside of Newquay we picked up the Coast Path and began our walk northward toward Porthcothan. In general, the path was level except when it dipped down to a beach and we had to walk across sand. Some of the ascents to the headlands were steep, but we just stopped frequently to admire the view, take a photo, and catch our breath.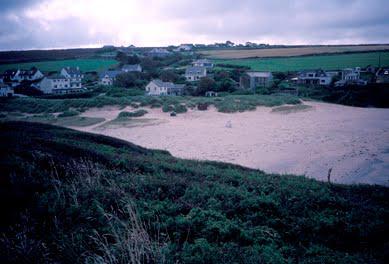 Porthcothan
Much of the Coast Path hugs the top of the cliffs and was originally used by customs officers patrolling the beaches for smugglers. As we walked along, we looked down on seagulls, seals, and the occasional shipwreck. The Cornish coast is famous for its treacherous waters, and its rocky shores have claimed countless vessels. On the landward side of the path we looked inland over the green and gold patchwork of the Cornish countryside. Most of the landscape is open and grassy due to the more or less constant wind, but tucked against walls and in protected areas we also saw purple and yellow wildflowers, scarlet rose hips and ripening blackberries. People have been farming in Cornwall since the first settlers arrived from Europe about 5000 years ago. Today's farmers are encouraged to use traditional methods, so the farmsteads, with their sagging slate-roofed houses and enclosed fields, appear much as they have for hundreds of years. Ancient walls keep most animals in their cliff top pastures, but we occasionally passed a sheep grazing perilously on the seaward side.
Ancient Traditions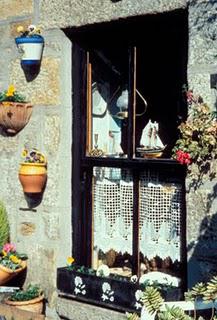 Cottage window, Mousehole
Celtic people came to Cornwall about 700 B.C., bringing with them the knowledge of iron making and Celtic traditions and language. "Cornwall" may come from the Cornish word "Cornovii" meaning "cliff castles." In our walk we passed numerous Iron Age cliff castles and burial mounds, although to our inexperienced eyes, they usually looked more like grass covered lumps than ancient ruins.
Cornish, a language which is more like Welsh than English, was spoken in Cornwall until 250 years ago. It remains in place names such as Truro, the county seat of Cornwall, Delabole, which boasts Europe's largest open slate quarry, and Penzance, the town made famous by composers Gilbert and Sullivan's
Pirates of Penzance
.
Shortcuts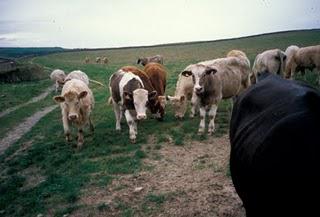 Sharing the Path!
Occasionally we took alternate paths away from the cliff edge. Theoretically these were shortcuts, but were never marked as clearly as the Coast Path and usually required negotiating various stiles and crossing farmer's fields. On one occasion we had a standoff with a herd of young steers but managed to get through with just being stared at.
We were not purists about walking every inch of the way or carrying our packs when it wasn't necessary. After the first two days we were able to leave our packs at our hotel (or have them sent ahead by taxi) and then just used a small day pack for our raincoats (which we never needed) and our water and lunch. Even the tiniest villages had little cafes where we could stop for a cup of tea so we didn't have to carry much food.
Cornish Pasties and Cream Teas
Exercise always guarantees a good appetite and for lunch we usually ate
Cornish pasties
, the hearty meat-filled pies that originated as a portable lunch for the local tin miners. Although the pasty—rhymes with "nasty"-- has become a fast-food staple in much of England, the best ones are still found in Cornwall. My hiking companion is of Cornish ancestry and told me that the thick dough enabled the pasty to be tossed down a mineshaft unharmed! The other food for which Cornwall is famous is clotted cream, a thick buttery spread that one slathers on fresh scones along with a dollop of strawberry jam.
Part II will cover stops in Padstow, Port Isaac, Tintagel, and walks near Penzance.Go to the end of Part II for current information on getting to Cornwall, accommodations, and other details.