Sorry for the delay everyone, this was a busy week, but as long as I finish this post by 9 PM tonight, I still beat the next episode! So I'm current, right? Anyway. That's okay, because it's taken me a week to be able to rewatch this heart wrenching episode. For anyone who's a fan of this show, I'm sure you've all heard enough about how terribly sad but amazing this episode was, so I guess in this late review I'll try to avoid stating the too obvious (like omg lori died wtf). So let's just jump right into it, shall we?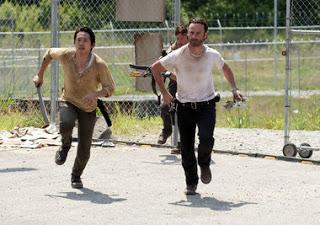 Glen, you look ridiculous.
Things I didn't like so much:
T-Dog is Shortchanged, again:
Seriously, even though they didn't develop him at all in the first two seasons, you'd think that considering the situation of the series they would have to make his death important. But now it seems as though they went out of their way to underplay his death, by making a lead die immediately after him. We'll see if there is any grief shown for him after this episode, but something tells me Carol's impassioned "NO!" is all we're going to get.
When you think about T-Dog's character now in retrospect, it gives an even worse taste in your mouth when you consider the plot lines they tried giving him, and the entirely dropped. First off, his guilt with killing Merle. You totally know this guy is a good, moral person. As far as we know, that guilt was never resolved. So he's just sitting their in the background feeling bad all the time. This might play into his discussion with Dale at the beginning of season 2, where he discusses with Dale on the highway that they should just leave the group because there considered not valuable. His argument was that it was because Dale was old and T-dog was black.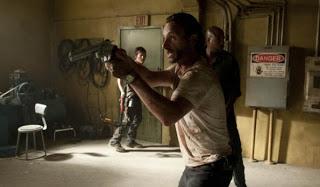 Aww yeah, Rick's brought out the classic gun. So awesome.
Although that was well disproved in Dale's case, T-Dog might be onto something. His lack of social interactions with any of the other characters leads us to one solid conclusion: all of our favorite characters on this show are totally racist, leaving the last year of T-Dog's life a sad existence after the certain death of his family, and the guilt of his conscience slowly and quietly crushing him as he lives as an outcast in a group of racist bastards that use him as an extra bag of meat to keep them safe, until he ultimately gets bit, and in his dying breaths he feels he must prove himself to his group by saving carol, who is most likely the only one who cares about his death, and also the only other completely useless member of the group. And that's what he got. (Yup, that paragraph was only three sentences, sorry).
Michonne's suspicion of the Governor:
In the Zombie apocalypse doesn't it seem totally understandable that there would be blood and bullet markers on a vehicle? This is just totally impractical. Michonne and Andrea have totally been brought into a safe-haven. Obviously we the audience who are familiar to the conventions of this genre know somethings up, but Andrea and Michonne don't! This suspicion and mistrust are totally unrealistic. Also, we have to know, Michonne is totally accepting some of it. I mean, we know she has to be eating, right? "I don't trust you, you're evil, but yeah, I'll have some scrambled eggs." It's really annoying. Oh, and her whole "point" of why didn't the soldiers just drive away from something that moved so slow? How does she not know that some did? It just didn't make sense and she's just an extension of the audiences mistrust. I don't like Michonne anyway, other than her badassness, but let's show some interesting development next episode, shall we?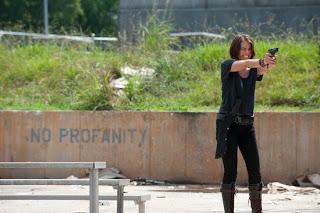 Looking cute as ever Maggie, but you missed a headshot, really?
That awkward moment when they all just stare at each other:
Okay, this is nitpicky, but was I the only one who was frustrated when Hershel came walking out on crutches, and then the two groups just looked at each other, not doing anything? In all the behind the episode stuff they even felt the need to defend it saying things such as "this is the only good moment they have, they need to embrace it, it gives them hope" which is basically like "yeah, we wanted to build suspense for the inevitable Zombie attack about to happen, and we did it in an entirely impractical way." In the episode it was just frustrating. Although, Andrew Lincoln pointed one thing I liked about that moment, that once the Zombies arrived, Rick was both literally and physically removed from his family as he could possibly be. Just a cool little symbolic set up that's probably a little cliche, but I still enjoyed it. Anyway, moving on.
Now, onto things I liked. These will be shorter, but that's just because it's easier to rant about the things I didn't like as opposed to things I did. That being said, here we go:
How Well Played The Group Was:
Perhaps to balance out the complete racist treatment of T-Dogs character, the black guy that Rick totally though was eaten alive came out of nowhere and crippled the group. That's the guy they should have saved and let join the group! Entirely resourceful. He has been locked in a prison for who knows how long, and after being released into the apocalypse for a few days, almost took out a group that's been living it for 8 months. I just want to know, how did he kill that dear without any weapons? Anyway, details, details. But it just goes to show that even in the Prison they are completely vulnerable. Very interesting.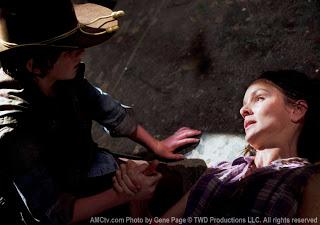 Doesn't Lori just look Angelic? Is that weird? Maybe. Sorry.
Guy Ferland, you have been redeemed:
If you read my post from the previous episode, you know I was pretty frustrated with the directors job. Guy Ferland totally came back though, and framed so many things just right. For instance, the really cool lighting in the room where Lori died, and the entire way they shot that. Very bold framing. Also, the scene at the end where Rick lost it (his acting was fantastic!) by keeping everyone still and having Rick move frantically you totally got the sense he just lost it and was crippled. Everyone else was sad, but he was gone. Great camera work.
Inner conflict with the Governor Gang:
Okay, maybe not exactly "conflict" yet, but the makings of. The Governor's status is built on making everyone beneath him happy, and Merle doesn't seem like one to sit under a thumb to well already. Being denied the right to search for his brother might be the push he needs. in the preview for the next episode Daryl goes out in search of medicine for the baby, and I seriously hope the two groups converge. It's about time to get this plot rolling.
Anyway, this episode all in all was fantastic. Great plot developments, great zombie slicing action, and some great music ques. But yeah, I have to keep this short so I can get it posted in time for tonights episode. I hope your as pumped as I am! Rick's gonna go crazy. Look for my review this Tuesday!