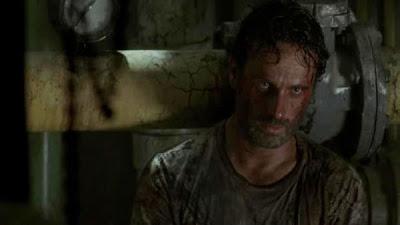 Hello? Rick? You there? Are you even listening?
Well everyone, it was bound to happen. The momentum of season 3 was bound to break. After the dramatic and devastating events of "The Killer Within" it was only expected that this episode would take a step back, but that's not necessarily a bad thing. In this instance, the episode held up in it's own right. I do, however, have my concerns that the season may not get back into the intensity it kept up in the first four episodes. But more on that later, for now, let's go to the break down:
Things I liked:
Penny For My Thoughts:
Unless you completely missed it in "The Killer Within," it was totally obvious that the Governor has a daughter that somethings not right with. In his conversation with Andrea he mentions that his wife died and that it's just him and his daughter, that we had yet to meet. Right at the jump in this episode we have our answer what's up with her. Guess what? She's a walker (or biter as the Governor calls them)! No surprises there. Oh, and he's totally still in love with her and believes there's part of her old personality still somewhere in that old corpsified noggin. I loved how David Morrissey played it, like he had absolute control and there was nothing to fear. A little touch that was interesting was just how docile Penny was for a walker, until daddy accidentally ripped her skull with a brush. This brings up an interesting question, do walkers feel pain? Just curious. Wouldn't really make a difference if they did, just wandering.Oh, and I like how later Michonne stumbled upon that notebook where the Governor wrote down Penny's name bolded and with tons of slashes for a page following that, which leads me too...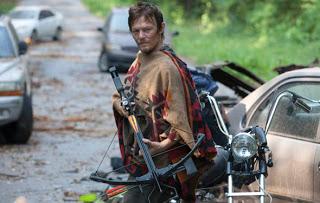 My new hobby: Badass Mexian Pancho Gazing
Rillip/Philck?:
Ok, so I guess there's no real way to combine the names Rick and Philip, but anyway, I know Robert Kirkman has mentioned that they're supposed to be two sides of the same character, and I love their parallel. First off, this episode both reveals they're both kind of crazy. The Governor with his weird obsession, and Rick with his murder happy telephone hearing insanity (which has to be insanity, and not real, come on). Even further, though. They both have lost their wives, and are trying to keep their child alive, although Penny's kind of a lost cause. Even if there was a cure, her nose kinda fell off. No coming back from that. Also, they're both trying so hard to keep their people safe and are willing to kill to keep their parties safe. It'll be really fun when they meet up with each other. And is it just me, or do they kind of look similar?
Daryl Stepping Up:
The writers and the actor (Norman Reedus) do a great job of playing Daryl as both a tough manly man with a heart of gold. When Rick was in his daze Daryl totally stepped up to the plate and took charge without a second to spare. As the episode later revealed with Daryl placing the Cherokee Rose on Carols grave he was dealing with some heavy emotions the whole time (BTW- great music que). Still, he had enough will power to get that damn baby formula. It begs the question, though, if Daryl lost it, who would take charge? Glen? Once Michonne gets in the group, she'll totally ascend to the top, but for now Daryl is the only one able to take charge. He's got the leadership and skills, and he just adorable with little ass-kicker there.
Michonney the lonely got back her sword:
If there's anything we've learned about Michonne's character the past couple episodes, it's that she don't take shit. She got her sword back, did some snooping, saw a gang of walkers locked up in her back yard and she pulled a Shane on their ass's. She saw that and she got out of their. Yeah, it must have sucked leaving her lesbian lover behind, but she was too on fire to be held back. The episode revealed that physically she has one up on the Governor, which will be nice. Anyway, I don't really have much to say about that, but I just liked it.
Now, onto the lesser gooder stuff: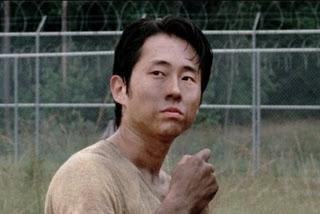 That's why rick really pushed him in the prison, for giving a shitty monolog.
In loving memory of T-Dog, again:
Okay, so I know I ranted last week about how much they shit on T-Dog, but come on, this is just icing on the cake. "T" didn't have any interaction with anyone, and then he dies and Glen goes on this whole rant of how "T-dog was the best." Not only was it poorly written, but it was entirely unbelievable based on T-Dogs existence in the show. Oh, and btw, now we find out that he saved a bunch of people and was a great guy? Would have been interesting to know how he came across the group before he died. Whatevs. I think Glen was just guilty he treated T-Dog like crap and is covering for it.
That pointless scene where they find the formula:
Clearly the writers had 5 minutes that they didn't know how to fill. In that time, nothing of importance happened. As much as I like seeing Maggie on screen, and you know I like seeing Maggie, I wish they filled this scene with something that actually had an impact. Even if they showed something of interest for zombie fanatics it would have been understandable, like a baby walker or something. But nope, they go in, build suspense, find the formula, and get out. I was really hoping this would be a moment where the two storylines would clash together. It feels like it's time for that to happen. Like, maybe the signs for the grocery store they saw would lead them to Woodbury? I worry that if they don't pick up soon we'd get too caught up in little distractions that would distract from the bigger story, like Carol being missing.
Like Daughter like Mom:
In case you forgot, Carol's daughter Sophia went missing for a little while there in season 2. It didn't take too long before they realized she died, just like, half a season or something. Entirely pointless and annoying. But now Carol is all missing, and granted they think she's dead (which is dumb enough), so it's probably gonna become a big deal when that resolves. They'll spend a lot of attention on it and it's just a bad plot line. I really don't know what they're thinking, but just like the Sophia plot-line, it'll probably just end up going nowhere and will serve as a footnote at best. Frustrating.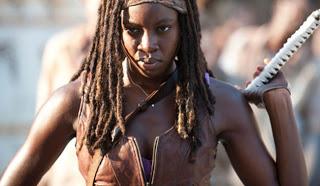 This is happy Michonne, can you tell?
The Boxing Match from Hell, or not:
So Michonne gives Andrea and ultimatum, stay with me or go, in which Andrea defends Woodbury, so Michonne leaves off into the wild to survive on her own for another however many months. This is the perfect moment for the show to reveal to us something fucked up about woodbury to vindicate Michonne's suspicions, which is exactly what the show tried to do. In the episode, it played up the staged boxing match as the most gross and messed up thing ever. The only thing is, to me at least, it doesn't really seem messed up. Boxing is an old sport, very popular, and they're not actually putting people in harms way with the walkers, they threw in that whole scene where Merle pulled out the Walkers teeth, it was a nice touch. But Andrea almost through up, and left in disgust, which didn't really make sense. Okay, so she's probably still scared of walkers and can't stand the thought of them being caged and in her presence, but other than that, it actually makes sense. The fighting let's out some tensions, gives people something to look forward too, makes people not so scared of the sight of walkers. At any rate, I'm good with it. At the end of the day, I hope there's more messed up with Milton's experiments he keeps eluding to. It just seems too mundane.
But anyway, that's my thoughts on the episode. It's funny how this not so interesting episode is still way more interesting then half of season 2 was. Thank God I wasn't blog last year, I don't know what I'd write for half the episodes. Next week should be interesting, lets hope they start picking the pace back up and merge the plotlines! Still very excited for this season, and more scenes with Maggie that are actually important.