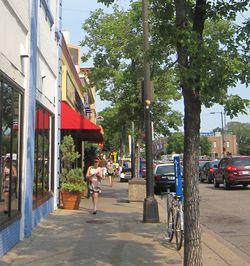 With walkability high on many homebuyer lists of must-haves for young home buyers and Baby Boomers alike, many look to walkscore.com to help evaluate a property. While a useful tool, don't forget that it is just a tool... as lifestyle search is also just a tool.
Some things to consider...
Online tools aren't always totally accurate... they can be a good gauge, but I almost always find that some great coffee shops, grocers, etc missing... and some on the map are no longer in business
Determine what is important for YOUR walkability factor... it could include proximity to a place of business, transit line, entertainment, gym, park, school, doctor, shopping, library... things that may or may not be included in walk score
High walk score may indicate higher noise and street activity levels... things that may or may not be of concern to you
Is the 'fabric' of the neighborhood what you are looking for in a community?
Even with a high walk score most people can't walk or bike everywhere they need to go... how is access to highways and other forms of transportation?
What about parking?  ...both for yourself and guests who need it
When finding the right walkable neighborhood for your lifestyle nothing takes the place of personally visiting the neighborhood and walking it yourself.  Are the factors that are important to you present? Talk to the people you encounter about what it is like living there.
And of course there is also the bike factor. Sometimes the 'sweet spot' is a place where bike-ability is what makes it most attractive. I was just talking to a client this week who said he was in a class where the instructor was asking if people were having trouble finding parking... my client said no, the bike racks were working just fine for him!
Sharlene Hensrud, RE/MAX Results - Email- Minneapolis Realtor