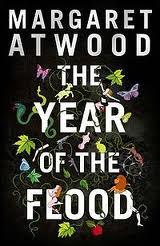 The second book in the Madd Addam series, The Year of the Flood follow Atwood's first book in this series Oryx and Crake, although it's not necessary to have read that book first as this one only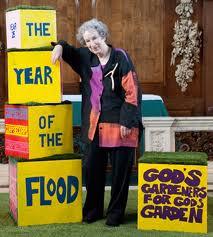 contains a few brief references to the former.  The book follows a religious sect called "God's Gardeners" and their preparation for the waterless flood.  While the book follows the stories of several characters the two main characters to note are Toby, an older woman who joins the gardeners to  get protection from a vicious boyfriend, and Ren who came to the group as a child and ends up working as a trapeze dancer at the high end Sex Mart club Scales and Tails.
The multiple perspectives in this book make it a little hard to navigate at times and in addition to the multiple narrations the plot also skips from past to present, which adds another layer to unravel when trying to figure out who's who and what's going on.  Once you get into sync with the rhythm of the narration, however, the book will start to draw you in and the initially confusing characters will become complex and interesting.
The book does move a little slow and it seems as though most of the action happens in the last few chapters.  Atwood spends the majority of the book creating the world of the gardeners exploring the events that lead to the plague and how far the world has fallen.  The end of the book briefly introduces the "new world" of perfect, genetically engineered, humans and leaves you anticipating book 3 in the series.  Don't pick up this book if you're looking for a fast paced plot, but there's plenty of intrigue and twists to keep you entertained as long as you're willing to look past some of the slower sections.