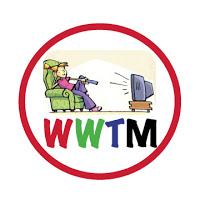 The answer to Wednesday's Trivia Question: James Caan played Sonny Corleone in The Godfather. He was married to Sandra. 
FIRST FIVES: Mike O'Dea, Karen Feldman, Megan Quirk, Bob Kaplan, & Bobby Aguilera
Honorable Mention:Dan Realson purely because he seems to be a Godfather wizard!  Bonus Trivia Answer #1- Patrick Dempsey played Ronald Miller in the classic Can't Buy Me Love. So many of you knew it and called out his famous African Dance that I felt the need to attach the clip here: http://www.youtube.com/watch?v=1eamhSW47S4
Bonus Trivia Answer #2-The 3 members of TLC were: T-Boz, Left Eye and Chili...T..L..C

Tuesdays Broadcast Top 5 

The Voice-NBC 4.0/12.8

NCIS-CBS 3.0/18.5

NCIS LA-CBS 2.6/14.8

S.H.I.E.L.D-2.6/7.1

Person of Interest-CBS 2.2/12.9

Tuesday's Broadcast Trendrr Top 5

Supernatural-CW 155,851

The Voice-NBC 97,813

S.H.I.E.L.D-ABC 91,104

The Originals-CW 73,264

NCIS-CBS 58,659

Tuesday's Cable Top 5
Sons of Anarchy-FX 2.4/4.3

Pretty Little Liars-ABC Family 1.4/3.1

American Dad-Adult Swim 1.1/2.2

Snooki & Jwoww-MTV 1.0/1.7

Tosh.O-Comedy Central 1.0/1.6

Tuesday's Cable Trendrr Top 5

Pretty Little Liars-ABC Family 1,558,365

Ravenswood-ABC Family 282,389

Sons of Anarchy-FX 107,076

Awkward-MTV 58,746

The Bad Girls Club-Oxygen 45,649

World Series Game 1

I was out after Boston took the lead in the first inning. I'm a Yankee fan, there isn't a team I hate more than the Boston Red Sox.

Survivor

I got really side tracked and fixated on every one's outfits when I was watching Survivor last night. I really need to understand how everyone packs for their trip. I mean are they asked to bring a sparkly bronze top that they could wear to a Bar Mitzvah to Panama? Maybe Monica only wears sparkly sleeveless tops to showcase her crazy sick arms. I'd get that. I'm going with it. Some items do make sense, like Kat's hoodie even though its like a 1000 degrees on the island. It could keep you warm at night and keep bugs out of your hair but some of the tribes choices are very odd.  Lots went on last night, Laura M and John beat out Brad on Redemption by being able to count to 100 pretty fast. Then it was time for a little tribe swapping and new teams were formed. Tina lucked out, she got her daughter Katie back. Vytas sort of lucked out, he ended up being the only guy on that team. Sure he was initially the target and played the women beautifully. Kat's idea to get rid of Monica and keep Vytas blew up in her face big time and she was sent packing. Gotta say that Tyson usually bugs the crap out of me, but I found his food strategy and his Aras strategy after the tribe swap to be pretty funny and pretty smart. Aras is already on every one's radar and could be out next.  Modern Family

Nathan Lane was back as Cam & Mitch's friend and wedding planner, Pepper. I'm not a fan of Nathan's at all. I feel like he's famous for being himself. Sometimes you get him dialed up and sometimes you get him dialed down, but net/net, I think he's always playing some form of himself. That being said, I did think the storyline with Cam & Mitch stealing Pepper's assistant ,Reynaldo, to plan their wedding was pretty funny. I mean Reynaldo's ideas sounded awesome to me especially compared to Pepper's Purple Pimp theme (complete with unicorn).  Also funny was Phil's Dad accidentally bringing home a hooker (Why can't figure out who she was?)  The funniest moments though, were over at Jay and Gloria's place. After firing 5 nanny's, Gloria finally found one she liked, a Manny named Andy.  Manny didn't love the new Manny...neither did Jay, I can't even explain him to you.  Jay said it best, "He's a weird man...he's like Phil but I'd have to pay for him". Even so, he was hilarious and as the credits rolled he was still working for the Pritchett's, so I'm hoping he sticks around a while. I had to look up where I knew him from...Pitch Perfect! Totally, can't believe I didn't get that one right off the bat.  (10 points if you know his name in the movie...YOU CAN'T LOOK IT UP). 

Nashville

Soooo Rayna couldn't sing but then she could.  Deacon can't strum his guitar anymore, but he can sort of play the piano.  Scarlett can do it all but she can't deal with the lights, the camera's or anything else related to being a country music star. Juliette invited Will and Avery to join her tour with Layla. Avery turned her down but Will was pumped up to go. Problem is, now he had to pretend to be dating Layla even though he can't stand her because she messed with Scarlett and well...he is gay and doesn't really dig girls at all. But shhhh that's a secret. Lots of songs written in a day or two, one that I loved was the one Gunnar wrote for Zoey. "Don't Cha Wanna Be My Girl" I gotta download that one. I wasn't the only one that loved it, Zoey did too. She loved it soooo much she ended up sleeping with Gunnar. That'll end up badly I'm sure. Lamar was arrested for a gazillion counts of racketeering. He thinks it was Teddy wait til he finds out it was his daughter. He's gonna be soooo mad his lips may actually move when he finds out.

NEWS & INFORMATION -Newsreaders has been renewed for a 2nd Season by Adult Swim. I've actually seen this show even though it's news based. It's pretty good so congrats! 

-Starting November 6th, X Factor fans can vote for their favorites through a SuperVote experience directly through the Shazam app. You'll also be able to click to purchase songs performed by the acts on the show and the recording artists being featured during the broadcast. Sounds cool, but since I gave X Factor up I won't be checking it out.  


-Yeah...another awards show!  The American Comedy Awards! This one won't  make its debut until May, but NBC will be airing it and I will be watching it. Hope there's an E! Red Carpet Pre-Show too. Nothing better than an awards show. If you've been reading this blog for a while, you know I'm at my best during awards season! 
-I know a ton of Million Dollar Listings lovers who are going to love this news, another one is coming to Bravo soon. This one is Million Dollar Listings Miami.  

-Check this out, so far this season there have been 16 NFL games with over 20 million viewers. Man we love our football in this country!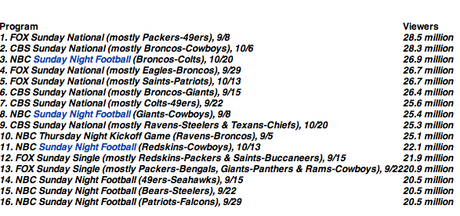 -Fox has renewed TMZ through 2017. Makes sense...TMZ knows everything about everyone and with celebrity news and gossip being so incredibly popular, I wouldn't have any doubts for a long term renewal. 
-Any of you guys out there big Mackelmore and Ryan Lewis fans? I happen to really love them. Mackelmore has quite a personal story and he's sharing it with the world on November 7th on E! In addition to the big personal reveal, he will be giving a very special person in his live a huge home makeover too. Two big reveals in one "very, special show". I'm sure you know all of the big Mackelmore hits like "Thrift Shop," "Can't Hold Us," and "Same Love," but my favorite is this one. "Wings". Check it out http://www.youtube.com/watch?v=gAg3uMlNyHA
-Big Scandal scandal. Did you hear about this one? A woman named Courtney Pajor has quite a following on Twitter under the account Scandal411. I don't actually follow her, but I've seen her when I'm reading stuff on Twitter. Anyway, she has 26,000 followers. The thing is, she works for ABC as a Director of Special Sales and seems to be crossing the line in her exchanges with fans and journalists who don't share her opinions. I'm sure there's more to come on this one. 
-ABC ordered 2 more eps of Super Fun Night and 2 more of one of my new faves, Back in the Game. I guess 2 is better than none right?
Thursday's Trivia Question
:  What was James Spader's characters name in Pretty in Pink?
WWTM-Kristy
Like me on Facebook at Watching Way Too Much
Follow me on Twitter at watchingwaytoomuch@tvnme
http://watchingwaytoomuch.com
[email protected]