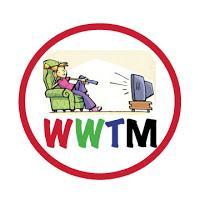 The answer to 
Tuesday's Trivia Question
: Paul Reiser and Greg
FIRST FIVES
:Tara Dowling, Dan Realson, Neil Strahl, Phyllis DiCesare, & Gerald Piscopo
Honorable Mention:
Daniel Block
Sunday's Cable Top 5
Real Housewives of Atlanta-Bravo 1.7/3.4
The Big Bang Theory-1.5/3.5
FX Movie-FX 1.3/2.7
Ax Men-History 1.1/2.8
Shameless-Showtime 1.1/2.0
Monday's Broadcast Top 5
2 Broke Girls-CBS 4.1/12.2
How I Met Your Mother-CBS 3.8/10.4
Mike & Molly-CBS 3.5/11.5
Hawaii 5-0 -CBS 2.4/9.3
The Bachelor-ABC 2.4/7.4
Monday's Broadcast Trendrr Top 5
The Bachelor-ABC 114,965
How I Met Your Mother-CBS 97,996
The Carrie Diaries-CW 78,849
The Biggest Loser-NBC 66,068
Bones-FOX 56,788
Monday's Cable Top 5 
WWE-USA 1.6/4.5
Teen Mom 2-MTV 1.3/2.1
Family Guy-TBS 1.3/2.2
Love & Hip Hop-VH1 1.2/2.2
Pawn Stars-History 1.2/3.9
Monday's Cable Trendrr Top 5
WWE-USA 389,756
Love & Hip Hop-VH1 119,826
NBA Basketball-NBA 92,634
Being Human-Syfy 44,905
Teen Mom 2-MTV 37,652
Wade and Zoe and
Hart of Dixie
were back from their holiday break last night. When we last left these two, they had decided to actually give the boyfriend/girlfriend thing a shot.  Now they are a month in and waiting for their first fight just as the town of Blue Belle was preparing for Pioneer Day.  Blue Belle seems to always have a festival, a party,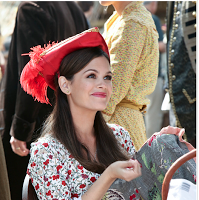 a celebration, a wedding or something in the town square where massive amounts of costumes and props are needed, sort of like
The Vampire Diaries
if ya think about it (maybe it's a CW thing). The Pioneer theme sounds hokey but everyone actually looked pretty good in their costumes. The good news is that Wade was shirtless before and after Pioneer Day which of course made the episode extra delightful.  I wonder if Rachel Bilson is getting any of that in her trailer?  Hmmmm.  Oh well, I digress...Zoey was following old world advice she was given and wouldn't let herself get angry at Wade with the goal being to not have that first fight . Of course this drove Wade nuts, so he pulled out all the stops  to get her to explode, which she finally did... at the big Pioneer festival after Wade let a raccoon into her apartment to snack on one of her million dollar Louboutin shoes. Of course they agreed to fight in the future and went back to getting naked.  In addition to Zoey and Wade's issues, Brick was sleeping with Shelby and asking George Tucker for advice.  Then there was the "I don't really care" storyline where Lemon and Annabeth catered Pioneer Day. Hart of Dixie's too cute.  It really is, but they need to figure out what to do with Lemon and Lavon...soon.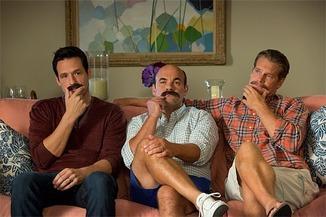 Whoever does the wardrobe on
Cougar Town
does a really good job. I feel like every week there is something that somebody is wearing that I want to hunt down. Usually it's Courtney Cox's blouse or necklace, but this week it was Ellie's top that I now need to search for.  Other than the wardrobe, the guys all decided to grow (or glue on) thick Tom Sellecky mustaches which I found funny since Monica on Friends, used to date Tom Selleck. Maybe Courtney has had a mustache thing ever since? The gang didn't drink as much wine as usual, and they almost killed their neighbors cat this week. I was sort of confused with the Grayson storyline in this episode.  He claimed to be homophobic but exhibited signs of someone who was VERY comfortable with his feminine side and gave this whole "lets not judge" speech when his bar become a gay bar. Not sure I got it, but I thoroughly enjoy the show and now I have to hunt down that top. Is there an app that does that yet?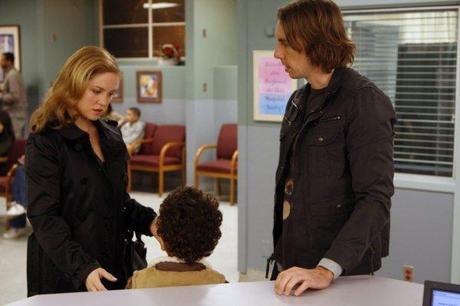 Only 2 episodes of
Parenthood
left so I was glad that this one wasn't a sad one.  Of course there was drama but, shockingly enough, I did not shed one tear from last nights episode at all. I'm becoming more and more of a Crosby fan this season. I'm sure that knowing that Dax Shepherd is a Howard Stern fan and BFF's with Bradley Cooper, that I'm becoming more of a fan, but this season Crosby is really maturing and isn't so much of a screw up anymore. When Julia broke down about adopting Victor, it was Crosby who reminded Julia that he basically inherited a kid as well when Jabar showed up on his doorstep (well actually on his bow, because he lived on a boat at the time).  Crosby also stuck up to Jasmine's mom, and Jasmine and was right on all counts which was refreshing. The best part of the episode was Max's big vending machine win, thanks to his Mom. So glad that there was no mention of cancer (other than the bald head and scarf) this week.  I think we all need to know the name of the actor that plays Max Braverman. He's brilliant and deserves some sort or recognition.  Max Burkholder...don't forget it. Also pretty touching was the fight for Sarah between Hank and Mark. I guess we will find out her choice next week...or next season.  Can't believe the finale is next week.  It's been a great season, thanks to Jason Katims and the entire Parenthood cast.  You guys all rock!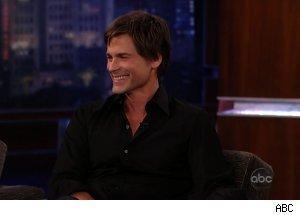 Rob Lowe
was on
Jimmy Kimmel
last night plugging his Casey Anthony movie and of course
Parks and Recreation
and damn he looks good.  No, he's not 50 yet, only 48 but the guy is just aging perfectly. I don't believe it was in his book, but he brought up that he had auditioned for Footloose but tore his ACL on the audition and couldn't do the movie.  Of course we can't imagine anyone BUT Kevin Bacon in that role, but it got me thinking about Rob as Ren McCormick...it actually could have worked if you think about it during your commute like I did this AM.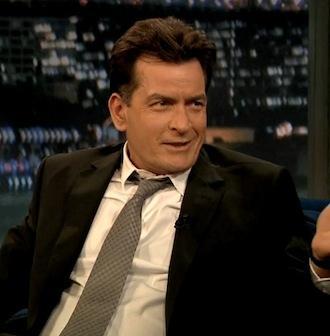 One of Rob's childhood friends,
Charlie Sheen,
was on
Jimmy Fallon's
show last night. He was sweaty and hyper but seemed okay and announced that his 28 year old, married, daughter is pregnant, which means that Charlie is going to be a grandfather.  Lets think about THAT for a minute. Even with that news, the best part of the interview was when my FBFF imitated Charlie to Charlie's face. He loved it and of course Jimmy was spot on.  Man I love that guy...Jimmy, not Charlie, just to be clear there.
NEWS & INFORMATION:
-It's cancelled, it's not cancelled, Netflix is saving the show, now it's not.  Looks like AMC has finally decided to uncancel (is that a word?)
The Killing
 which will be coming back for a 3rd season for all of you that were waiting for some news on this show.
-First Emblem 3 and now Tate Stevens, who came in 2nd on X Factor last season, has signed with Simon Cowell and Syco. 
Not a huge surprise, but thought you'd be interested. 
-Lifetime's
Drop Dead Diva
is officially cancelled after 4 seasons.
Never seen it.
-Here's an amazing factoid:
182 million Americans watched 38.7 billion videos online and 11.3 billion ads all in the month of December. WOW!
84.9% of the US web audience watched online video
Average duration of an online video was 5.4 minutes
Video ads accounted for 22.6% of all videos viewed and 1.9% of all minutes spent watching online video
-I'm sure you heard that Facebook unveiled its new Graph Search product, yesterday.  I don't admit to being an expert AT ALL on any of this, so bare with me.  This product is basically an internal search engine that provides personal answers about your Facebook friends. If it works the way they are saying it should it, could play a big role in how users search for and discover new content to watch online. Graph Search's interest-based technology would be able to pull up personalized lists of videos, movies, and TV shows, based on what a user's Facebook friends "like" and recommend.  I'm interested but concerned yet again about the privacy piece...I guess we will wait and see.
Wednesday's Trivia Question: On Who's the Boss, what was Angela's mother's name?
WWTM-Kristy
http://watchingwaytoomuch.com
[email protected]
[email protected]