Amber Wagner Replaces Deborah Voigt in Chicago Ariadne.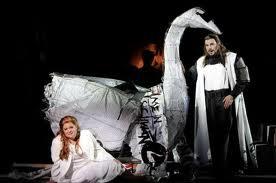 Amber Wagner as Elsa in this summer's production of Lohengrin at Savonlinna.
Photo © 2011 Savonlinna Festival
Casting changes from Chicago, where soprano Amber Wagner will step in for Deborah Voigt in the Lyric Opera's company revival of Richard Strauss' Ariadne auf Naxos.
Ms. Voigt, who is currently appearing at the Glimmerglass Festival in a production of Annie Get Your Gun, announced today that she will be forsaking the role of Ariadne for heavier, dramatic roles. Ms. Voigt made her reputation as a Strauss specialist in the last two decades, and Ariadne has long been one of her signature parts.
Ms. Wagner is an American soprano. Her current repertory is similar to that of Ms. Voigt's a decade ago: Elsa in Lohengrin, Sieglinde in Die Walküre and a forthcoming appearance in Verdi's Nabucco at the Met this fall. She recently appeared as Elsa in the acclaimed Lyric staging of Lohengrin opposite tenor Johan Botha.
The news was reported this morning on Parterre Box. As the report quoted: Ms. Voigt "is focusing increasingly on dramatic soprano roles and has made the decision to remove the role of Ariadne from her repertoire for the time being."
As a singer moves from light, to middle, to heavy repertory, the voice changes, and the vocal chords thicken. Unfortunately, the process is irreversable. With Ms. Voigt adding Salome, Brunnhilde and Puccini's La Fanciulla del West to her repertory, we may have heard the last of her Ariadne.