Hi everyone,
The weather has been crazy here in Mumbai - it rains sometimes and sometimes it doesn't, also the weather is quite humid which has made my skin very oily. 
VLCC product reviews have been a regular feature on my blog and some of them have worked really well for me. I did try their Melia Neem Face Wash before and liked it. Today I am going to review VLCC's Wild Turmeric Face Wash which I have been using in the past weeks. Read on to know how it fared on me.....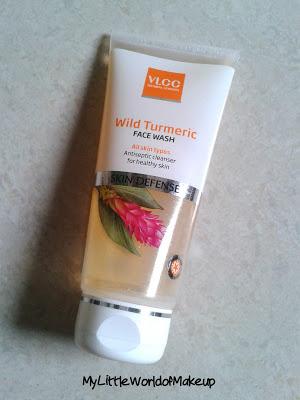 VLCC Wild Turmeric Face Wash Review
Price: Rs.140/- for 80ml. Available online at a discounted price HERE
Key Ingredients:Termanalia Arjuna (Arjuna Bark Ext) 0.6%, Euphorbia Thymifolia (Euphorbia Seed Ext) 1.2%, Cucurma Aromatica (Wild Turmeric Ext) 2.25%, Sapindus Trifoliatus (Soap Nut Ext) 5%, Apis Mellifica (Honey) 2%, Cleanser Base Q.S.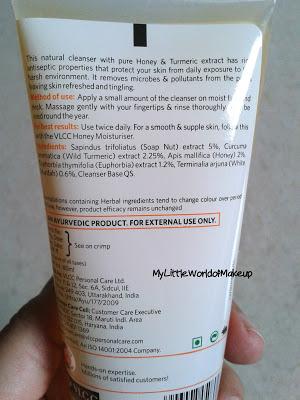 VLCC Wild Turmeric Face Wash Review
Brand description of the product:
Wild turmeric, used in numerous Ayurvedic products, is known for its skin purifying and healing qualities. It is loaded with anti-oxidants and has anti-inflammatory, anti-septic and anti-bacterial properties. The yellow pigment in the turmeric makes the skin look brighter. Wild turmeric along with Honey, which is another great natural anti-septic and a rich hydrator, makes this facewash a refreshing, gentle cleanser that removes microbes and pollutants from the pores and protects the skin against environmental damage. Use this daily for clear, brighter complexion.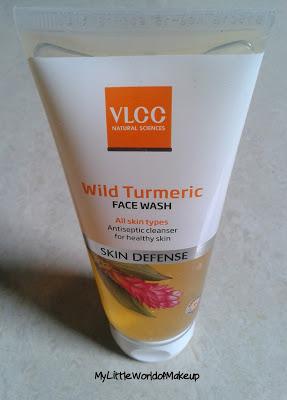 VLCC Wild Turmeric Face Wash Review
The face wash comes in a semi transparent white tube with a white colored flip cap which helps in dispensing the right amount of product. The product is travel friendly.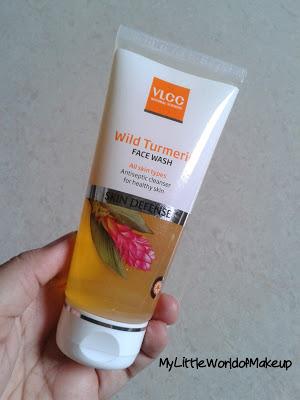 VLCC Wild Turmeric Face Wash Review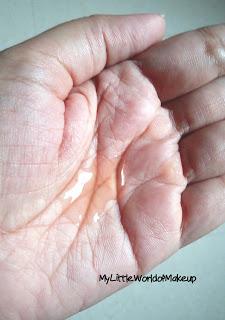 VLCC Wild Turmeric Face Wash Review
The face wash has a faint yellow color and has a gel like consistency which is not too thick nor thin. It smells like a mixture of honey and turmeric which are its main ingredients. The smell reminds me of my childhood when I used a shampoo smelling similar to this smell.Coming to the point the face wash lathers well and does a good job of cleansing the skin without drying it. I have used it for more than 2 weeks and have been liking it. I did notice any breakouts or reactions. It will work for all skin types except if you have extremely dry skin. Wild turmeric is beneficial for the skin because it works an antiseptic ingredient and helps in the occurence of acne. A decent face wash worth trying in my opinion.
The Good:Easily availableInexpensiveContains goodness of honey & wild turmericCleanses the skin well.Smells niceHydratingDoes not dry the skinTravel friendly packagingThe not so Good:Not best for extremely dry skinOnly key ingredients mentionedMLWM Rating: 4.2/5VLCC Wild Turmeric Face Wash cleanses the skin and gives it a hydrating feel without drying it. With natural ingredients like wild honey and turmeric, it is a must try in my opinion.So have you tried the VLCC Wild Turmeric Face Wash before?? Do let me know in the comments section. I hope this product review was informative and useful to all those reading.Until next.. Take care and Happy Friday xoxo

P.S: PR Sample** Unbiased Review