Against the backdrop of a successful Olympics, one bloated with corruption, Russian President Vladimir Putin is fighting for his existence. The protests in Kyiv were the spoiler and had that situation not spiraled out of control, Mr. Putin would be sitting back and enjoying the accolades of the world community. The vastly over-priced Olympics allowed him to further line the pockets of his most loyal oligarchs, a move to keep their loyalties firmly in place.
The pro-democracy events in Ukraine put a huge damper on an otherwise successful public event on the world stage. An article in Back Channels sums it up perfectly by saying, "The Bear regards the old system of buffers as its own…(and)… Ukraine is also a borderland naturally spanning a cultural divide between Europe and Eurasia, between the politics of the now open democracies and their common currency and shared values and a stalwart attempting to build some kind of new Slavic society out of the 19th Century manners of aristocracy…."
David Satter in the Daily Beast further explains that "Russia and Ukraine under Yanukovych shared a single form of government – rule by a criminal oligarchy. This is why the anti-criminal revolution that overthrew Ukrainian president Viktor Yanukovych is a precedent that is perfectly applicable to Putin's Russia. It is also the reason why, from the Russian regime's point of view, the Ukrainian revolution must be stopped at all costs."
On Monday morning Mr. Putin arrived at the Kirillovsky Military Testing grounds in the Leningrad region, home to forces of the Western and Central Military districts where he watched military training maneuvers along with Defense Minister Sergei Shoigu, Commander of the Western Military District Anatoly Sidorov and Head of General Staff Combat Training Directorate Ivan Buvaltsev.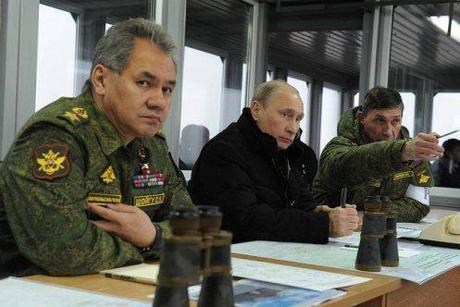 L-R: Defense Minister Sergei Shoigu, President Putin, and Russia's head of combat training Ivan Buvaltsev at Kirillovsky Military Test grounds.
Writing in the Guardian Masha Gessen asserts that, "It's unlikely that what's happening in Ukraine will foment a new protest movement in Russia: the ongoing crackdown on civil society makes the cost of protest too high. Still, the Crimean invasion is a landmark in Russian domestic politics."
For Vladimir Putin the stakes are high, for if he fails in Ukraine he will eventually fail at home.