One of the most brilliant and under-appreciated science fiction movies ever made will turn 10 years old this year. Shane Carruth's Primer tells the story of two men who accidentally invent a time machine and then struggle to cope with the tangled mess their lives become as a result of its use. The film is terrifyingly smart, densely knotted, and filled with an air of dread. Its plot is an origami of ideas, folded over and upon itself as the two leads pursue something they only partially understand. That same sense of anxious calculation, of mechanical certitude in the hands of a very human fear, envelopes Friends, the fantastic debut EP from Max Suechting's Visitr. Comprised of five tracks and clocking in at just shy of 20 minutes, Friends covers much sonic ground in a short span of time. All of that ground, however, lies beneath an atmosphere of smoldering panic.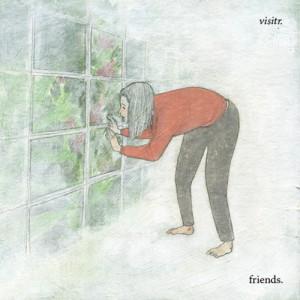 "Greetings" both opens and closes with what sounds like the bells of Notre Dame if you ran a violin bow across them—a brassy drone that fills the track with rich overtones that languidly echo away. In between, crystalline chimes dart and blink over a mid-tempo beat that incorporates the "all-bass errything" of Drake's recent production. Fans of Bibio should be especially pleased with Suechting's sound as its clicks ricochet along. Loaded with dexterity and fueled by an uneasy intrigue, "Greetings" is a perfect summation of what seems to be Suechting's MO. Every song on Friends holds close to its purpose, but expects you to draw your own conclusions.
Much of Friends was written while Suechting lived alone in Boston and was finished later in New York City—and it shows. Anyone who has trekked along a big city's skyscraper canyons will identify with this music. Oscillating claps and clicks recall the bokeh of far-off stoplights and all but demand a nice pair of headphones and a walk through the Lower East Side. This also means, however, that fans of the softer, dreamier approach to electronic instrumentals taken by acts like Washed Out and Tycho might find the EP a bit cold, perhaps even animatronic. The beats are tight and the synths are sharp, reminding you that it's not warm sand beneath your feet but rather hard steel.
Friends seems to have been made with the line-edited completeness of a grad school paper, and that fiending for sonic totality is the record's only mentionable drawback. Some middle portions of tracks can feel a bit overstuffed with shakers, arpeggiators, and clattering hi-hats, so that it's a relief when Suechting occasionally lets off on the twinkling and allows his excellent kick-snare patterns to stand on their own. Still, Visitr's sound is incredibly satisfying in its crystalline tension. "The Orchid and the Wasp" holds neatly to bright guitar chords as it expands and "ECTO-1" piles on the syncopation without ever losing its powerful pulse.  Ultimately, Friends is an artful offering of hip hop-inspired downtempo that keeps moving toward a menacing unknown with sure steps and darting eyes.