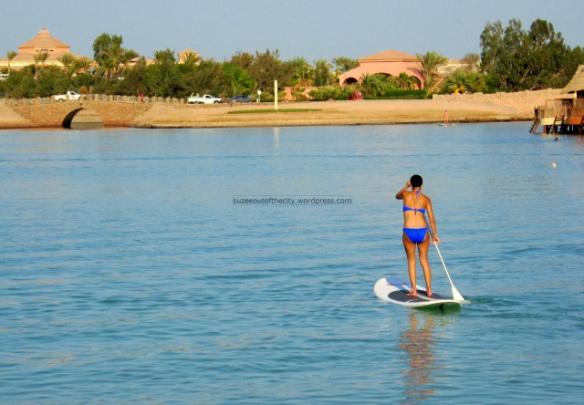 Sometimes, the best type of a holiday is where you lie very still doing nothing, preferably in a cold swimming pool with a colder drink in hand. After the adventure of Tripoli, a lazy, fluffy, politics-free weekend in Gouna was much needed.
I managed to bully two easygoing and long-suffering friends into 48 hours at the Red Sea shishifoofoo town. Was it worth the four-hour drive, especially when the season of migration to the North Coast was in full swing? Definitely. Were we mad to choose the Red Sea in mid-July with its high temperatures and surprising humidity? Absolutely.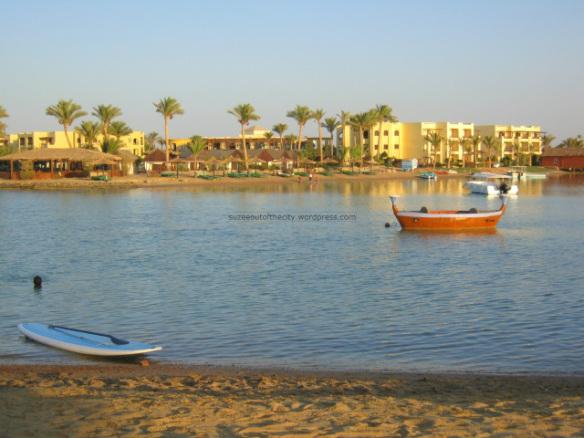 If you're not up for driving or taking an early GoBus ride from Ramsis Station (around 80LE a ticket), Gouna is just a 30-minute flight away. If you book early, flights cost around 750LE and can be booked online or via Egyptair's hotline 1717 72 hours ahead. All you need to do is dial in your Visa Card number and you get your e-ticket emailed to you minutes later.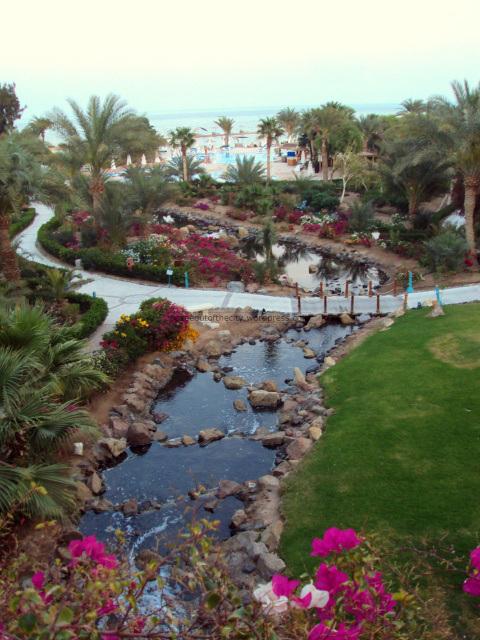 Gouna's hotel prices are delightfully low this summer, with luxury resorts like the Steigenberger and the Moevenpick Gouna Resort charging around 500LE and 750LE respectively for a standard double room on a half-board basis with free airport pickups. Less swanky but still comfortable hotels like Dawar El Omda in Downtown Gouna offered rates of 350LE for a double room on a bed&breakfast basis.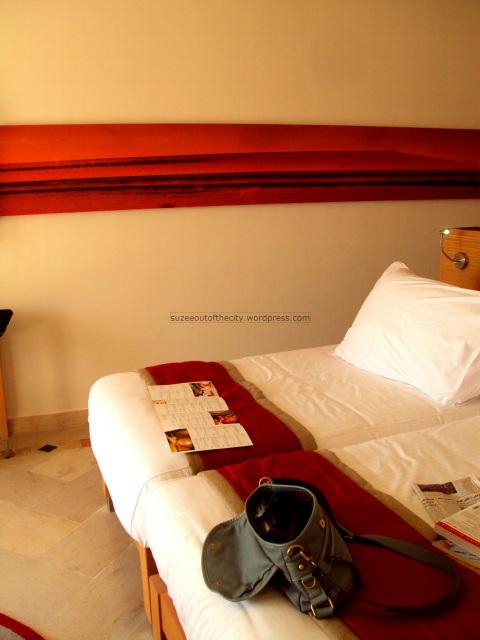 Our standard double room at the Moevenpick was surprisingly spacious and swanky; not what you'd expect from the term standard. While the beds were deliciously soft and comfortable, and the loveseat wonderful to recline on in front of the large flat-screen TV; it was the bathroom that won us over. Large, spacious and decked out in glass and granite, the bathroom includes a dresser and closet spaces, as well as several mirrors and a powerful hairdryer – it's the little details that made us happy.
Because we were on the ground floor facing the lagoon, our terrace was literally in the garden and surrounded by sweet-smelling flowers. The lagoon was just a few steps away, which – if you're familiar with the scorching sun at the Red Sea- is a relief.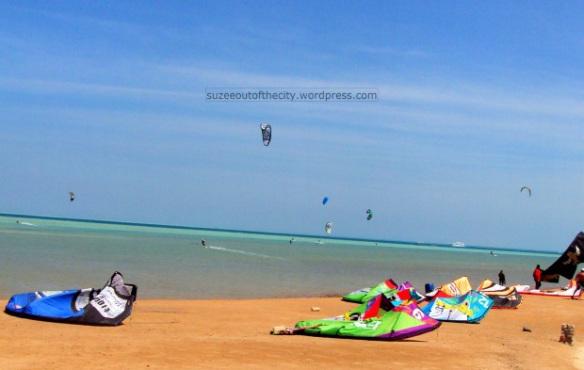 The sea itself is not swimmable, a fact that applies to all of Gouna in my personal opinion – unless you don't mind swimming near the marina.  Here at the Moevenpick, the waters are too shallow and too rocky for a simple dip, making the lagoons and pools much more viable options. Plus the odds of colliding with the wind-happy kite surfers and windsurfers seemed rather high at the time, so we stuck to the lagoon by our room.
Although we were totally up for a two-day course in windsurfing or kite surfing, we somehow ended up lying very still on chaiselounges, refilling our ice-cold drinks and reapplying sunscreen. Oh well.
After a quick, much needed nap in our plush beds, we headed to Downtown Gouna via toktok – all toktoks in Gouna charge a standard fee of 5LE per person, 10LE for two to anywhere –and we made our first stop at Jobo's Restaurant in Downtown. This place makes arguably the best, juiciest burgers you'll ever eat in Egypt.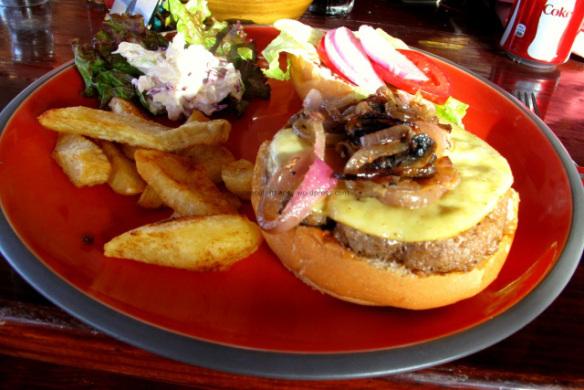 Located in the pebble stone courtyard, Jobo's is an outdoor, shaded sport's restaurant with wooden tables and large TV screens continuously airing sports games. Hands down, their best products are their char-grilled burgers and their loaded potatoes (filled with sour cream, chives, cheese and beef bacon). We stuffed ourselves sick and were ridiculously happy and full afterwards.
As with all restaurants in Gouna, Jobo's accept Visa cards. In fact, all of Gouna is easily manageable by credit card. The only cash you'll need is for toktok rides and windsurfing/kite surfing if you absolutely insist.
Our next stop was at the Clubhouse – across from Dawar El Omda- for refreshing drinks and a dip in their pool. The Clubhouse always has good music, friendly staff and a relaxed atmosphere of regulars and friends. You feel like you're hanging out at someone's house – unless of course you're there on a national holiday or peak season, when the music is loud and the kids are jumping relentlessly into the water. I don't know what it is about me and kids, but a good holiday can be made or ruined proportionately to the number of loud kids I'm forced to be near.
Every day from 6PM to 8PM, the Clubhouse offers a happy hour deal with prices at 50% less, but you have to pay by cash not Visa.
After recovering back at the hotel from our long day of relaxing, we stepped out again via toktok and headed to Abu Tig Marina, known for its great restaurants and bars as well as the seasonal party. The marina is all about al-fresco dining by the port, and Gouna evenings are usually pleasantly cool with a nice breeze- unless it's mid-July and you're dealing with a sticky, humid evening like we did.
Pier 88 is literally a boat docked in the marina where you can enjoy pil-pil shrimps and cocktails while rubbing shoulders with the locals and celebrities, while Le Garage is a gourmet burger joint with outdoor seating and waiters dressed in mechanics' uniforms. Garage serves fancy burgers with toppings like wild mushrooms, French cheese, pineapple and quality beef.
Another restaurant worth dining at is Saigon, which offers rather pricey Vietnamese cuisine at the cusp of the Marina (next to Coffee Bean &Tea Leaf), but their raw spring rolls are delicious. Speaking of delicious, Le Deauville's beef fillet in grenobloise sauce is a highly recommended dish – but on a hot night out, a heavy meal is difficult to stomach. Although the marina offers a nice walkabout with a few random bars blaring loud, catchy music, we were honestly too stuffed to move our limbs anywhere other than back into our wonderful beds.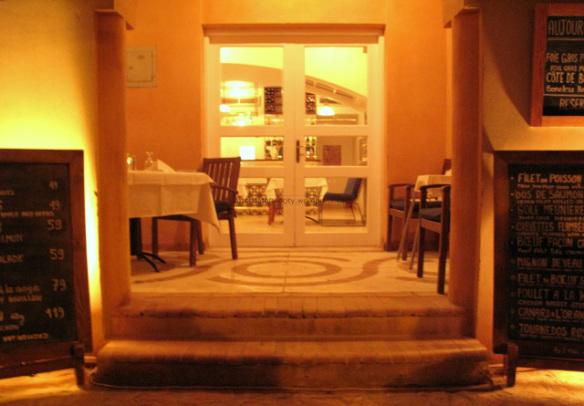 The next morning, we decided to head to an actual beach instead. While Mangrove Beach offers kite surfing and windsurfing courses, there was barely a breeze when we visited, which means we got the beach to ourselves. At 30LE per beach use, Mangrove's water is shallow and steaming hot on a glaringly sunny day.
Nearby at the marina, Moods Restaurant and Bar offers a small beach with large umbrellas and bean bags. The downside is that you're swimming smack-dab in the noticeably oily water with speed boats often whizzing by. The upside is that the water has large bean-bag-like floaties that you can lie on while paddling lazily. The beach charges 50LE for beach use, but doesn't provide towels.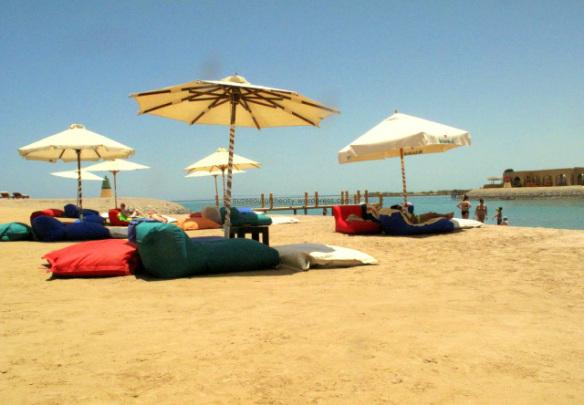 Further up north is Club 88, a pool club and bar with large, comfortable white chaise lounges and bar seats in the pool. If you want good music, good company and a cool pool dip, this is a great way to spend your afternoon. Pool use costs 60LE and cocktails start at 63LE. We reached the pool in the late afternoon, and spent our time between lounging on their towel-covered beanbags reading and watching relentless suitors/predators hit on two long-suffering foreign girls. It was frankly fascinating to watch, like a National Geographic lion-gazelle hunt.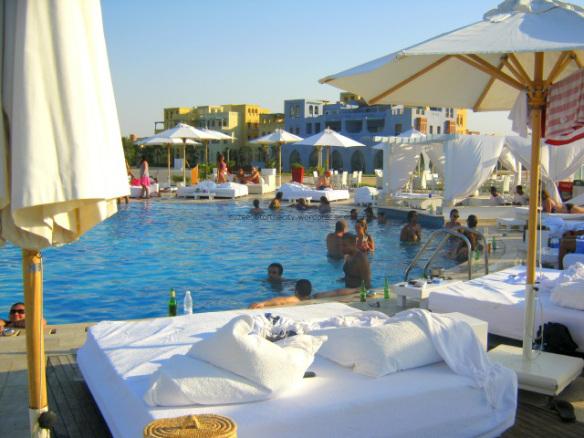 In the evening, you can always go go-karting at the race track or rent out bikes from Downtown Gouna for a spin around the neighborhood, or if you're feeling adventurous and have a car, drive down to Hurghada (45 minutes max) for a different range of restaurants, bars and pink-tourist-sighting.
Gouna is truly well worth a short getaway, all the hotels are accessible online and easy to book over the phone, and with the plane ticket one easy phone call and Visa Card detail away, the only actual planning we had to worry about was where to eat and where to swim, which is not bad at all.
Check out my travel guide to Gouna here on Visa Explorer's blog and on Egypt Independent.