I know what you're thinking 'Night in Fayoum' isn't exactly bucket-list material; but as a self-confessed travel addict, I find it embarrassing that I've lived in Egypt for most of my thirty-something years and haven't once set foot in Fayoum. Plus, its proximity to Cairo makes it a great alternative getaway to the usual Sokhna weekend.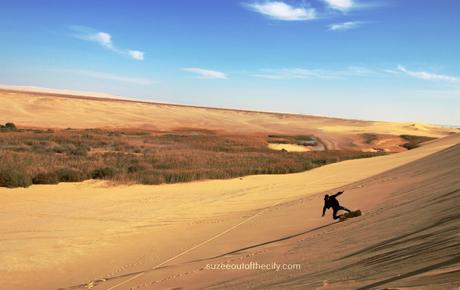 To compensate for this deplorable fact, I made my way over to Fayoum twice in the last few months; once on my own for a quick night's stay, and the second time with a group of friends for the day.
Roughly an hour away from Cairo, depending on how manic of a driver you have, Fayoum's outer suburbs revealed sporadic shacks, marshes and farmland, but nothing to give weight to all the stories of beautiful landscapes and quaint little towns. 45 minutes in, we reached Tunis, a small artisan community of pottery makers, artists and intellectuals with most homes built in the same colours and styles of Islamic architecture. The rows of houses overlooked farmland and L ake Qarun, one of the largest lakes in Egypt that feels more like a sea as you can't see the other side and its waters are choppy.
Based on my friends' recommendations, I stayed at Kom El Dikka Lodge, an eco-farm and lodge at the beginning of the village that was quite charming and vast albeit pricey: at 900LE per night per room, this lodge is better suited for large groups rather than solo travellers; in fact, my suite could have easily fitted four people with its king-sized bed and pull-out couch. But given that Zad El Mesafer was full, and I didn't have a month's worth of rent to spend on one night at (and I'd heard rumours of that made me avoid it) Kom El Dikka was my only option.
Kom El Dikka's breakfast was massive and filling with its fresh, chewy flatbread, white cheese and eggs, but its fiteer and honey/teheena combo really hit the spot. Unfortunately, the flies were a bit of a downer, making it a bit difficult to sit outside in the garden, but that's what you get for staying at an eco, pesticide-free farm.
While the lodge offered a running track (it was really just a path through the farmland), bikes for rent and a boat trip (the dude literally took me up and down the shore for half an hour, which got a bit redundant), I was perfectly happy walking around the village, checking out the random street art and popping in the several pottery shops to check out their ware.
Also worth checking out, just for sheer contrast and pomp, is Lazib Inn, which I visited on my second trip with the photographers and tried their pretty amazing American Coffee. It's like being in lala-land: two swimming pools, a massive glass dining room table and valuable artwork lining their walls. Their view is also pretty stunning.
To be honest, Kom El Dikka gave me the sort of quiet I needed, and the staff were friendly enough without being invasive, so I would recommend it if you're a couple or a few friends looking for a quick and easy break out of Cairo.
And while Fayoum has so much to offer in terms of safari trips - Wadi El Rayan, UNESCO heritage site Wadi El Hitan, Magic Lake, and the new fossil and climate change museum - you can't do it without a 4×4 and you can't do it on your own: when I asked about a day trip to Wadi El Hitan, they said it would cost me around 700LE for the whole car on my own. So this is definitely where you need company.
On my second trip back to Fayoum, I was lucky enough to have friends with me; and we reluctantly braved the 45 minute ride into Wadi El Rayan to check out the Fossil Museum, which dinousaur geeks and geeks in general will really enjoy, especially their whale fossils, followed by a trip to Magic Lake, where we watched a group of legitimately insane dirt bikers jump off sandunes and pirouette off cliffs. Some of us dabbled in sandboarding, while the others (cough *me* cough) chose to dabble in the beautiful lake instead.
It was honestly a fantastic way to spend the day and discover a part of Egypt that I'd never visited before. I also spotted a few tents around Magic Lake, and I'd definitely want to go back and camp out a few nights there if it's possible.
Back in Tunis, we lunched on stuffed pigeons, rice and soup at Sobek, which had an admittedly nice view and was full of people relaxing on lounge cushions; and we ended our trip at the pottery school, where I ended up buying half a household worth of pots.
To do Fayoum properly, you'd need more than one day and one night; Wadi Hitan takes several hours to reach and if you're into fossils you wouldn't want to miss it. But to be honest, as I'm not big on deserts or sand-boarding, I was perfectly content with my little stay in Tunis, stuffing my face, walking around and breathing in the fresh, non-Cairo air. If you can't stay at Kom El Dikka, Zad El Mosafer is worth checking out, and you may want to check Air BnB to see if any of the lovely villas are available for rent.
When? Fayoum feels like a perfect destination year-round, as Tunis's proximity to the lake means there's usually a cool breeze and the homes' architecture keeps them cool in the heat.
How? By car; call Omar on 01026929698, he charges 300LE one-way for the whole car.
Where? Kom El Dikka or Zad El Mesafer. Sobek or Lazib Inn for coffee or lunch.