Is it just me or there are more folks here who feel that November/December is the time when your kids gets the most birthday invites? I guess it has to do with Riri's age and school cut-off owing to which most of the kids in her class have their birthdays falling around the same time.
While this was the case until 2019, in 2020 the invite count was relatively lower- thanks to Mr. Covid! However, there were parents who went beyond their capacity to celebrate their kid's birthday virtually and I would like to shamelessly include myself in that league. Why should the kids be devoid of their celebratory life moments when situations are favorable....right?
As per our birthday celebration calendar this year was the year to party. When Riri turned one we decided that we would travel every odd birthday and host a party every even birthday. So far we have been successful at sticking to this schedule, this year included.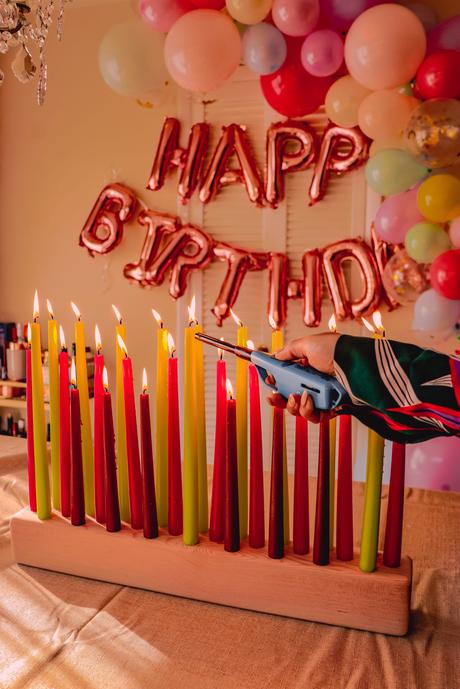 While drive through sort of birthday celebrations were a thing in a summer, where the friends would drive by the house cheering and hollering for the birthday girl/boy, winters saw a shift towards fancier virtual celebrations. I wouldn't have thought of doing Riri's birthday any differently hadn't she received a package in the mail for a friend's virtual party. The package was curated keeping the party theme in mind and had all the goodies one needed for that virtual celebration. It was such a great idea to stay connected even when apart.
We did the same for Riri's birthday. We curated a packet for a handful of her class and neighborhood friends and instead of mailing it we hand-delivered each packet. The package included some art paraphernalia since her theme was Riri's art world, some sweet and savory snacks, juice box and a few other goodies. We decorated a wall with the ballon garland, birthday sign garland and I had that candle holder custom-made and then included colorful taper candles as per the theme. You could buy the candle holder ( mine is 24 inch and holds 28 candles ).
Everyone logged on at the designated date and time, we played some games, painted a bit, at our snacks and then sand Happy Birthday. It was a two hour affair and was so much fun, best part- no post-party clean up needed!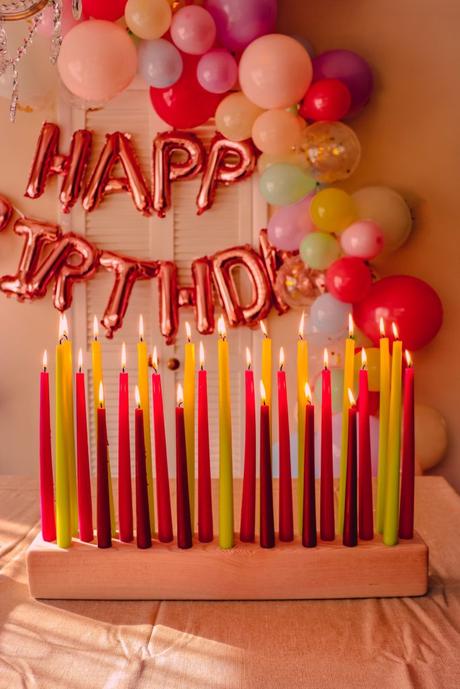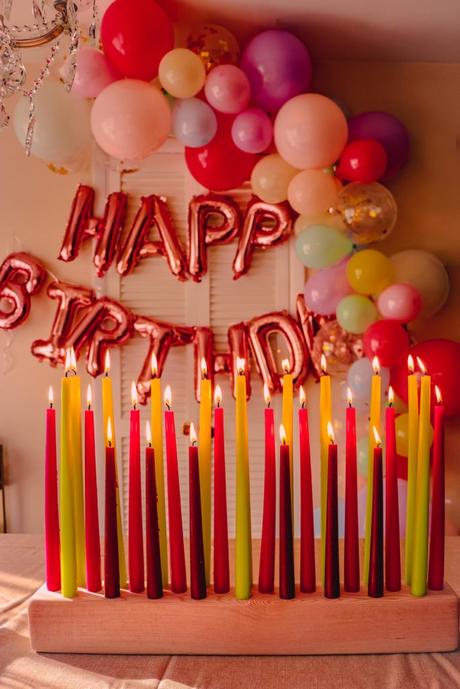 Below are some of the themes that in my opinion would be easy to coordinate.
Choose a date and time, preferably a time in the evening. Watching movie in the dark is always a good idea.
Pick a movie.
Send an e-invite along with the movie watching link using your favorite online tool. I like to use , paperless post, , and .
Prepare a package for delivery. Some items that you could consider including in the package could be movie googles, pair of socks, a movie ticket, microwave popcorn packet, juice, candy, muffins, cookies, and a few other things depending on whether it is for a boy or a girl.
Mail or hand deliver the packages. Give yourself enough time for this. I would suggest delivering everything a week in advance.
Log on half an hour prior to the party to make sure all the links are working.
Enjoy!
Pick a date and time.
Send out the invites.
You could either host it yourself entirely or outsource it to an artist or paint and party place to host it for you.
Prepare a package for delivery if your are the sole host. Some items that you could consider including in the package could be ready to use, paint by numbers painting kit ( we sent out for Riri's bday ), artist fabric aprons ( we personalized ours with each guest's name on it ), chips packet, popcorn packet, juice, candy, cookies, and a few other girly things as it was all girls party.
If you decide to outsource it to a party place they will be responsible to sending out the painting kits to your guests. This way you don't have to worry about anything as they deliver, host and entertain. Will be a bit expensive but an option worth considering.
We even played a trivia game on the day of the party. We put together a list of questions on Kahoot , shared the link to the trivia right when we were about to play and then sent gifts to the winner later.
This would be be a good option for a co-ed party.
Pick a date and time.
Send the invite and the zoom/google meet link to the party.
This might not need you to deliver any package unless you want to send out some non-perishable edibles for your guests for after the teaser hunt is over.
When all the guests have logged on email a list of things that you would like them to hunt for in their homes-could be things from around the house.
Depending on your budget send an online GC or mail a gift to whoever is the winner and gathers all the stuff first.
This could be a long shot but worth giving a try. A lot of local museums are now allowing for virtual visits and you could coordinate with them for hosting your virtual party.
Pick and date and time.
Send out invites and links.
Prepare packages that could include something similar to what I included in the movie night package. In addition check with the museum if they would like to include anything in the swag bag.
Other themes that come to my mind are:
Mad science
Craft party ( include easy to do craft sets in the package and tutorial link on the invite )
Girl's day in (cue nail paints, making necklaces, brackets, spa, face masks)
Costume party where everyone can dress up as their favorite cartoon character.
Make a birthday card party where every guest could make a card for the birthday girl/boy and then mail it to you. You could include card making supplies and pre-stamped return mailing envelope.
Roblox/ online video game party
Baking party- send everyone an easy recipe for cupcakes for your little one's virtual birthday party.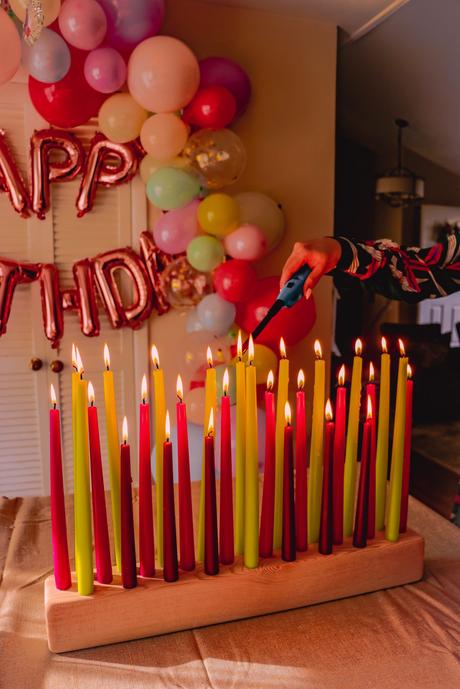 Shop my party decoration