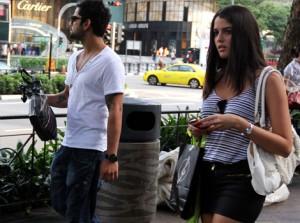 Mysterious girl spotted with Virat Kohli earlier this year is a Brazilian model
Swashbuckling India batsman Virat Kohli, who often pummels the opposition bowlers with disdain, has been bowled out by a Brazilian model.
According to a report published in Mumbai Mirror, the mysterious girl who was spotted with 24-year-old batsman earlier this year, has been disclosed as Izabelle Leite.
The reports said that the lovebirds, who first met during the shooting of a commercial in Singapore, are thinking about a serious relationship.
"They met for an ad shoot in Singapore and they have been together ever since. After they were caught on the roads of Singapore, Virat takes a lot of care so that they are never seen in public," the report quoted a friend of the model as saying.
The model has been shifted to Mumbai from her homeland especially for Virat Kohli and she frequently visits New Delhi to meet the cricketer.
"She is in love with Virat. She has even shifted base to Mumbai to be with him. She has been a keen follower of the Indian cricket team and even tweets about the times when she goes to meet Virat," Izabelle Leite's friend added.
The model was first spotted by the Paparazzi in June. Later when media asked Virat Kohli about the identity of girl he irked and refused to answer saying he won't reply the personal questions.
The media had then regarded the model as 'mysterious girl'. Her identity remained in anonymity for almost five months and emerged recently when she was spotted in the Mumbai modeling circuit.