Red dress drama as Natalie Dessay cancels rehearsal.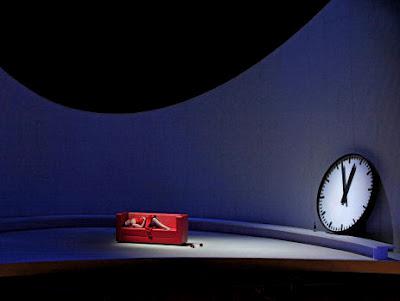 While the Clock Ticked: a scene from La Traviata.
The Metropolitan Opera's revival of La Traviata (scheduled to take the stage on Friday night) just got a little more interesting. French soprano Natalie Dessay pulled out of today's dress rehearsal, claiming that she was ill.
According to the singer's Paris management, the singer is suffering from a cold.
Another source confirmed, saying that the singer was not feeling well and "didn't want to push it."
Soprano Hei-Kyung Hong, who is currently the contracted cover for the run of performances, sang the dress rehearsal, which was not open to the general public.
 The Met's production of
La Traviata
opened on Dec. 31, 2010, to a mixture of acclaim from critics and bafflement from traditionalists. The show is mounted in a claustrophobic, curved room, and places great emphasis on Violetta's rapid deterioration, with a large clock at one end of the room symbolizing time running out for the Verdi heroine.
Originally directed by Willy Decker, this show is noted for its heavy physical requirements for singers, including a tough confrontation with Giorgio Germont in the second act and the "couch surfing" scene, where Violetta is hoisted into the air by the chorus, balanced on what appears to be a red IKEA® "Klippan" sofa.
The singer's management added that Ms. Dessay "intends to sing all of her performances."
La Traviata
opens Friday. To read more about the production, check out out the
Superconductor preview
.