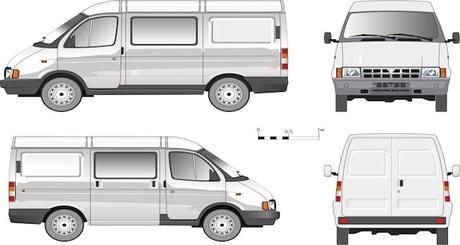 August 4, 2016
0

Email This Post

Print This Post
Vinyl Vehicle Wraps: What Marketers Should Know
The Outdoor Advertising Association of America (OAAA) says that vinyl vehicle wraps offer the lowest cost-per-impression of any form of advertising. They report that a single wrap can generate up to 70,000 daily impressions per vehicle.  That means that for reach, value, ROI–and other benefits we've previously reported–vehicle wraps can add a long-lasting yet cost-efficient dimension to any integrated marketing campaign.
If you're interested in expanding your mix, but new to this eye-grabbing medium, here are some basic but important considerations to help put you on the road to marketing success:
#1: Full or Half? Cast or Calendared?
First, establish a budget, as you would with any marketing project. Set goals, including deploying your newly branded vehicle to some creative and unexpected places. Then start thinking about your options:
Full Wrap: covers the entire vehicle surface, front to back
Half Wrap: partial application covering sides, plus front or back
Window Perfs: colorful, hole-laden graphic films made to accentuate the larger design
Letters and spot graphics: simple, inexpensive, one- or two-color method of displaying your logo, tagline or other marketing message.
Cast vinyl or calendared? Cast, the more durable premium option, is better for long-term
(2-5 years) use, while cheaper, less durable calendared sheets are the practical choice for short-duration promotions like grand openings event marketing.
#2: The 4 P's of Production
Prep: After budget, goals and concept comes design. Make sure messages, font style and imagery align with your current branding. Show your creative services provider examples of colors and styles you like.
Proofing: After the design is finalized, you'll receive a printed or electronic proof, which you and your provider will examine and, if necessary, correct prior to printing.
Printing: Next, vinyl sheets are output to a high-resolution, large-format printer, then temporarily set aside to "gas out," a kind of curing process that prevents bubbles and wrinkling during application.
Placement: In the final step, installers carefully align, apply, and affix vinyl sheets in place using a heat gun and squeegee.
#3:  Good Care, Great Mileage
Proper care and maintenance will help you get more mileage out of your investment. For best results, clean wraps the old fashioned way–with a bucket of soapy water and a low-pressure hose. Avoid brush-, cloth- and high-pressure washes, as the abrasion and blasting can cause vinyl sheets to lift, peel and separate. For more reasons to integrate wraps into your mix, see our post entitled "How Vehicle Wraps Rev Up Small Business Marketing."