Vintage style engagement rings capture the affection of many brides – in fact, throwback styles and reproductions of antique rings are one of the hottest 2016 engagement ring trends. Perhaps it's a halo backlash, maybe today's brides just adore the texture and Old World style these rings bring to the table.
The hunt for vintage style engagement rings presented a challenge for some brides. Not anymore. Now, you don't need to scour estate sales and antique jewelry shows, hoping The One will jump out. You can take a quick scroll around the block on Pinterest and find dozens of antique and vintage style rings that give you butterflies!
Related: Top 10 Soft Square Halo Engagement Rings
And even better, today's biggest engagement ring designers #leanin to the trend, handcrafting beautiful antique styles and vintage replicas left and right. So even if you see a one-of-a-kind ring online, it doesn't mean it's gone forever and your dreams are crushed. You just might find it at your favorite jeweler, just waiting for your perfect center stone.
So, why should you consider an antique style engagement ring?
Different style – In a sea of halos, an antique style ring stands out like a tropical island. Instead of coconuts, you get heirloom-quality details that prove false the idea that "They just don't make 'em like they used to." See below.
Handcrafted touches – No, "they" don't hand cut diamonds anymore, for the most part. Thankfully, diamond cutting technology grows leaps and bounds each decade, so modern brilliant cut diamonds shine with more sparkle and brilliance than their true antique counterparts. Although you can still snap up an antique diamond, no problem.
Timeless beauty – So you combine the warmth and personality of antique styles with modern jewelry techniques and trade secrets. The result, of course, takes your breath away. And merging the two creates pure magic that ensures your ring will stand the test of time. Here, let me show you.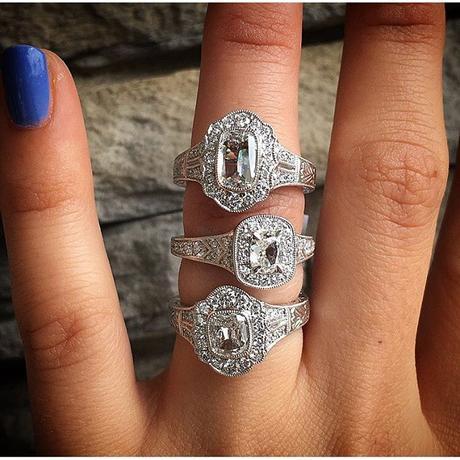 This trio of Henri Daussi engagement rings bring back the Victorian era in modern style.
10.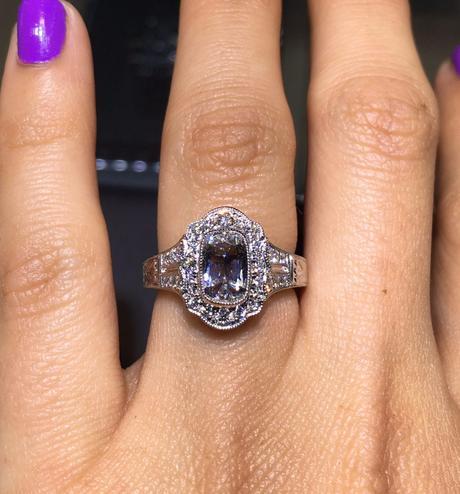 The top ring features a 0.60ct cushion cut diamond, D in color and VS2 in clarity.
9.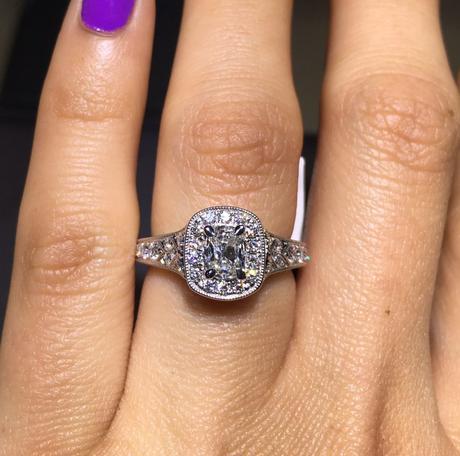 The center ring boasts a 0.51ct Cushion Cut Diamond, F in color and VS1 in clarity.
8.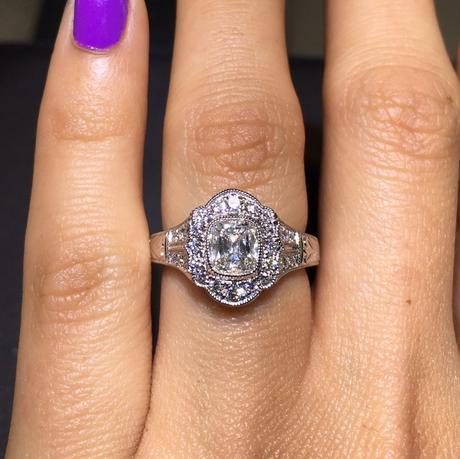 On the bottom, this setting shines bright with a 0.79ct cushion cut diamond, G in color and VS1 in clarity.
7.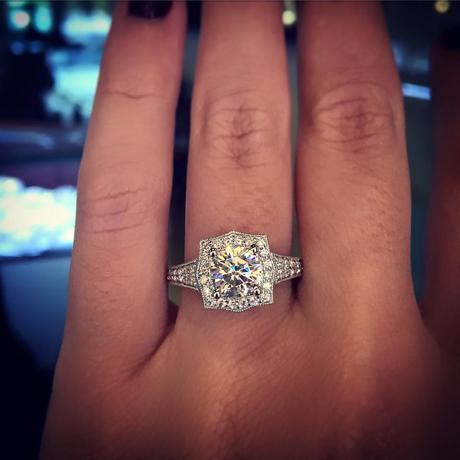 Up next, we need to spend some time with this Gabriel New York halo. Its portrait-style halo gives me warm and fuzzies, combining a Deco style octagon with softened features. The double row of pave diamonds in the tapered shank adds glitz and glamour (and carat weight) to the whopping .59ctw of accent round brilliants.
6.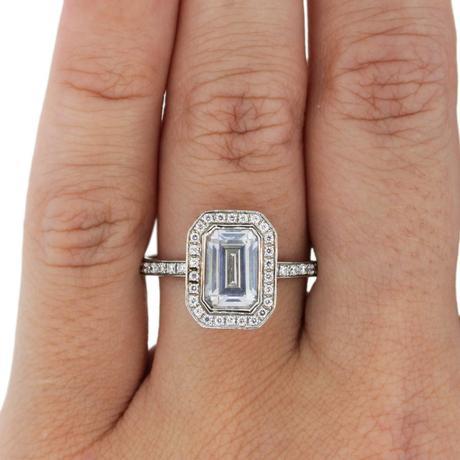 Speaking of Deco – how Gatsby is this amazing emerald cut halo? A. Jaffe nails New York chic with this three level tiered setting, perfect for the emerald cut of your choice. It has .65 ctw of round brilliant accents and comes in 14kt, 18kt and platinum.
5.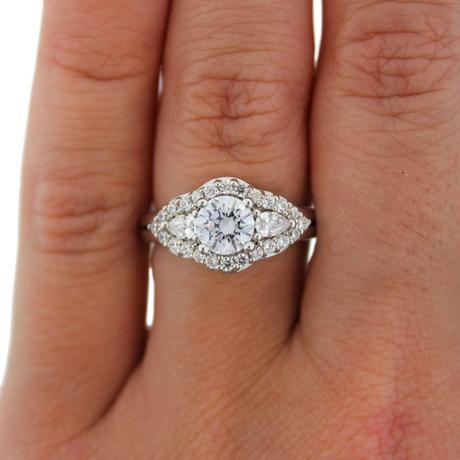 Another A. Jaffe blast from the past, this three stone halo uses pear diamonds to great effect. They, plus the halo, add .60ctw to this gorgeous setting.
4.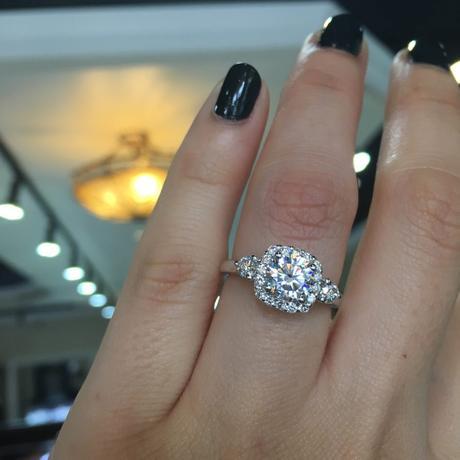 This gorgeous Gabriel setting is a more modern interpretation of the vintage engagement ring style. The modern soft square halo gets a flashback from the addition of two round brilliant side stones, bringing the carat total weight to .53ctw!
3.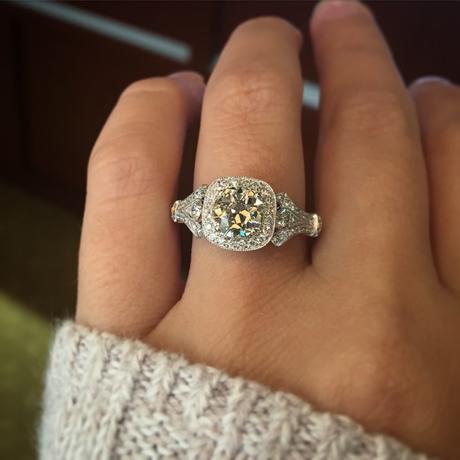 This gorgeous Victorian style setting is a Gabriel number with .42ctw of round brilliant accent diamonds fully loaded into 14kt white gold.
2.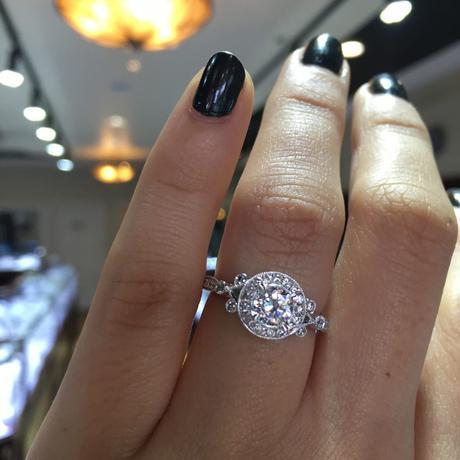 This beautiful halo has completely unique shanks unlike anything you've ever seen before. The .27ctw of accent diamonds add antique style to this white gold Gabriel setting.
1.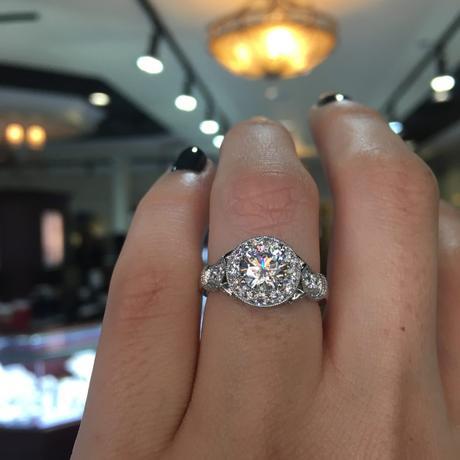 Finally, this amazing Gabriel setting blends bright, brilliant diamonds with a bold antique style engagement ring setting. The accent diamonds add .66ctw of rocks to this beautiful piece.
Looking for more antique & vintage engagement ring styles? Follow me on Pinterest for daily eye candy!