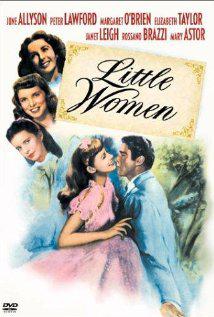 Directed by: Mervyn Leroy
Starring: June Allyson (Jo), Janet Leigh (Meg), Elizabeth Taylor (Amy) and Margaret O'Brien (Beth).
Also starring: Peter Lawford (Laurie) and Mary Astor (Marmee)
Year: 1949
Whilst perhaps not being the most well-known version of Louisa May Alcott's popular novel, the 1949 film starring Janet Leigh and Elizabeth Taylor is the first one I ever saw, and by far the best, in my opinion.
There are, of course, notable differences in this version, compared to the book and the other films, as the roles and ages of Amy and Beth were swapped around to accommodate Margaret O'Brien who they had wanted for Beth, however who had been considerably younger than Elizabeth Taylor.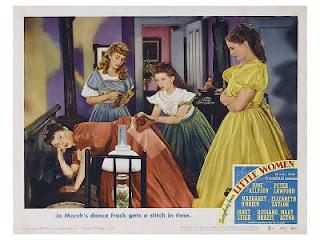 Casting: June Allyson was incredible as independent, free-thinking Jo. The gruffness in her voice, combined with her ever-so-slightly masculine mannerisms were perfect for the character.
Perhaps best-known for her role in Alfred Hitchcock's Psycho, Janet Leigh played sensible and kind Meg with a great deal of indignation and charm.
For a long time, I didn't even realize that the character of Amy was played by Elizabeth Taylor, as I just didn't recognize her. Nevertheless Taylor played Amy with amazing arrogance that left me wanting to hate her, but really it's impossible to.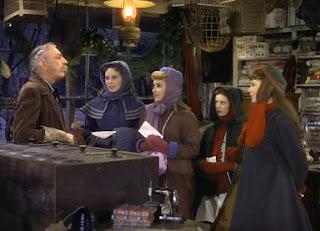 Margaret O'Brien's Beth was just absolutely adorable, right down to her painful shyness through to her passion for music.
The film has a great deal of warmth and charm, as we follow the highs and lows of the March family. I think that what I always appreciated about this film, but of course most importantly its story, was the fact that it was without doubt the first film that I saw as a child that wasn't all flowers and rainbows. Bad things happened to the characters, and life didn't work out as any of them planned, and that was quite unusual in a world, in the early 1990s, growing up with Disney Princesses.
I know that a lot of people don't like this version, as the Katherine Hepburn film of 1933 is considered to be the original "classic" version, whilst modern audiences are of course more drawn to the 1994 Winona Rider one, but I kind of like this film for all of its faults. I like that Amy and Beth are the wrong age compared to the book, and I kinda like how most of the actors are too old for their roles, because lets face it, the majority of films are made like that these days.