Today I'd like to introduce you to two of my bespoke wedding invitation and stationery collections. These are Brescia and Bari. I chose these two for the simple reason that I recently managed to get what I think are some good photos of them while working on images for my new website. Both these ranges include everything from Save the Dates and a huge variety of invitations to a big range of day stationery and table plans. The collections also include thank you cards which can be any of our invitation types. Read about those: wedding invitation types' pt1 and wedding invitation types' pt2.
Bespoke Wedding Invitations and Stationery
So what do I mean by bespoke wedding stationery? Well bespoke means an item tailored to a client's specific requirements, originally being a term from tailoring clothes (if I've read Wikipedia right and Wikipedia is right): "More generally, "bespoke" describes a high degree of "customisation", and involvement of the end-user, in the production of the goods." Which does describe my stationery collections perfectly. I think the wedding trade likes the term bespoke as A) it's shorter than customised and B) sounds a bit more elegant and upmarket. With my stationery this means my clients control the colours used, all the text used (inside and outside) as well as the fonts and styling.
Bari Bespoke Wedding Stationery Collection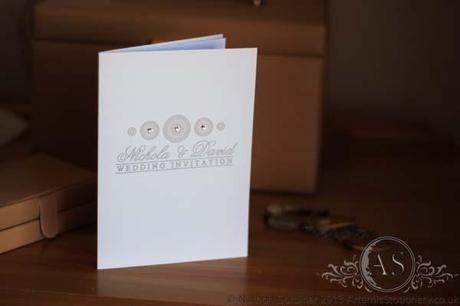 Bari bespoke wedding card invitation in pastel peach
So let me introduce Bari.  It is one of my simplest designs and was produced around the idea of creating a range for couples who like sparkly things and who wanted to keep the printed elements simple and unobtrusive. The sparkle element is achieved by using Swarovski crystals which come in a huge variety of colours and sizes. These have been complemented by a circular design in the colour of the crystals chosen. In one case where my clients had both been lifeguards we made these circles look more like water ripples to reflect their story.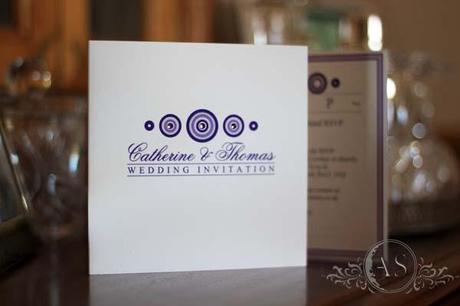 Bari bespoke trifold wedding invitation in purple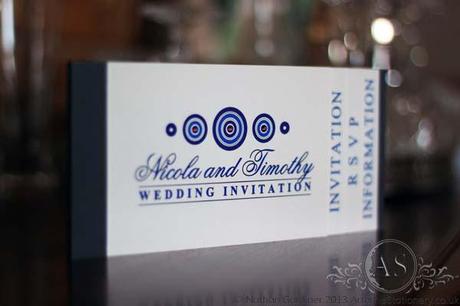 Bari bespoke booklet wedding invitation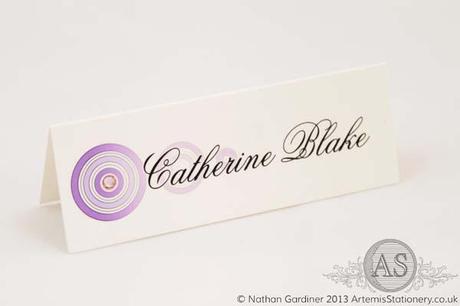 Bari wedding place name
See more of this bespoke wedding stationery collection Bari on Artemis Stationery
Brescia – Vintage Damask styled stationery
Next we go to Brescia which has the distinction of being my stationery range that's featured the most times in print, mostly down to the place name image below which made its way many times into Wedding Ideas Magazine.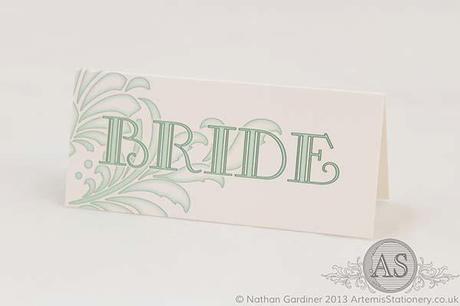 Brescia pastel green wedding place name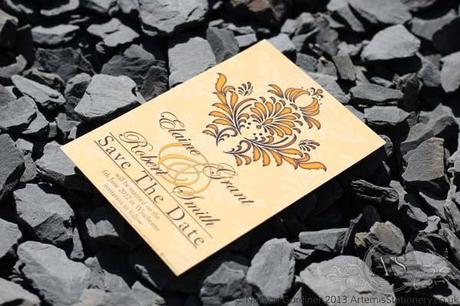 Postcard size Brescia Save the Date in orange and navy blue
Brescia is one of Artemis Stationery's more unique collections of bespoke wedding stationery as it can look really different dependent on the choices made. It was inspired by the damask patterns that have recently been very popular though they actually date back several hundred years.
Damask generally involves a repeating pattern normally of floral elements which is one way the pattern at the heart of Brescia can be used. The design can also take centre stage with no background or, as I often do on rectangular shaped pieces of stationery like place names and booklet invitations, use just a part of the pattern. Of course you could choose to add a background as well, as shown on this purple invitation which has also been featured in Wedding Ideas.
Find out more about the Brescia wedding stationery collection here or read more about it on my wedding stationery blog.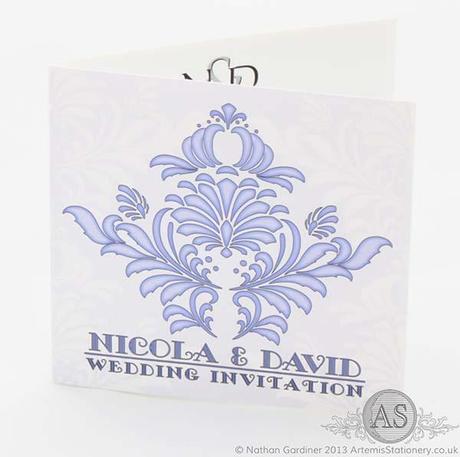 Brescia purple wedding invitation card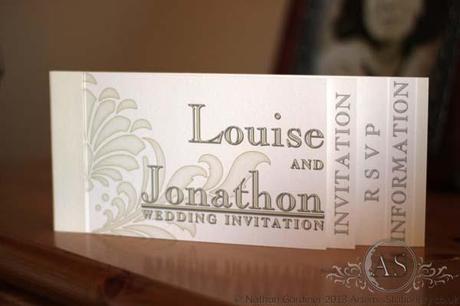 Brescia vintage booklet wedding invitation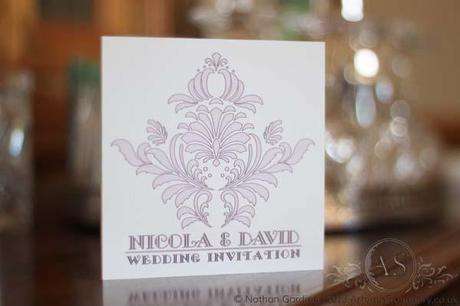 Brescia pink wedding invitation card
You can see more of my wedding stationery collections here on Artemis Stationery or get more information and inspiration from my wedding stationery blog.