I love vintage compacts…LOVE them.  I don't collect them but I think I should.  But to me, nothing says chic and elegant more than a beautiful compact carried in one's fabulous handbag.  I have seen this image over and over whenever I watch a vintage film or see old fashion photos: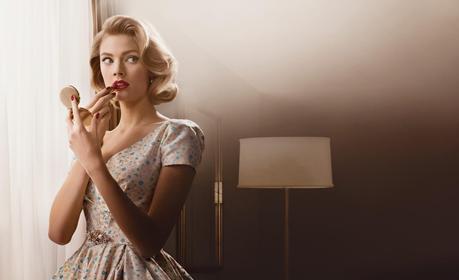 I think it is so elegant and one of the many lost graces of our modern society.  I want to bring it back.  Let's bring back the compact!  (My next post will show you how I have done just that!)
If you do a simple search on Etsy (or Ebay or Google "images of compacts"), your eyes will dance at what turns up.  Just look at some of these beauties: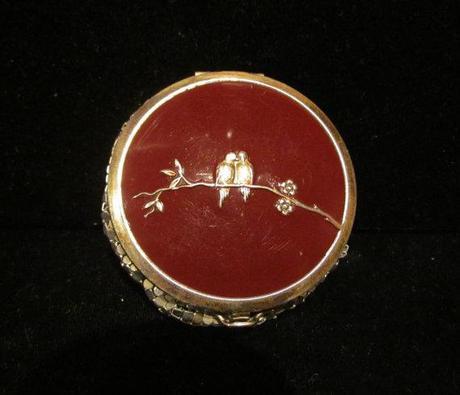 (via)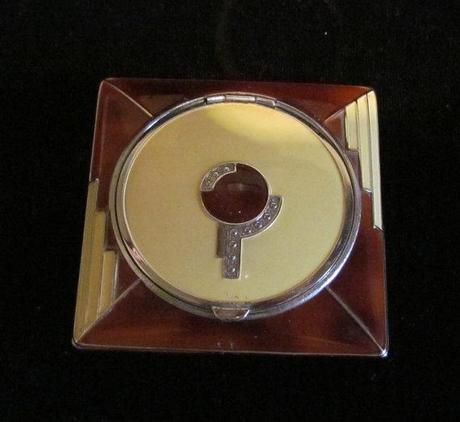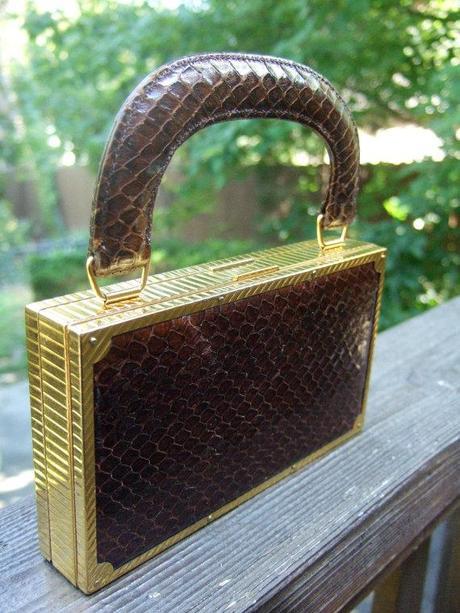 (via)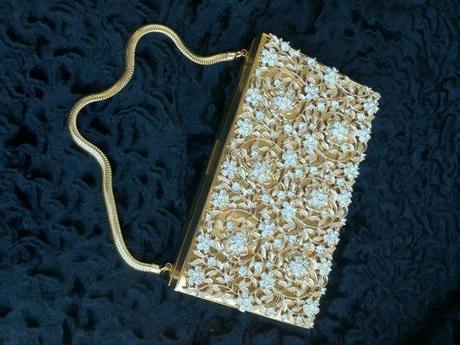 (via)
Aren't they gorgeous????  I never tire of looking at them.  You will note that I featured only Evans compacts and that is simply because they are my favorite.  Other companies such as Estee Lauder and Volupte have made many a lovely compact through the decades.   But I came to love the Evans brand when I found my first vintage Evans Elegance handbag.  It was a brown leather box bag that contained all of a woman's needed accessories; lipstick holder, cigarette case (now could be used for business cards), comb  and compact mirror.  It was a work of beauty.  The quality and workmanship that went into the handbag and all the little accoutrements was breathtaking.  I (sadly) sold that bag and instantly regretted it.  But not long after I found a replacement: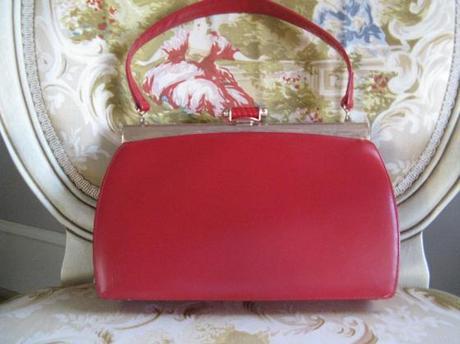 RED!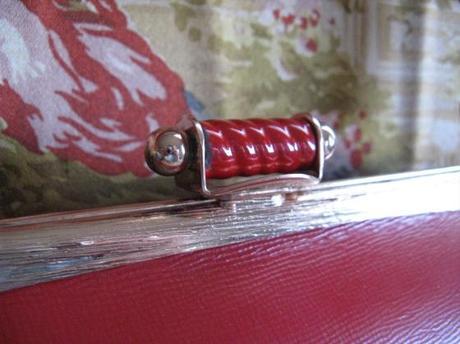 Bakelite accents.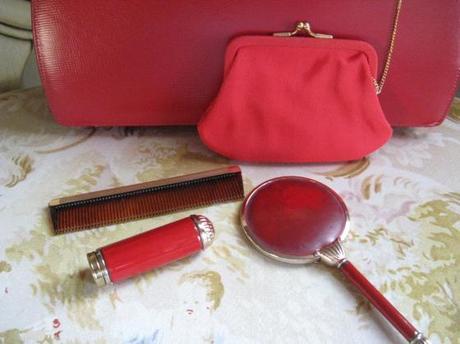 All needed accessories for a proper lady (which is probably why I don't carry it often).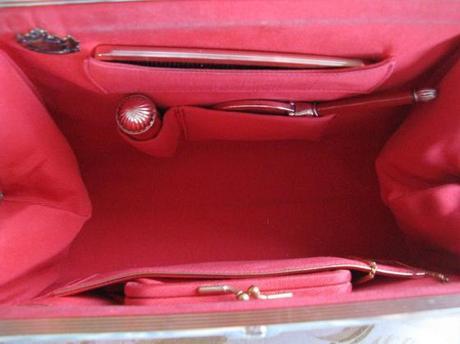 All accessories properly stowed away while in transit.
Isn't she great?  Do I use her?  No, not really–maybe once in a blue moon.  But she is a permanent part of my vintage handbag collection, which has been culled many times and significantly reduced in its size.
Another super cool thing I have learned about Evans (Elegance) is that they partnered with Dodge in the mid-1950s to provide the ultimate car package for the woman driver–the Dodge La Femme.  I SO would've had bought this car: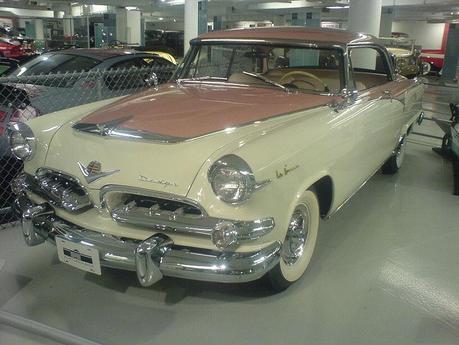 Bonjour, bebe!!  And notice what came with the car according to Wikipedia:
"The interior of the car also received attention and features. 1955 La Femme interiors were upholstered in a special tapestry material featuring pink rosebuds on a pale silver-pink background and pale pink vinyl trim. The La Femme came with a keystone-shaped, pink calfskin purse that coordinated with the interior of the car. The purse could be stowed in a compartment in the back of the passenger seat,[2] and its gold-plated medallion faced outward. This brushed-metal medallion was large enough to have the owner's name engraved on it.
Each purse was outfitted with a coordinated set of accessories inside, which included a face-powder compact, lipstick case, cigarette case, comb, cigarette lighter and change purse, all made of either faux-tortoiseshell plastic and gold-tone metal, or pink calfskin and gold-tone metal, and all were designed and made by "Evans", a maker of women's fine garments and accessories in Chicago.
On the back of the drivers seat was a compartment that contained a raincoat, rain bonnet and umbrella, all made from a vinyl patterned to match the rosebud interior fabric. Marketing brochures stated that the car was made "By Special Appointment to Her Majesty… the American Woman." "
I would've done the super swoon if I had been a woman shopping for a car in 1955.  Goodness.  If one of the car makers of today could get it done oh so right.
In other "elegance" news I watched the French film "The  Hedgehog" over the weekend.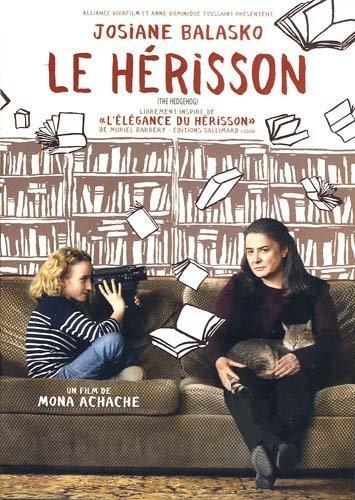 I must say, it was very charming.  I read the book (Elegance of the Hedgehog) a few years ago but I really didn't remember it all that well.  It was very thought-provoking as it examined the different ways in which people choose to live their lives…sometimes convincing oneself  "it really doesn't matter what I do" or "it's my life, I can do what I want".  While in essence that is true (due to free will), when it is done in a way that shuts out opportunity, or more importantly positive relationships,  it can be a very self-damaging thing to do/way to live.  If you watch it have a BOX of tissues.  I was not prepared for the ending…I was floating on cloud of happiness with some tears mingled in and then…
~~Heather~~
P.S.  I am not the only one gaga over compacts.  In doing some searching for this post here are some other interesting things I saw:
http://talesofaretromodernhousewife.blogspot.com/2012/02/spotlight-on-lipstick-accessories.html
http://oakgrovelibrary.blogspot.com/2010/01/on-display-compacts.html