We watched the "Sound of Music" last week.  It is one of my all time favorite movies, and yet, it had been a couple of years since I had watched it.  One of the reasons for this is that my DVD copy has something wrong with it–there is a loud vibration while in Play mode.  The "Extras" disc plays fine so that is why I keep it.  Therefore, I had to borrow the movie from the library.  So happy I did.   As soon as the music started with the "Disc Menu", I was blubbering.  Goodness.
Julie Andrews, the kids, a love story, the music, the scenery…Christopher Plummer (sigh).  What's not to love?? (sniff, sniff)
What's not to love is the "real" story.  I mean, the "real" story is OK and interesting but it IS NOT the "Sound of Music" movie version.  And in this instance, I prefer the Hollywood fluff and nonsense adaptation of the Von Trapp family chronicles.  If I ever visit Salzburg (and I WILL visit Salzburg), I will gladly (and giddily!) be the ultimate cheesy tourist and visit all the locations where that movie was filmed.  It's a dream..along with visiting Prince Edward Island to see Anne Shirley's digs AND hopping the pond to visit Jane Austen's England (a little Colin Firth stalking might be  is on that agenda).  I digress…
Back to my favorite movie.  I love  all the songs (except "Climb Every Mountain"–a bit tedious) and have been known to sing along, LOUDLY, while watching the movie or listening to the soundtrack in various locales (there is a non-viral video tape out there showcasing this talent with my cousin while driving through the hills of West Virginia–"The Lonely Goatherd" of course.  And not to brag, but I think we nailed it).
"My Favorite Things" is, obviously, a "favorite" song.  Every single "thing" she mentions in that song is truly" favorite thing".  And I believe, through the course of my years, I have either seen or experienced  all the "things" mentioned in those verses except "brown paper packages tied up with strings".  I had never received such a wonderful "thing"…until a few weeks ago: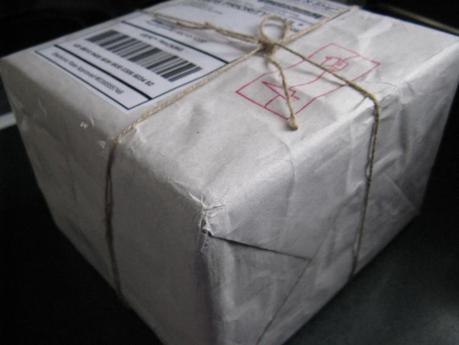 Imagine my sheer delight, and the song that burst forth from the depths of my Maria soul, when I received this in the mail.  I think I may have swooned in my euphoria.  I swear, all packages should be sent out this way– and only in this way. For now I can say, I totally"get" why that was listed as a "favorite thing".
Are you a "Sound of Music" fan?
~~Heather~~