Much like Nate Robinson, Vince Carter will be cut from his team's roster this free agency. Carter is owed $18.3 million on his current contract, which can be voided using the amnesty clause; an addition coming from the lockout that allows a player's contract to come off the books. Doing so would provide Phoenix with financial relief, and one less player in their late 30's on the roster.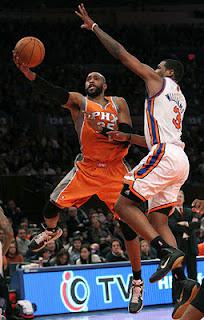 Carter could then sign with another team, most probably a contender, and make a run at a championship: an accolade that has evaded Vince Carter at this point in his career. The Bulls would be ideal, if they don't manage to bring in a quality shooting guard during free agency. Charlotte and Washington are young teams that could use a veteran scorer, as are New Jersey and Portland. If Carter wants to really contend, he'd have to take a bench role with Miami, Boston, Oklahoma City or the Lakers. In Miami, provided Tracy McGrady signs there as well, the two could be a sixth-men tandem and provide a scoring punch off the bench. A possible Orlando return could be in the cards, with Jason Richardson likely leaving for another team.
Carter will make an impact on whichever team he joins, regardless of his age. He just might be the missing link for some teams in the running for a ring.