Much speculation has surrounded the NBA this season as to where Dwight Howard will be traded. He has listed Dallas, New Jersey and Los Angeles as his preferred trade destinations. Many are in love with the idea of Howard suiting up in the purple and gold of the Lakers, bringing to mind the Kobe-Shaq era before it was broken up.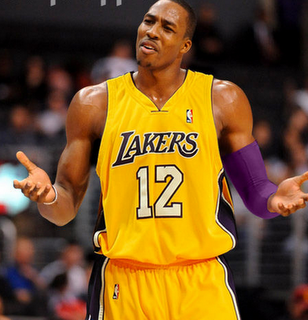 LA would have one of the best one-two punches in the league that would most likely dominate most teams in the league. The Lakers have struggled as of late with a mediocre win-loss record of 15 and 12. This supposed deal is assumed to fix any and all strains for the team this season, although the question remains: is this really the best move for LA?
1. Offense.
The team is still adapting to playing away from the triangle offense; a system that the Lakers' core has followed for most of their careers so far. Last season, the Lakers averaged 101.5ppg on 0.463% shooting, making them the 9th best offensive team in the league. In addition, they were making 0.352% of their 3-point attempts which was mostly due to their use of the triangle offense. With former head coach Phil Jackson retired and Mike Brown now taking the reins, the team is not performing as well. Presently, LA ranks 20th in team points per game at 93.0. They are shooting 0.451% as a team, which is a good percentage and a top 15 offense. Yet it is the long range shooting that is the Lakers downfall.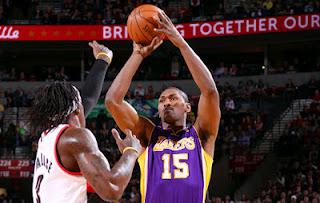 While they are one of the better teams defending the 3-point line, LA ranks, ironically, as the worst 3-point shooting team in the entire league with a dismal 0.284% percentage. Headlined by Metta World Peace's shocking 0.164% from beyond the arc, the Lakers are desperate for accuracy from their players. Their best shooters, percentage-wise, are rookie Andrew Goudelock and power forward Troy Murphy, who receive just 29 minutes per game combined. Trading for Dwight Howard would certainly create space for shooters in LA, currently evident in Orlando where the Magic shoot a 6th best 0.386% from deep. The Lakers have decent shooters on the team in Blake, Bryant, Fisher, Goudelock, Kapono, Murphy and World Peace. Any of these players would be specialists this season had the space created by the triangle offense existed now; space Dwight Howard could instil for LA.
2. Defense.
A quick survey of Los Angeles' defensive statistics so far this season will tell you they are one of the best teams in the league at stopping their opponents. They rank 1st in opponent field goal percentage, 9th in opponent 3-point percentage and 11th in blocks: all three statistics tell us they have a dominant front-line and are very good on the perimeter. The more disappointing fact these stats tell us is that LA is dead-last in steals and forcing turnovers. Any NBA player can tell you the easiest shot attempts come on the fast-break, that are created by causing turnovers. To no surprise LA ranks last with just 7.7 fast-break points per game, which then leads to the field goal attempt differential.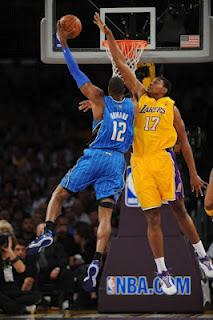 As strong as their defense might be, LA still allows their opponents to take 4.9 more shots than themselves. Such a statistic isn't of too much importance as Miami, Boston, Orlando, Denver and Oklahoma City all rank in the bottom 10, with the Thunder allowing a league-worst 7.4 more attempts. Now the Thunder lead the Western Conference in winning percentage, which goes to show that permitting more shots is not a drama. Yet when your offense is struggling like LA's, it is an issue that needs to be addressed. Obtaining Dwight Howard would not repair this aspect of the team and, in actuality, makes them worse defensively. Pau Gasol and Andew Bynum might not look as flash as Howard in the middle, but both players can shut down the post effectively and score inside.
3. Trading for Howard.
Having a player of Dwight Howard's calibre is a huge boost for any team. He is one of the most dominant players in the post, both offensively and defensively. His averages of 20.9ppg, 15.5rpg, 1.5spg and 2.1bpg are enough for any team to pull the trigger to bring him to their organisation. Howard has pulled down plus-20 rebounds seven times this season, displaying his supremacy on the block. Los Angeles is clearly interested in bringing in another All-Star level player, having already attempted to bring Chris Paul to their team before NBA Commissioner David Stern vetoed the trade. Paul eventually ended up in LA anyway, just in the wrong uniform.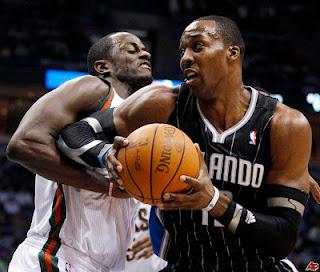 General Manager Mitch Kupchak has made it clear he is open to trading either Pau Gasol or Andrew Bynum: not both. Most NBA fans would dive on the chance to bring Howard to play alongside Kobe Bryant, but realistically would be damaging to the team. Gasol and Bynum equal one of, if not, the best frontcourt in the entire NBA. Not many other teams are capable of defending both players, which is easily a benefit for the Lakers. To trade the two to Orlando would leave LA with a very weak frontcourt. Unless they are able to pry Ryan Anderson away from the Magic as well, the Lakers would have to start either Troy Murphy or Josh McRoberts at power-forward. The following is the different combinations the Lakers could have, followed by their statistical contributions combined:
Gasol, PF. Bynum, C = 33.2ppg, 22.8rpg, 3.4bpg, 1.0spg, 0.525% shooting, 0.681% free throw shooting.
McRoberts. PF. Howard, C = 28.3ppg, 20.8rpg, 2.9bpg, 2.2spg, 0.558% shooting, 0.514% free throw shooting.
Murphy, PF. Howard, C = 35.5ppg, 25.7rpg, 2.6bpg, 2.5spg, 0.522% shooting, 0.541% free throw shooting.
The statistics for McRoberts and Murphy were used from the most recent seasons where they averaged more than 20 minutes per game (McRoberts '10-'11 season, Murphy '09-'10 season). However it is unlikely for Murphy to perform as he did two seasons ago, therefore his statistics would be inaccurate.
From what is available above, it would seem keeping Gasol and Bynum is better for the Lakers. They would perform better in every single category, save for field goal percentage which can be attributed to Gasol's struggles at this point during the season. Yet mentioned earlier, LA is unlikely to give up both players. Obviously Howard is a huge improvement over the up-and-coming Bynum, but Orlando would be unwilling to give him up for so little. Unless LA included the struggling Metta World Peace and the trade exception acquired from trading Lamar Odom to the Dallas Mavericks, a package of Bynum and draft picks isn't very enticing. It is difficult to trade a superstar and attempt to receive similar value, but Magic GM Otis Smith is biding his time. It all depends on how desperate the Magic get as the trade deadline approaches on March 15th.
4. Trade for contributing players.
Trading for Howard would leave LA depleted in their frontcourt, so as exciting as the team would look on paper, it would essentially make them worse. The Lakers troubles are not down low, so an attempt to trade for such a player to improve their frontline makes no sense. Of course trading for a player like Dwight Howard would change the dynamic of the organisation, it would ruin the chemistry of the roster.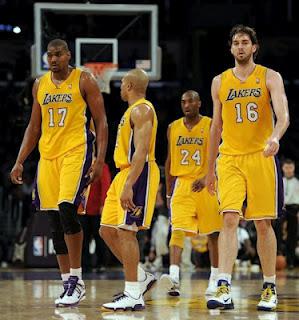 Bryant, Gasol, Bynum and Fisher have been the starting players since the '07-'08 season when Memphis and Los Angeles orchestrated the blockbuster trade. Keeping a core together is essential to success, as seen by many teams last season, aside from the Miami Heat. LeBron James, Dwyane Wade and Chris Bosh are all close friends and synchronized relatively quickly. Trading away the bigmen you have had for almost four years would be a mistake. Team chemistry is often overlooked, but it is an extremely important aspect of basketball success.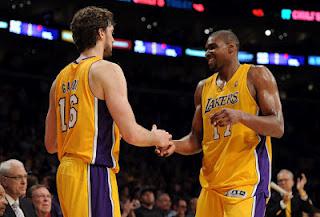 What the Lakers really need is help on the perimeter. They have a lack of contributing guards and forwards; an issue that needs to be addressed sooner rather than later. LA should look to trade one of the five small forwards they currently have on the roster in Kapono, World Peace, Ebanks, Barnes and Walton. As bad as World Peace is shooting the ball, he must be kept for LA to be successful. However frustrating are his contested shots, he provides in so many ways that are often unseen that make him invaluable to this team. His hustle, defense, physicality and ability to challenge the other team's best offensive weapon without question are qualities uncommon in most NBA players today. Matt Barnes is almost identical to World Peace in what he brings to the team, but not so much that they are interchangeable.
He could be sent to Cleveland, along with Steve Blake, in exchange for Ramon Sessions and Ryan Hollins. Sessions is rumoured to be on the trading block, now that rookie pointguard Kyrie Irving has played extremely well, and there is really no need for him on the roster. He could help spread the floor for LA as he currently averages 5.6 assists per game. Sessions is not an elite 3-point shooter, but with Barnes and Blake out of the rotation, Andrew Goudelock, Jason Kapono and another shooter they can bring in will have more running time. Hollins, an athletic bigman, would be Bynum's backup and provide when called upon. For Cleveland, Barnes will provide toughness, defense and veteran leadership that the team is sorely lacking, with 9 players 25 years old or less. Blake would provide outside shooting and experience to Irving without jeopardizing the rookie's minutes.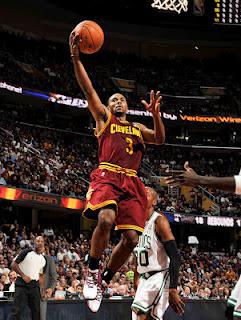 Alternatively, LA could send Luke Walton and Blake to the Bucks for Stephen Jackson, who has been suspended and benched by the team. He is clearly on his way out of Milwaukee and would be a huge addition to the Lakers rotation. If Milwaukee is indeed trying to rid themselves of Captain Jack, they won't get picky when it comes to who they must receive. Walton is a solid forward who can defend and score from midrange and Blake would provide his shooting to a Bucks team that struggles offensively. Additionally, Walton's contract expires next season and will create cap space for Milwaukee to sign some big name free agents in 2013. The Lakers would most likely need to include draft picks, ultimately the first round pick received by Dallas and one of three second round picks. Jackson averages just over a steal per game, which would help LA in their attempt to improve their fastbreak offense. To run it corrently, they need a distributor.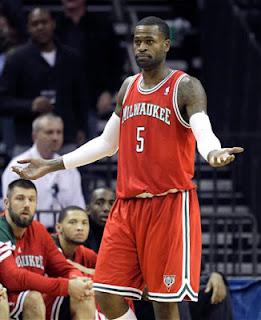 LA could then trade Barnes to Toronto for Jose Calderon. The Raptors are hoping to change up the workings of the team, with guard Jerryd Bayless developing well so far. LA could use the trade exception they received from dealing Odom to Dallas and have a complete team. Calderon would be the distributing guard the Lakers are looking for: he has a reliable 3 point shot, has the best assist-to-turnover ratio in the entire NBA, is currently 4th in assists at 8.6 per game and has ties with Pau Gasol from their time playing on the Spanish National Team. Toronto would then have financial flexibility with the addition of Barnes. He and six other players for the Raptors would be free agents at the end of the year and leave the team to sign a better supporting cast for current center Andrea Bargnani and rookie Jonas Valanciunas, who will join the club next season.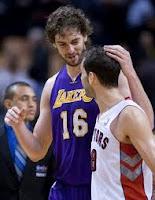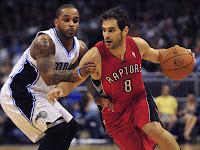 5. Dwight Howard is not the answer.
Ultimately, walking away from the this trade for the All-Star center is LA's best move. As shocking and unintelligent as this move might look, it would change the dynamic of the team too much for it to be successful. People seem to be under the impression that once a trade is completed, the new players will magically know how to play with each other. Howard would have to make a huge adjustment to understand he is no longer the first option on offense. Kobe Bryant is one of the greatest scorers of all-time, and its his job to put the ball in the basket. Gasol and Bynum understand their roles as the 2nd and 3rd options on the team and play accordingly.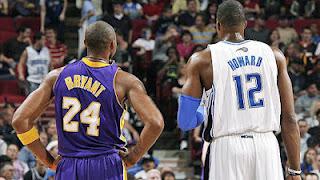 The two of them combined are better defensively than Howard and any other power-forward the Lakers could possibly acquire. They are also more versatile, as Bynum can be physical inside and Gasol is more polished in the post while able to knock down mid range jumpshots. Having two 7 foot bigmen in your starting lineup is a bonus for any team defensively, and for both to be gone would be damaging to the Lakers' identity. Howard is an accomplished defender as well, but there is a reason LA leads the league in opponent field goal percentage. Improving their post players is not LA's most important objective at this time, and trading for contributing wing players should be.
Acquiring Calderon and/or Jackson would both be beneficial moves to the Lakers and essentially make them a championship contender almost overnight. They would have one of the more complete rosters in the NBA, while also possessing a deep bench to back up their starting rotation. The roster moves are seemingly possible, but might require further pieces to convince Milwaukee or Toronto to part with one of their better players. The ultimatum for the Los Angeles Lakers is this: Dwight Howard is not the answer to their problems this season, no matter how enticing it might be to trade for him.