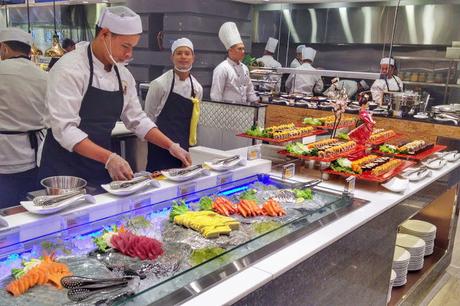 It's been so long since I've felt excited about eating in a buffet—probably for two years now. Buffet restaurants have been popping up in Cebu but most of them just don't hit the spot for me, besides the fact that I do not like putting myself in a situation where I have to eat too much just to "get my money's worth". However, I'm the type of diner who enjoys variety over quantity and so the reason why I would consent myself to a buffet is just to satiate my interest in the different dishes I can taste rather than filling myself up.
But, well, Vikings changed the game. Since I was invited to the food tasting before the opening (

my previous post

), somehow my enthusiasm for this food service style was revived. I was totally looking forward to the grand opening as I was writing about the food tasting. Remembering all the excellent food that we had gave me high hopes for a much better buffet output in town.
On the opening day, May 10, you could feel the excitement in the air as a crowd lined up to get a first taste of the new buffet restaurant in the city and watched an opening performance by a tribal dance group. The system in accommodating the guests was organized and everybody was seated in a timely manner.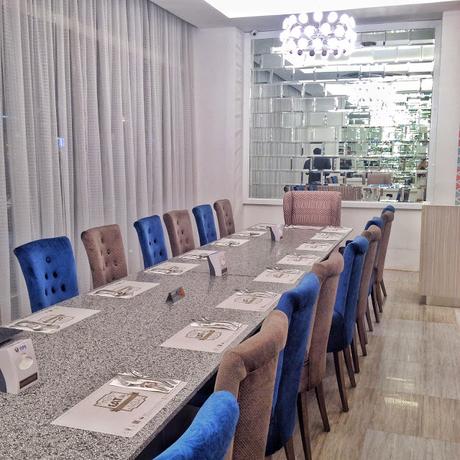 I was invited with the local bloggers for the opening. We were seated in one of the function rooms which featured a long table with plush, extra comfy chairs and bright lighting which would make a perfect venue for corporate meetings and intimate celebrations.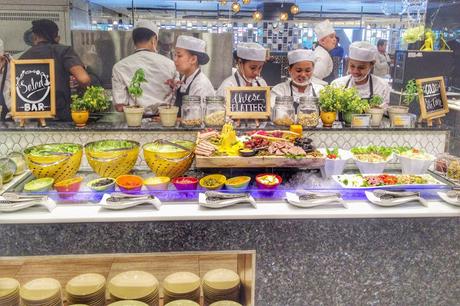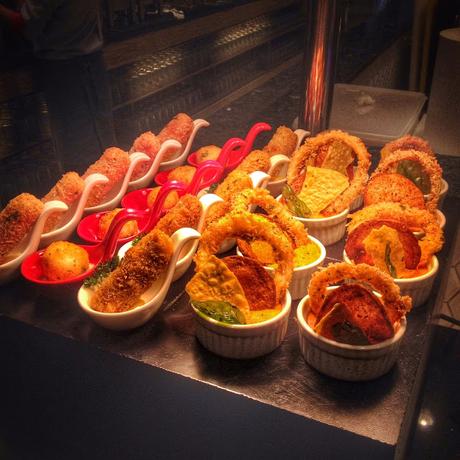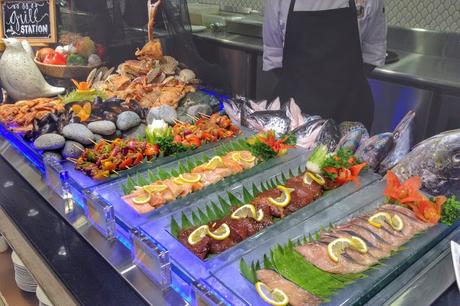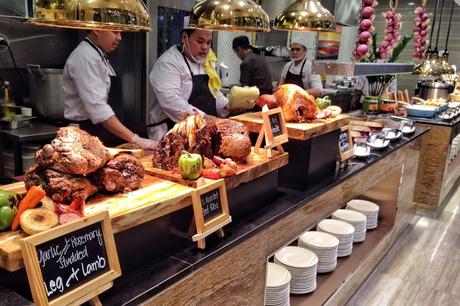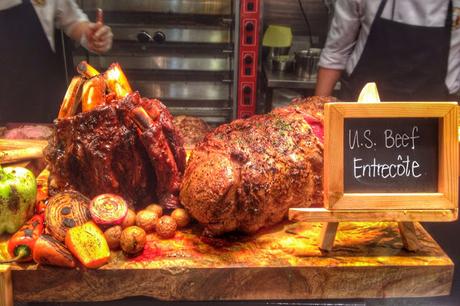 You know it's serious business when there's ribeye steak!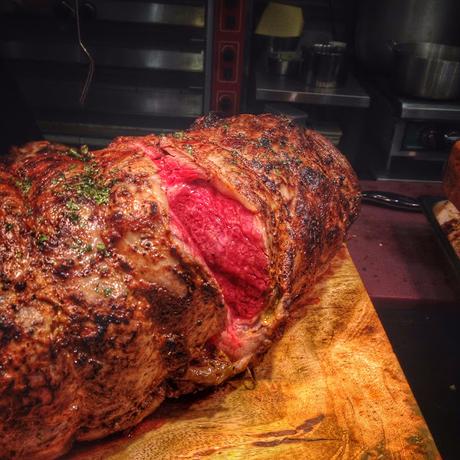 GAAAHHH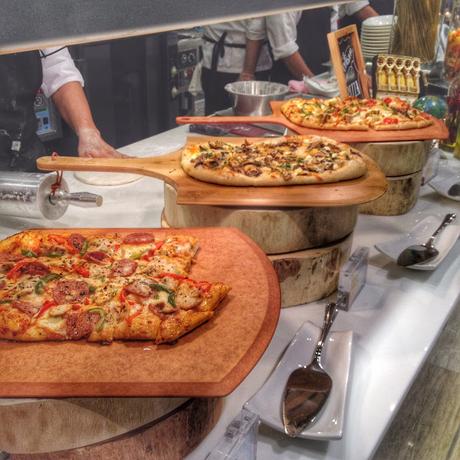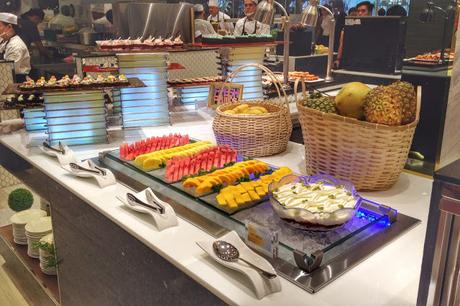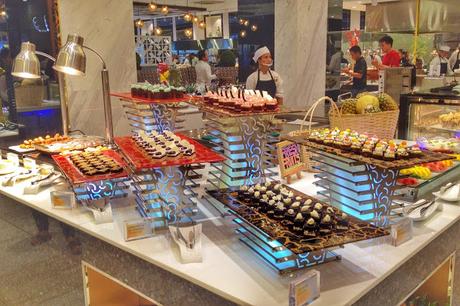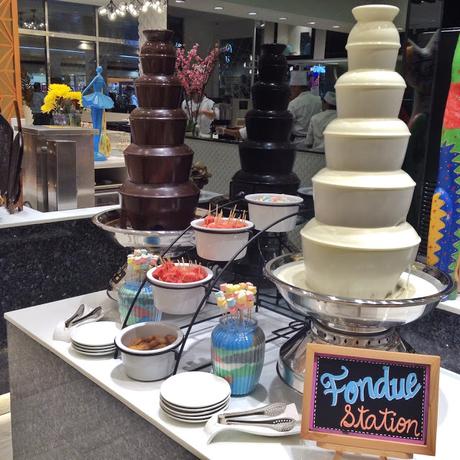 Because one chocolate fountain is not enough!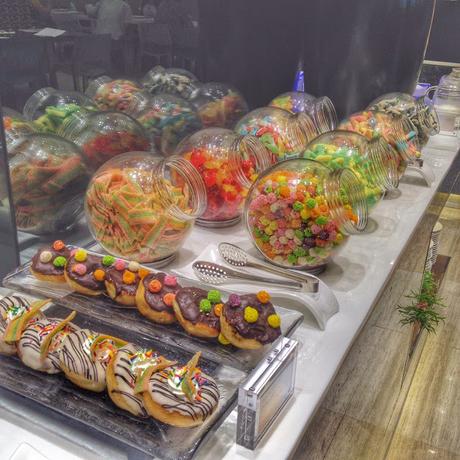 As I roamed around the stations, I almost couldn't contain my excitement from finding so many dishes I already wanted to taste and especially when I saw that everything I had during the previous tasting was also served then. Even the beverage station was a sight to behold.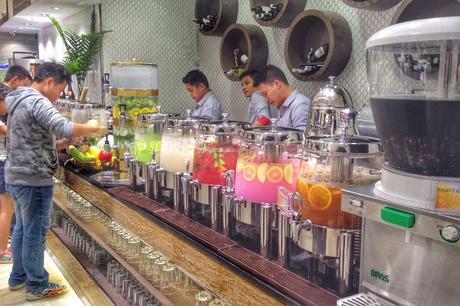 I absolutely enjoyed all the homemade juices on display.
I even made my own little experiment concoction that I instantly loved—watermelon agua fresca with some citrus-kiwi-infused water! Oh, so refreshing! And, I will also admit with guilt that I went back for some milk tea with pearls, too.
I usually take one round to scout which dishes I'd like to go for before I start picking out my food, like a predator seeking out its prey. But
, always a default whenever I dine in buffets, I start with Japanese and some appetizers.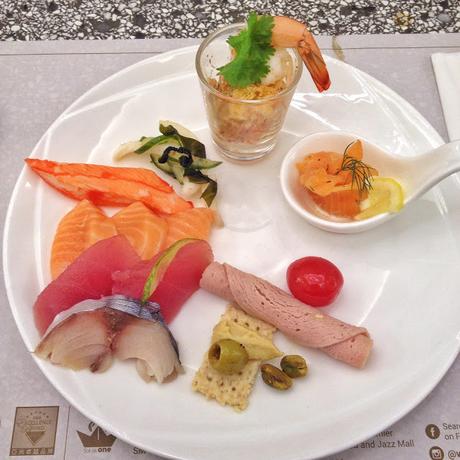 Sashimi forever!!! That little squid ceviche was also really good!
And round 2... Time to eat like a viking! I just can't resist steak! I didn't finish it of course. That slice was too huge for me. And that amazingly tender and tasty slow-cooked rib was just addicting!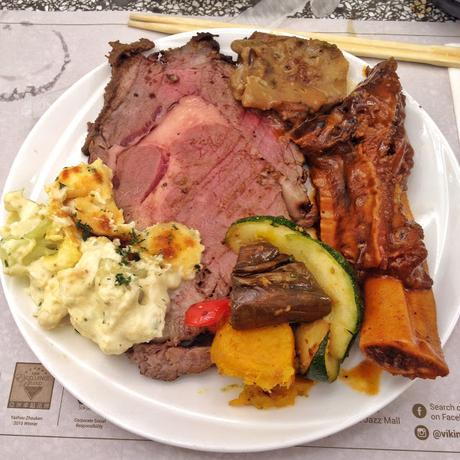 My little carving station sampler :p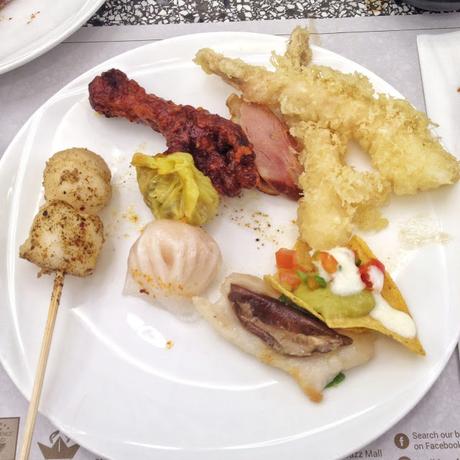 Keeping it real with my Asian roots... and a little Mexican nacho with some guacamole, salsa fresca and sour cream that got lost and found its way to my plate.
Hakaw, sharks fin dumplings, chicken feet, squid balls...!!! I really wished so badly I could get more but I was already so stuffed and had to make some room for dessert... :(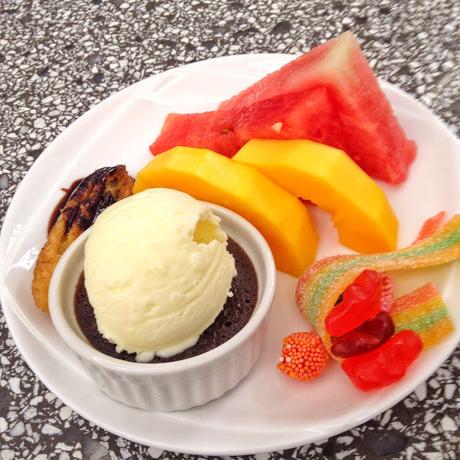 Oh, the endless possibilities you could make on your plate with Vikings Luxury Buffet! What a truly impressive spread. True enough, Vikings did not disappoint; the hype was real. This is one buffet that does not sacrifice quality for quantity, that's for sure.
There are more or less 7 main stations to gorge on—Cold Station, Japanese, Western, Asian, Grill, Carving, and Dessert. 
The wide selection was overwhelming and as much as I wanted to taste every dish from every station, I had to concede to my distended stomach that refused to accept any more food no matter my appetite. Heck, even at dessert, I was still wishing to try the shabu-shabu hotpot and get more salmon sashimi. The food was just superb and service, impeccable.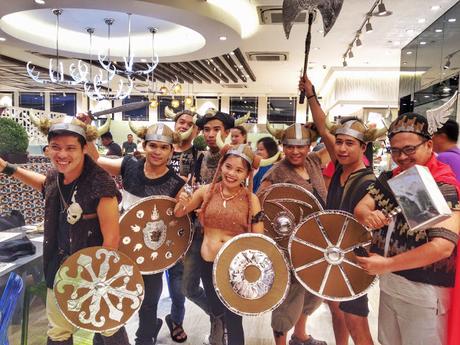 They were doing a promo of 50% discount for anyone who comes in wearing a full-on Vikings costume or any Viking accessory from May 10-12. More promos are still ongoing! LIKE their facebook page to get 25% discount from May 13-26! Don't miss it!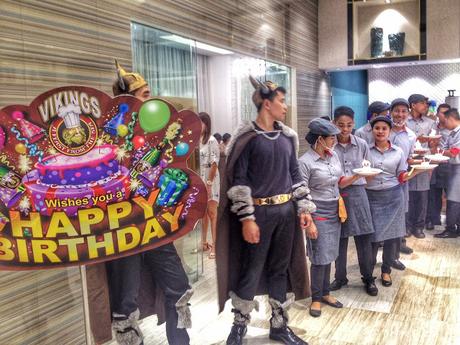 Vikings is definitely the place to be for any special occasion whether it's nursing a broken heart or celebrating a milestone in your fitness goals. ;) 
Rates:
Weekday Lunch
Adult – Php688
Kids between 3.1 ft to 4 ft – Php188
Kids between 4.1 ft to 4.6 ft – Php388
Kids below 3ft - FREE
75 years old and above - 50% discount
Weekday Dinner, Weekend and Holiday Lunch and Dinner
Adult – Php888
Kids between 3.1 ft to 4 ft – Php288
Kids between 4.1 ft to 4.6 ft – Php588
Kids below 3ft - FREE
75 years old and above - 50% discount
*All prices are subject 
to 5% service charge.

Vikings Luxury Buffet
2nd floor, North Wing, SM City Cebu
Contact: 
032-255-3888 or 032-255-4888
Facebook: 
Vikings SM City Cebu