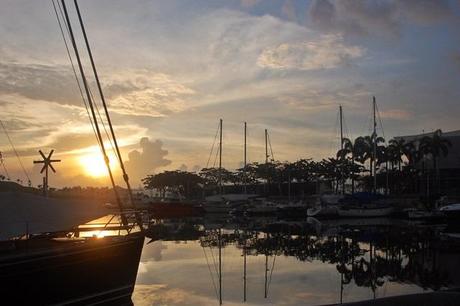 Our journey up the west coast of the Malay peninsula was different than expected, but we made good memories with good friends. We've now got experience and opinions about the string of marinas. All the dock time was a little surreal after a year of mostly anchoring.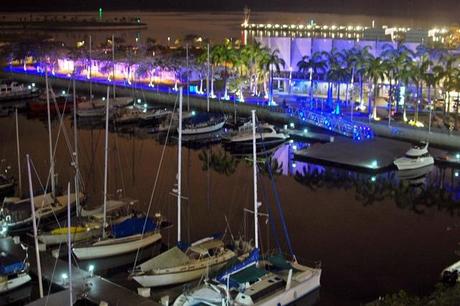 Puteri Harbor at sunrise, top, and lit by the hotel development at night, above
It was good. Our watermaker hasn't worked in a few months, and with five bodies on board, we use a fair amount even in stringent conservation mode. The new membrane and end caps were arriving with my parents (barely, after a vendor forgot to ship until we followed up a couple of weeks after we paid...whoops) but meanwhile, it was really nice to be able to tank up at the dock. Lugging jerry cans is not fun. Ask Jamie.
Having access to water makes laundry on board a snap, but having access to a good washer and dryer is even better! It's just over $1/load to wash a pile of laundry at Puteri Harbour. I had some excellent helpers.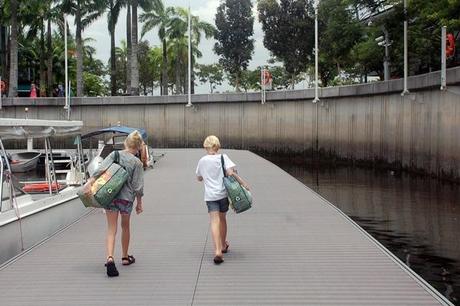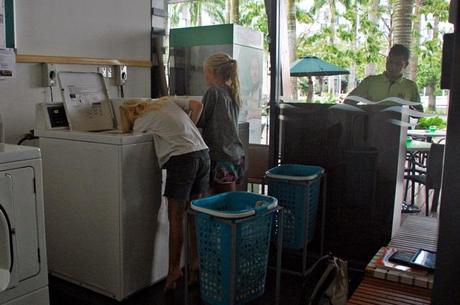 Up the road in Port Dickson, the kids had a wealth of playmates at the Admiral Marina. There were great friends to make on M/V Katrina, and old friends to reconnect with on S/V Pickles. The cruising kid posse on the dock hit 10 at first count! Good times at a beautiful facility.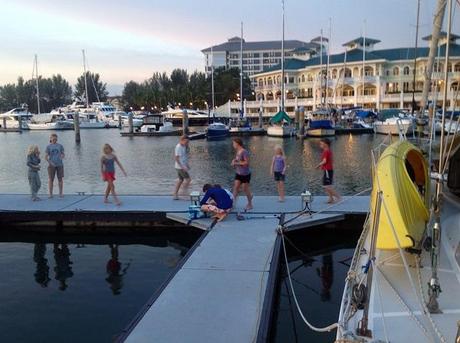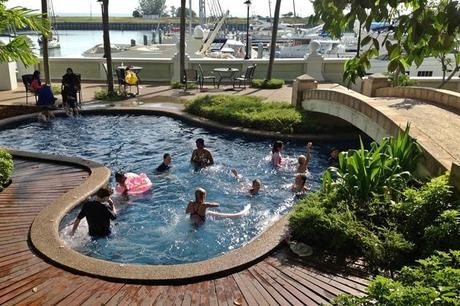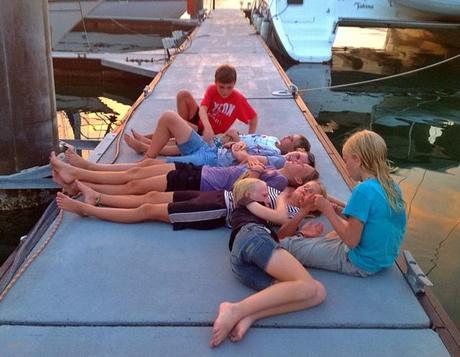 When we headed north for a stint at the Pangkor Marina, the girls got fired up to have a bake sale. Can you feel the excitement through this picture?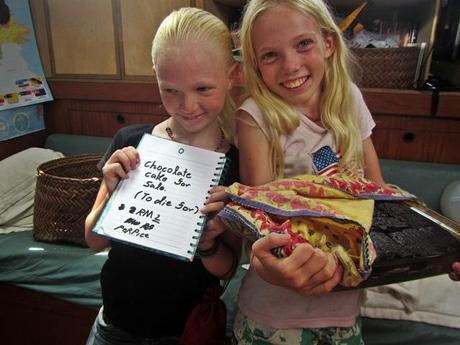 Unfortunately, they were shut down with a simple "No" from the first grumpy boat they visited, which also turned out to be the only one with people aboard. We're still out of sync with the seasonal fleet, so many boats are sitting empty in these marinas while the cruisers fly home or do land travel in the region. It somewhat squelched their enthusiasm, until reminded that meant there was more for us to eat!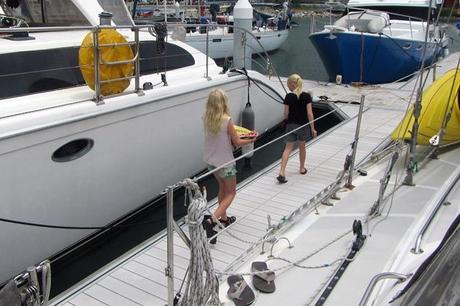 Penang's Straits Quay marina was our last stop on the way to Langkawi. We only had time for a couple of days, but that was enough to get our Thai visas at the consulate, eat some incredible food, and catch up with our friends Gary and Bev on Muscat.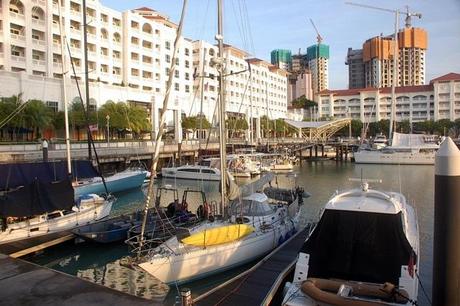 We went out to watch the resident monitor lizards (mid-sized beasties: I think this guy was about 4 or 5 feet) on the breakwall in the morning. It was talking to the guard there that I realized the security staff everywhere we have stayed are not Malaysian, but Nepalese, usually just here for a year or two. Why is that? Food for thought.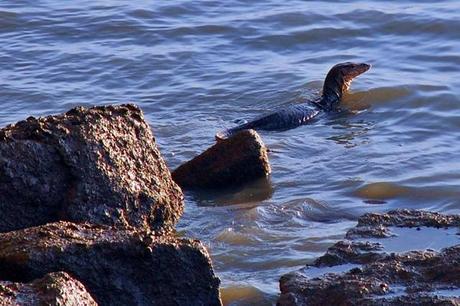 Most of the time, Jamie was flat out with the project on Tahina, so the kids and I tried to make the rest of life easy: keeping up with routines on the boat, hiding from the heat at midday, reading, learning, exploring.