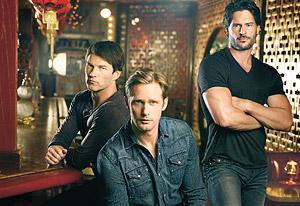 As Alan Ball so succinctly said about the men of True Blood:
"They're all insanely beautiful."
These three are also great trapped in a room together being photographed and interviewed for TV Guide. Their camaraderie is immediately apparent, especially when talking about working on the set together. Joe Manganiello (who plays Alcide Herveaux) commented about being the new guy on set:
"The new guy on a show can feel like an outsider. There can be egos and things like that. But Anna was completely friendly, welcoming. Still, the guys won't let me make eye contact."
Stephen Moyer (Bill Compton) was quick to follow up with:
"I make him get on his knees so we're eye-to-eye."
TV Guide had plenty of questions about upcoming episodes in Season 4. Firstly, they wanted to hear about how the lives of their characters had changed since the end of Season 3. While Bill seems to be growing as a result of his promotion and finally being able to let go of Sookie, Alcide and Eric (played by Alexander Skarsgård) appear to have many personal struggles ahead of them. Although Stephen does concede that the Eric and Sookie storyline will be the talking point of the season.
This led to conversation revolving around the fact that while Bill and Sookie have split, Stephen and Anna (who are married in real life), haven't. While there must be some awkwardness between the actors, they are quick to dispel this. They all take on the roles, and the complicated scenes dished out, as adults.
TV Guide was interested to hear about Anna Paquin in real life. Stephen was the first one to volunteer:
"She's merciless in her ridicule of everybody, and she expects the same back."
Joe admits that he spent his first season dressed in what Anna referred to as "Giant Joe's Giant Jumpsuit." There was also a song composed to go along with it.
And once again the onset camaraderie was bought up with talk about the 'sock' (this is a modesty device worn by men in nude scenes) being tossed around as well as a reference to a Valentine's Day shoot that involved Alexander, Joe, an animal and a large body of water. Joe described the day as:
"Water, an animal, lots of nudity and lots of screaming."
And speaking of animals, Joe revealed that the sex scenes this season will become increasingly more risque. There will be werewolf sex this time around!
TV Guide finished up asking the three about their workout regimes. While Stephen and Alexander both work out three days a week, Joe ups the ante by working out twice a day, six days a week. According to Alexander, Joe can make his pecs dance. Joe's response?
"Alex hasn't looked me in the eye once. I'm like, 'Up here, Alex. Up here.'"
Make sure you check out the TV Guide video of the 'unholy trinity.'
Source: TV Guide – Exclusive: The Men of True Blood Revealed!
(Photo Credit: TV Guide)