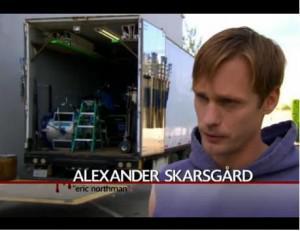 A new extended clip has been released by HBO in its 'Waiting Sucks' promo for Season 4 of True Blood.
This video shows interviews with the cast, including Anna Paquin (Sookie) and Alexander Skargård (Eric).  Alan Ball also has something to say about the direction in which he will be leading the show.
There are plenty of hints about the witches that are making an appearence this season, as well as a suggestion that Eric will lose his memory – something that will make followers of the Charlaine Harris books VERY happy.
Here is the trailer in full – Enjoy!
Source: Unreality Shout - See new True Blood Season 4 extended spoiler clip, plus 'Waiting Sucks' collection!
(Photo Credit: HBO Inc.)