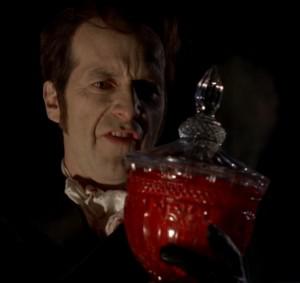 True Blood = vampires. And vampires equal two things: blood and death. HBO certainly delivers on both counts, that's for sure! Fear Net have compiled a list of their favorite deaths in the TV series. How many of them are your faves too?
Franklin
You actually have two fairly awesome deaths to pick from here. The first involving a medieval mace and Tara going equally medieval on his head, the second is actually his 'true' death though. This one involves Jason shooting him with a wooden bullet. Maybe not as visually gory, but certainly more effective in the long run.
Lorena
Let's face it, we were all hoping for Lorena to finally kick the bucket. This must have put some amount of pressure on Alan Ball to make sure her death was worthy of our hate for the character. I think it certainly matched up. Watching Sookie having to restrain herself so that she only staked Lorena, and not her boyfriend too, was certainly something special.
News Broadcaster
Was this not the best way to end an episode ever? We never even saw it coming. Sure, we knew Russell was a little bit crazy, but never in our wildest dreams did we see this curve ball. Russell then proceeded to use the presenter's innards as a prop for his speech.
Talbot
Talbot could possibly be the sexiest death ever, since he was involved in an intimate moment with Eric Northman at the time. His is an interesting case though, if you follow the logic from Franklin's deaths. Technically speaking, you could say Talbot was killed three times over. Once by Eric, then Russell reenacted this staking with a Talbot look-alike, and finally, when Sookie put him (with maniacal glee, I might add) into the garbage disposal.
The Magister
This was another death we were glad to see. Except we almost didn't get it. Just when we thought he was safe, though, Russell loped off his head! Yet another episode cliff hanger involving Russell killing someone.
Now if you can't remember all the characters who we have lost during all the seasons of True Blood, here is a memoriam video put together by HBO, to refresh your memory.
Source: Fear Net – True Death: Top Five 'True Blood' Deaths
(Photo Credit: HBO, Inc.)