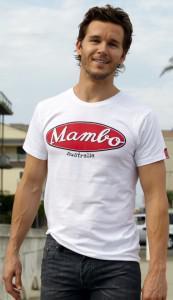 In the fall of 2011, Australian surf and skate clothing line, Mambo, hired True Blood's Ryan Kwanten (Jason Stackhouse) for its ad campaigns (True Blood's Ryan Kwanten US "Mambassador" of Aussie Mambo Clothes). The star of one of HBO's most popular television shows will lift the brand's American profile, as well as design his own line of clothing for them.
Mambo has released a behind-the-scenes video featuring Mr. Kwanten, as well as two female models. The video is viewable on the Carson's website, stores that carry the Mambo line, and on YouTube.
The video includes scenes of a humorous and playful Mr. Kwanten engaging in the kinds of fun activities that are popular with Mambo's core clientele.
The video begins with a text overlay that says, "Music Art Surf Skate Humor" and sets the tone for the rest of the clip. Mr. Kwanten and the two models – wearing assorted items of Mambo clothing – ride bicycles and skateboards along sunny streets. Mr. Kwanten tumbles down a sand dune and dances atop a travel trailer. The clothing is featured prominently and the video gives a summery, playful feel; very much appropriate for a line of clothing designed for youthful surfers and skateboarders.
Sources: Carson's