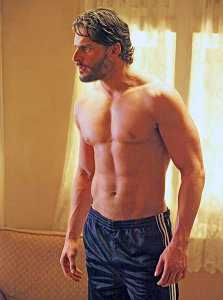 Hey Trubies! I know if you like Joe Manganiello (who plays Alcide Herveaux on True Blood) as much as I do then you will love this video interview. PopSugar editor Lindsay Miller spoke with him on the red carpet for the Stuart House Benefit thrown by John Varvatos. Dishing on all the bare chests and his co-stars in his upcoming film, Magic Mike, he shares:
"I have had a lot of practice; in fact I think I'm the poster boy for it I would think at this point… They were all fine, I'm sure McConaughey certainly has had his share. Kevin Nash from the WWE, I mean that guy has spent the past 20 years running around in a Speedo in front of the cameras, so I think they were all right, everybody did all right… Channing Tatum is really down to earth, really funny, really cool, just a great guy. I love Channing and look forward to working with him again."
Magic Mike is scheduled to hit theaters on June 29. Trubies, let us know what you think of the interview and if you plan on seeing the movie. You can let us know by commenting in the comment section below.
Source: PopSugarTV on YouTube
(Photo: HBO)