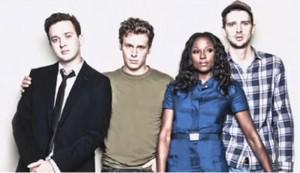 Rutina Wesley (Tara Thornton on HBO's True Blood) is appearing on Broadway. The play is called "The Submission" and it deals with ownership of stories and how words and names that people use can affect others. It premiered at the Lucille Lortel Theatre on September 27.
The story revolves around a white, male playwright (played by Jonathan Groff) who writes a play and pretends that it is written by an African-American woman.
The play is written by Jeff Talbott and stars not only Rutina but Glee's Jonathan Groff. Other cast members include Will Rogers and Eddie Kaye Thomas.
Make sure you check out the full Beyond Broadway interview below:
Sources: YouTube – Beyond Broadway: "The Submission"with Jonathan Groff ("Glee") & Rutina Wesley ("True Blood")
My Fox NY – Rutina Wesley
PlayBill.com – A Look Inside Off-Broadway's The Submission, Starring Jonathan Groff and Rutina Wesley (Video)
(Photo Credit: Beyond Broadway)