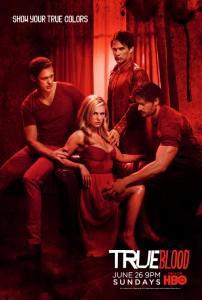 Chris Balish, co-host of KABC Television's On The Red Carpet, was lucky enough to interview some of our favorite cast members at the Hollywood premiere of True Blood's season 4.  According to Stephen Moyer (vampire Bill Compton), this season:
"We've got a lot of elements, we've got a lot of things in the air this year. I had very little to do with the witches, I do work with them a little bit and that's been really fun. It's very new, something completely different. They have a power that we've never explored before. "
Speaking of the challenges writers of this genre might face, the actor further explains, interestingly:
"I think that the tough thing for any writer that's doing a vampire show is to work out what is catnip and what is Kryptonite for the lead baddie, or the goodie — vampires. What is going to be something that can overpower them or something that is going to be attractive to them. So the witches are part of that element."
Since working alongside his wife (Paquin) is all he knows, he seems to think that after filming has wrapped, he will become a "crazy stalker groupie", tagging along on whatever project she works on next.  How sweet!  No doubt many of you would not mind that a bit.
Anna Paquin (Sookie Stackhouse), like the rest of the cast, is not allowed to divulge much, thanks to strict instructions from Alan Ball (series creator, writer and director).  She expressed relief that they'd be done filming soon (which they probably are by now!), saying:
"I'm so excited for everyone to finally see it so we can start talking about it and stop having to give these annoying interviews where I'm like, 'I can't tell you that!'"
Rutina Wesley, who plays Sookie's best friend Tara, simply reiterated that we will find out where her character has been, that she's better, and she obviously has a new 'do.
Deborah Ann Woll, the lovely New Yorker who plays baby vamp Jessica, shares that this season is her favorite.  She does love Jessica & Hoyt's relationship, and hopes that things work out for them.
Spoiler Alert:
Marshall Allman, the youngun' who plays Sam Merlotte's little brother Tommy, reveals some interesting and possibly disturbing news:
"It definitely turns weird when Sam hits on Tommy. So he's added incest and murder to his rap sheet. But, you know, Sam's got some weird secrets up his sleeve."
Finally, we have Joe Manganiello (werewolf Alcide Herveaux), who shares that this season we will see a new pack, one he dislikes.  There will also be tension among him and some shapeshifters.  Speaking of tension of an entirely different sort, when asked, "Are you going to get along with the faeries and the witches?", he slyly responds:
"Well, Sookie being a faerie, yeah — I'd like to get along with her."
Only one more day, Truebies!  Buckle up, it's going to be a wild ride!
Sources: OnTheRedCarpet.com – True Blood's Stephen Moyer, Anna Paquin, Rutina Wesley Dish Spoilers for Season 4
Deborah Ann Woll Talks True Blood
True Blood Actor Talks Odd Coupling
Joe Manganiello on True Blood Romance
(Image credit: HBO, Inc.)