Season 5 Looks To Shake Things Up!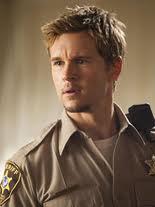 Recently, MTV got to speak to not one, but FOUR cast members from HBO's True Blood! Ryan Kwanten, Janina Gavankar, Carrie Preston and Joe Manganiello were present, even though True Blood was overlooked for nominations this year. While there is a bit of a wait until Season 5 starts up, the stars were happy to drop a few snippets of information.
Ryan Kwanten hints at maturity developing in Jason Stackhouse, especially since Andy Bellefleur is not currently being the best Sheriff.
Janina Gavankar suggests nothing ever stays perfect in Bon Temps, so perhaps there will be more complications for the Luna/Sam Merlotte relationship? She hopes not:
"I will always have hope for Sam. They are meant to be. Nobody understands you like another shifter."
Carrie Preston also suggests there will be trouble between Arlene Fowler and Terry Bellefleur – especially now that an old friend of Terry's has arrived!
As for our fave werewolf, Alcide? Well, his is the quote of the clip:
"We've seen that he's a sweet guy; we've seen that he's the kind of guy that would be great in a relationship. I think that you're going to be introduced to a side of him that's going to slam you up against the wall and go for it."
Really? I'd like to see that!
Make sure you check out the full video and let us know what you think will happen in Season 5.
Get More: Music News
Source: MTV/Hollywood Crush – Joe Manganiello's 'True Blood' Plans? 'Slam You Up Against The Wall And Go For It'!
(Photo Credit: HBO, Inc.)