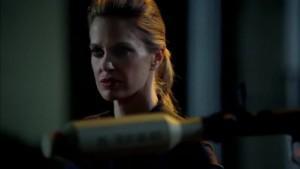 Kristin Bauer van Straten, Pam de Beaufort to her Truebie fans, was interviewed for TV Guide's Up Close.  Topics included were: what are Pam's favorite things, what is Kristin's favorite Pam quote from the finale (Hint: it was probably your favorite line too, about Sookie's fairy-parts,) will Pam and Sookie ever get along, the difficulty of face-rotting, and her best impression of Stephen Moyer's pronunciation (à la Elvis) of Anna Paquin's character's name.
Check out the video below, and tell us: Whose "Sookeh!" do you prefer?
Source: TV Guide – What is Kristin Bauer van Straten's Favorite Pam Line From True Blood?
(Photo: HBO)