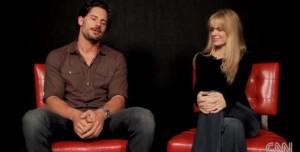 Recently Kristin Bauer van Straten and Joe Manganiello answered some iReport viewer questions for CNN. Here is what they had to say:
Zennie Abraham asked "Why is True Blood so popular?"
Kristin was quick to answer this one. While the show is based around fantasy characters, the central themes are common with the real life struggles the average person deals with everyday. She uses tolerance of vampires as an example. While we don't have that particular problem in real life, we do have issues with certain groups not being tolerant of others.
Nicole Correale asked Joe: "If you had control over a whole season of True Blood and you could write whatever you wanted into the script , in what direction would you take Alcide?"
Joe hinted at the fact that Alan Ball may be following book 5 of the Sookie Stackhouse series (written by Charlaine Harris) in leading Alcide towards his struggle to become packmaster. Joe would also like to follow in this direction, to see Alcide overcome his feelings of being cursed as a werewolf.
Make sure you check out the rest of the interview and let us know what you think.
Source: CNN – Fun, Fantastical World of  'True Blood'
(Photo Credit: CNN)